Today, I am reviewing two very popular mixers (or audio interfaces if you're posh :-p) the Behringer X32 vs XR18.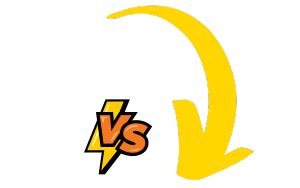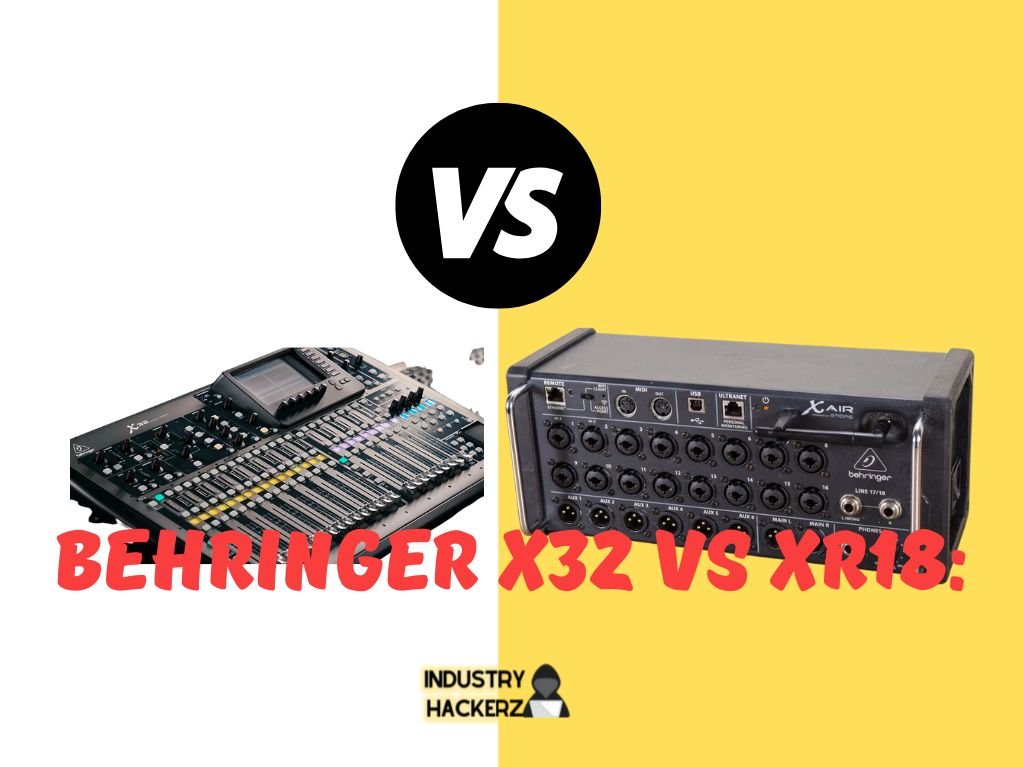 Key Differences Between Behringer X32 And XR18
Behringer X32 Rack vs XR18: Key Differences
Size and weight: The X32 Rack is larger and heavier than the XR18, weighing 14.4 lbs. This may be an important consideration if you require a more portable mixer.
User interface: The X32 Rack has a limited user interface that provides users with a simple experience, while the XR18 offers remote control via built-in router with Wi-Fi, Ethernet, and multi-channel USB.
Expandability: If you see more growth in your audio setup or plan for bigger concerts, the X32 Rack may be a worthwhile investment due to its expandability options.
Gain difference: There is about a 6dB difference in gain between the two units on each channel, with the XR18 having about 6dB more gain.
Auxes: The X32 provides more auxes compared to the XR18, which can be beneficial for complex audio setups.
Effects: The X32 Rack features 8 effect slots with over 50 effects while the XR18 has 4 slots with around 40 effects.
Price: The XR18 is generally less expensive than the X32 Rack ($700 vs $1200), making it a more budget-friendly option if cost is your main concern.
Preamps: Both mixers have Midas-designed preamps; however, some users report subtle differences in sound quality between the two models.
Connectivity & Compatibility: While both mixers offer various connections such as iPad/Android tablet integration and USB ports for recording purposes, they cannot work together as networked stage boxes (i.e., controlling an XR18 from an X32).
If you need more expandability options or prefer a device with a built-in user interface, the Behringer X32 Rack might be the best choice for you.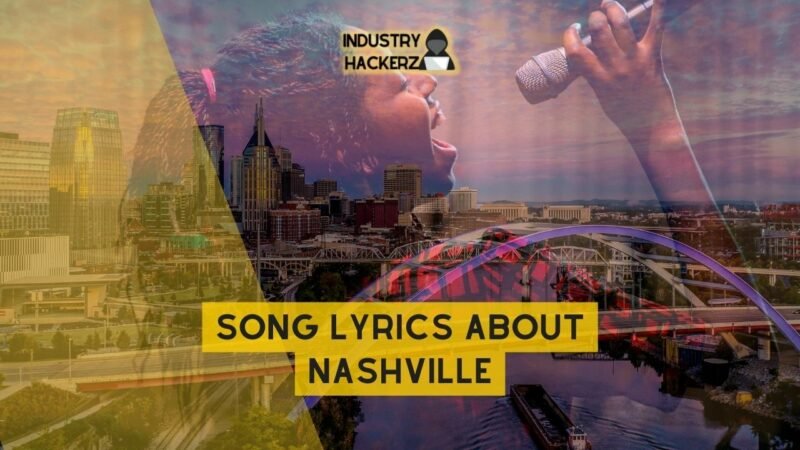 You Should Read This Next!
On the other hand, if you're looking for a compact and budget-friendly mixer with remote control capabilities, the Behringer XR18 could be a better option. Ultimately, your choice should align with your specific needs and preferences.
| Specification | Behringer X32 | Behringer XR18 |
| --- | --- | --- |
| Form Factor | Full-Size Digital Mixer | Compact Digital Mixer |
| Channels | 40 | 18 |
| Inputs | 32 XLR, 6 TRS | 16 XLR/TRS Combo, 2 TRS |
| Outputs | 16 XLR, 6 TRS | 6 XLR, 2 TRS |
| Auxiliary Sends | 16 | 6 |
| Buses | 25 | 6 |
| Effects | 8 Stereo | 4 Stereo |
| EQ | 6-Band Parametric | 6-Band Parametric |
| Faders | 25 x 100mm Motorized | None (controlled via app) |
| Display | 7" TFT | None (controlled via app) |
| Connectivity | USB, Ethernet, MIDI | USB, Ethernet, Wi-Fi |
| Remote Control | Yes (via app) | Yes (via app) |
| Dimensions | 35.4" x 20.8" x 7.9" | 13.1" x 5.9" x 5.5" |
| Weight | 45.4 lbs | 7.1 lbs |
What You Need To Know About Behringer X32
Having used the Behringer X32 for quite some time now, I can honestly say it's been a game changer for my live mixing experiences. When comparing it to other mixers in its price range, there are definitely some pros and cons to consider before making a decision.
First off, let me tell you about the good. The X32 has an astonishing 40 input channels, so you're pretty much covered for any size gig. The intuitive user interface makes it relatively easy to navigate through the different settings and features.
With 16 built-in effects, 100mm motorized faders, and an impressive amount of routing options, this mixer is extremely versatile and can cater to a wide variety of needs.
One of my favorite aspects is the ability to connect wirelessly via iPad or Android device; this gives me the freedom to walk around during soundcheck and make adjustments from anywhere in the venue.
I also appreciate that Behringer included onboard MIDI control capabilities, which comes in handy when syncing up lighting or other external devices.
Now let's talk about some of the not-so-great aspects. One major complaint is that Behringer doesn't provide very extensive customer support for this product.
If you run into issues or need help troubleshooting, be prepared to do some digging on your own or rely on online forums.
There have also been reports of occasional reliability issues with X32 units - things like malfunctioning faders or touchscreen freezing (I personally haven't experienced these problems but thought it was worth mentioning.).
Keep in mind that with all mixers in this price range, there might be small sacrifices made regarding build quality.
Regarding sound quality - while many users find it more than satisfactory (myself included), others have claimed that, when compared to higher-end mixers, the X32 lacks a certain warmth and depth in its audio. This is mostly subjective and could even be fixed with some savvy EQ tweaking.
Overall, I would say that the Behringer X32 has served me well and provides an immense amount of value for its price point.
Just be prepared to invest some initial time in learning the ins and outs of this mixer, and know that as with any piece of gear in this range, there may be occasional hiccups along the way.
What You Need To Know About XR18
I recently had the pleasure of getting my hands on the Behringer XR18 digital mixer, and I must say, it's a handy piece of equipment for small to medium-sized gigs and studio setups.
In this review, I'll be sharing my experience with you, helping you decide if this is the right mixer for your needs.
Inputs and Outputs:
First things first, let's talk about its inputs and outputs. The XR18 comes with 16 XLR/TRS combo inputs, out of which 12 are XLR-only.
It also features an additional stereo input via two TRS jacks. There are six Aux outputs, which can be used as monitor sends or additional output routing options like effects sends.
For outputs, there's a main left/right output via XLR connectors and an additional ultranet output for those using Behringer's proprietary personal monitoring system (P16). You'll also find a USB port that allows you to record your performances directly onto your computer.
Wireless Connectivity:
One of the best features of the XR18 is its wireless connectivity. This means that you don't need a separate control surface to manage your mixes; all you need is an iPad or Android tablet running their free X-AIR app.
It even supports remote control via smartphones over Wi-Fi! You can connect up to 4 devices simultaneously if multiple users are controlling different aspects during a performance.
DSP Effects:
The XR18 comes with a built-in DSP engine that offers fantastic effects processing capabilities (e.g., reverbs, delays, compressors). Each input channel has four insert slots available for these effects so that you can shape your mix in whichever way suits your needs best.
MIDI Control:
For those who want more control over their mixes, the XR18 allows for MIDI controls that can be assigned to different faders and encoders.
This provides even greater flexibility when it comes to mixing.
Mixing Workflow:
One thing I've noticed is that with the wireless control and tablet app, the mixing workflow feels pretty intuitive. In a live situation, it's easy to walk around the venue and make adjustments on the fly without being tied down to a physical mixer.
Sound Quality:
The XR18 delivers clean and transparent audio quality that holds up well against more expensive mixers in its category. The preamps are clear, and there is plenty of headroom available.
Now let's talk about some things I think could be improved:
No Physical Controls:
For those who prefer hands-on control during live performances, not having physical controls on the unit may be an issue. If you're not keen on using a touchscreen interface or require tactile feedback during your performances, this might not be suitable for you.
Tablet Reliability:
Relying solely on a tablet for controlling your mixes means taking into account factors like battery life or software crashes. It's essential to have contingency plans in place - such as spare tablets or chargers - to avoid these potential issues during gigs.
Learning Curve:
The X-AIR app has many features packed into it, which can make it slightly overwhelming for first-time users or people who aren't used to digital mixers. However, with some time invested in understanding how everything works together, I found that navigating through different sections became more comfortable.
To sum it all up: The Behringer XR18 is an excellent choice for anyone looking for a versatile digital mixer with wireless capabilities at an affordable price point. It offers intuitive controls via its tablet app and packs plenty of features into its small size.
However, if you're someone who needs physical controls or struggles with using tablets during live performances, this may not be the ideal choice for you.
Who The Behringer X32 Is For & Why You Might Choose It Over The XR18
The Behringer X32 is a digital mixing console designed for live sound, studio recording, and broadcast applications.
With its wide range of features and powerful processing capabilities, the X32 has become popular among professional audio engineers, musicians, and venues alike.
This article explores who can benefit from using the Behringer X32 and why they might choose it over the XR18.
Who is the Behringer X32 for?
The Behringer X32 is suitable for:
Live Sound Engineers: The X32's extensive input/output options, built-in effects processors, and comprehensive routing make it easy to create an excellent mix in any live environment.
Studio Engineers: The flexible routing options and high-quality preamps make the X32 an excellent choice for recording studios of any size.
Musicians: Bands or musicians in need of a versatile mixer for rehearsals or performances can also benefit from the features offered by the Behringer X32.
Venues & Houses of Worship: With its ease of use and adaptability to various audio sources (including wireless microphones), the X32 is an ideal choice for install applications such as theaters, clubs, houses of worship, conference centers, etc.
X32 vs. XR18: Why Choose The Behringer X32?
While both mixers offer powerful digital capabilities at affordable prices, there are key differences between the two that may influence your decision.
The reasons to choose Behringer X32 over XR18 include:
Physical Control Surface: The X32 features a full-featured control surface, complete with motorized faders, encoders, and a color TFT display. This allows for hands-on control and quick adjustments during live performances or studio sessions.
More Inputs & Outputs: The X32 offers 40 input channels (32 mic preamps) and multiple output options (including XLR, TRS, and AES/EBU digital outputs), while the XR18 provides only 18 input channels (16 mic preamps) and limited output options.
Dedicated Processing: With its powerful DSP engine, the X32 provides built-in processing for each channel including EQ, dynamics processing, and effects inserts. This frees up valuable CPU resources on your computer or tablet when using digital audio workstation (DAW) software.
User-friendly Interface: The large color TFT display on the X32 makes it easy to access all of its features with visual feedback about routing, channel parameters, and more. In contrast, the XR18 relies solely on external devices (such as tablets or computers) for user interface control.
Expandability Options: With options for adding remote stage boxes or integrating personal monitor systems through Ultranet connectivity allows users to expand their setup using additional Behringer products such as P16-M personal mixers or S16 stage boxes. On the other hand, XR18 lacks such expandability options.
In conclusion, while both mixers offer exceptional value for money in terms of capabilities/features provided at their price points; however, Behringer X32 is designed to handle more complex and demanding applications.
With a full-featured control surface, expanded inputs & outputs, dedicated channel processing, user-friendly interface, and expandability options, the X32 is an excellent choice for those in need of a robust and versatile digital mixing solution.
Who The XR18 Is For & Why You Might Choose It Over The Behringer X32
The XR18 is a digital mixer designed by Behringer for musicians, engineers, and live sound professionals who seek an easy-to-use and versatile solution for their mixing needs.
While the Behringer X32 is a popular choice among many audio enthusiasts, the XR18 has distinct features that set it apart and make it a viable alternative.
In this article, we will discuss who the XR18 is for and why someone might choose to buy it over the X32.
Who is XR18 for?
The XR18 caters to various users, including:
Musicians and bands: The XR18's compact design makes it convenient for musicians to carry around on tour or during practice sessions while providing quality sound control.
Small venues and churches: With its intuitive interface and remote control options, the XR18 can be easily used in small-scale live events or places of worship with limited space available.
Filmmakers and content creators: The XR18 provides high-quality audio recording capabilities that can benefit those working in video production or podcasting environments.
Educational institutions: Schools seeking an affordable option for teaching sound engineering or running performances in their premises may find the XR18 suitable for their needs.
Why choose XR18 over Behringer X32?
User preferences may vary depending on factors such as budget constraints, physical requirements, or specific features needed.
Here are some reasons users might opt for the XR18 over the X32:
Affordability: The price of the XR18 is significantly lower than the Behringer X32, making it a more budget-friendly option for those who are cost-conscious.
Compact design: The XR18 has a compact and lightweight form factor, which makes it easy to transport and set up in various locations. In contrast, the X32 has a larger footprint and can require more effort to move around.
Remote control capabilities: One of the key features of the XR18 is its ability to be remotely controlled with mobile devices or computers without requiring an additional physical control surface. This flexibility can come in handy for users who wish to control their mix from anywhere within their Wi-Fi coverage area.
Integration with external devices: The XR18 comes equipped with a built-in Wi-Fi router, USB connectivity for direct computer recording, and MIDI connections for external device integration. These features make it simpler to interface with other sound processing or recording equipment as needed.
Sufficient inputs and outputs: While having fewer inputs than the X32 (18 channels compared to 32), many users may find that the XR18 provides an adequate number of input/output channels for their needs at a lower cost.
Buyer's Guide: Important Things To Consider & Look Out For When Buying A Mixer
So, you got bitten by the sound engineering bug and the fever's taken over. Now you're on a hunt for your perfect mate – the digital audio mixer – to sate your thirst for live performance and studio recording prowess. Need some advice?
Chill; we got you covered with our top 10 breakdown of what to consider when choosing your new audio mixing console.
1. Channel Count: Less is More or Go Big?
Are you all about that intimate acoustic gig setup, or do you want to conquer stadium-level bands with more members than a football team?
The number of channels determines how many inputs (microphones, instruments) can be mixed simultaneously. Don't be all romantic about it though; sometimes bigger is better.
The Beginner Bunch: Keep it simple with 8-16 channels for small band setups.
The Entertainer: Aim for around 24 channels if live shows are your bread 'n butter.
The Studio Wizard: A whopping 32+ channels will feed that hunger for complex creations.
Remember: future-proofing is smart; overspending ain't.
2. I/O Options: Can You Hear Me Now?
Look out for variety in input/output options on an audio mixing console:
Analog Inputs: Vital! Combo connectors (XLR/TRS) offer flexibility.
Digital Ins & Outs:Raise your hand if AES/EBU, ADAT, and SPDIF ring a bell! You'll want these babies as part of the digital world.
USB Interface: We're well past the tape deck era; don't get stranded without digital recording connectivity.
A pro tip? Keep an eye out for mixers with built-in Wi-Fi or Ethernet ports for remote control capabilities.
3. Hot Features: It's a Mixer, But Make It Fancy
As you swim deeper into sound engineering waters, you might want your mixer to evolve into a do-it-all gadget:
Parametric EQ: Shape your sound like a pro sculptor.
DSP Effects: Add that extra sauce to make your mix shine.
Faders:Select digital mixers sporting motorized faders – it's like magic!
Look for bonus features like built-in RTAs, DAW integration, and dynamic processing on each channel.
The Usual Suspects of Digital Mixers
| Sweet Stuff | Mixer | |
| --- | --- | --- |
| Digital Snake System | X32 | |
| iPad-controlled app | XR18 | |
| Budget-friendly option | Behringer X32 Compact | |
4. Build Quality: Don't Break My Heart (Or Knobs)
You'll be spending countless hours together caressing faders and turning knobs – so durability matters!
A sturdy chassis with high-quality components will keep the love alive between your fingers and the mixer.
5. Sound Quality: Ear Candy All Day Long!
The main reason you're here – pristine audio fidelity. Before taking the plunge, dive into reviews to ensure your chosen digital mixer boasts top-notch sound quality.
6. Usability: It's a Date (With Your Interface)
You two need to vibe! Look for a friendly interface with smooth, intuitive navigation. A large, readable display will make it far more enjoyable to work with your audio mixing console and alleviate any workflow heartache.
7. Portability: You & Me Against the World
Are you road-tripping together often? Travel-friendly features like lightweight construction and compact designs are worth considering.
CloudLifters or power-conditioning racks can also help lighten your load.
8. Expandability: In It for the Long Haul
As your needs evolve, can this relationship grow? Check out mixers that offer extra I/O expansion slots to keep up with future gear upgrades or ever-more-insane gigs.
9. Software Compatibility: Speak My Language
Some digital mixers come preloaded with their own DAW software; others sync well with popular ones like Pro Tools or Logic Pro X.
Be sure the mixer is compatible with your preferred DAW before swiping right.
10. Budget: The Goldilocks Zone
Just like in love, don't *settle* for less than what you deserve… but also be real about what you actually need and plan accordingly:
The Flirting Phase:You're in the $500-$1000 range of audio mixing console options.
Going Steady:$2000-$4000 unlocks more advanced features.
The Full Commitment:$6000+ will get you those fancy futuristic bells & whistles.
Now go forth – equipped with newfound knowledge and confidence – in pursuit of your perfect digital audio mixer soulmate. Happy hunting!
What are some common use cases for the Behringer X32 Rack and XR18?
The Behringer X32 Rack is ideal for larger events, such as concerts, live performances, and professional studio environments. It offers more expandability options and a built-in user interface that allows users to control settings directly on the device. Meanwhile, the XR18 is perfect for smaller venues, home studios, and mobile recording setups due to its compact size, lighter weight, remote control capabilities via Wi-Fi or Ethernet connection.
Can I expand my current audio setup with either of these mixers?
Yes, you can expand your existing audio setup with both the Behringer X32 Rack and XR18 mixers. However, the X32 Rack offers more expandability options, making it a suitable choice if you plan on growing your system or working in larger events in the future. The additional auxes provided by the X32 also make it a better choice for complex audio routing setups.
Do I need any additional equipment to use these mixers?
To fully utilize all features of these digital mixers, you may need additional equipment such as cables/connectors (for input/output), an external router (if using remote control with X32), or compatible devices (like iPads/Android tablets) for controlling mixer settings remotely. Some users also prefer using an external monitor with the X32 Rack's built-in user interface.
If I already own one of these mixers but want to upgrade or change models later on, will there be any compatibility issues when transitioning between them?
The main compatibility issue between these two devices is that they cannot work together as networked stage boxes. However, if you plan to upgrade or switch between the Behringer X32 Rack and XR18, your previous knowledge of one mixer's functionality will carry over to the other because they share similar features and operational principles. It is essential to consider any changes in expandability options, user interfaces, and available effects when transitioning between these mixers.
Other Mixers The X32 Has Gone Up Against:
We have compared the X32 with the Allen Heath SQ. Check it out!
Another one people also ask about is the PreSonus StudioLive vs the Behringer X32 - I have shared my personal take on both.
Now, and opponent you may not be aware of is the Midas M32 - definitely a worthy opponent. I compared the two to display how they stack up against on another!
About Author
Lyrics
Please save some lyrics first.