Curious about what record label The Arctic Monkeys is signed to?
Want to know all about past deals, releases, net worth, and Their masters ownership?
Whether you are an artist yourself, hoping to follow in The Arctic Monkeys's footsteps, or you are a curious music lover...
You're in the right place!
In this post, we are exploring all of that and more, so scroll on 🙂 ...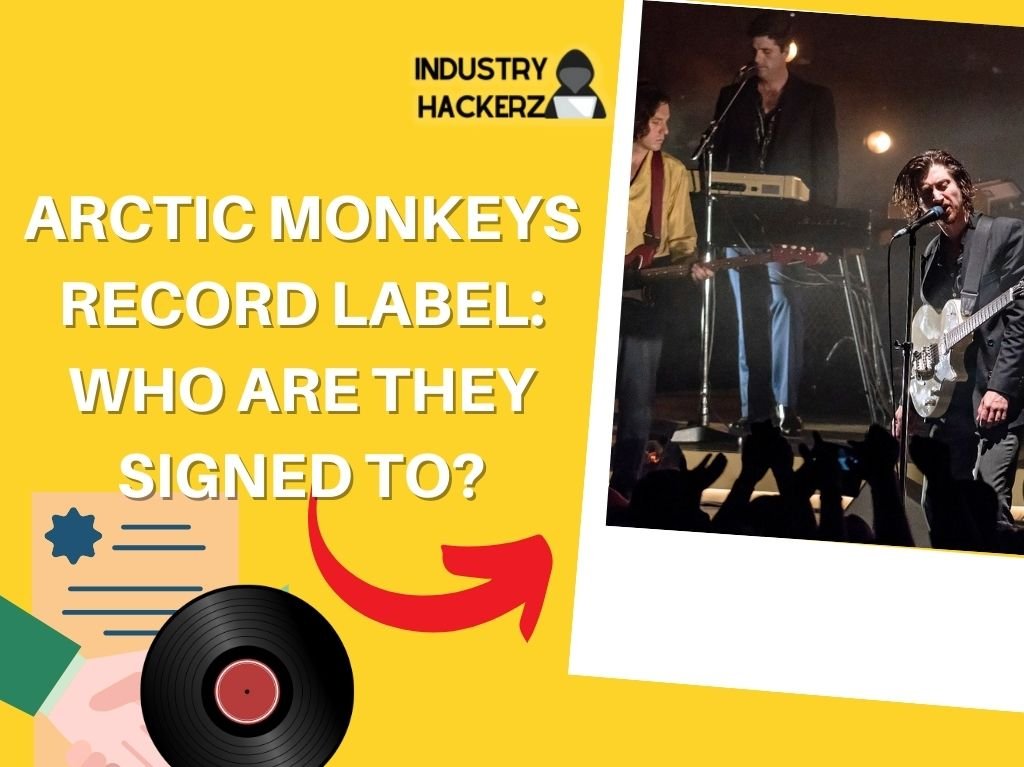 Who Are The Arctic Monkeys Signed To?
Domino and Warner Bros:
You Should Read This Next!
The Arctic Monkeys are signed to indie label Domino, which has a partnership with Warner Bros. for the release of the band's album "Favourite Worst Nightmare" on April 24.
The arrangement is similar to Domino's deal with Epic for Franz Ferdinand, which also provided marketing and sales support.
Artist Background: The Arctic Monkeys's Previous Record Labels & Contracts
After much deliberation, Arctic Monkeys signed with Domino in June of 2005. They were captivated by the DIY ethos of Domino's owner Laurence Bell, who ran the company from his home and only signed acts he was personally fond of.
In October of the same year, the UK's Daily Star reported that the band had earned a £1 million publishing deal with EMI, as well as a £725,000 contract with Epic Records for the US.
Arctic Monkeys later took to their website to dispute this, referring to the paper as "The Daily Stir". Although
Awards: The Arctic Monkeys's Achievements
The group won seven Brit Awards, including three for Best British Group and three for British Album of the Year, making them the first group to ever "do the double" (win in both categories) three times.
They also received a Mercury Prize for Whatever People Say I Am, That's What I'm Not, an Ivor Novello Award, and 20 NME Awards. In the UK, the group became the first independent-label band to debut at number one with their first five albums.
They've also been nominated for five Grammy Awards, and in 2007, 2013, and 2018 they were nominated for the Mercury Prize. The 500 Greatest Albums of All Time lists from Rolling Stone and NME both feature Whatever People Say I Am, That's What I'm Not and AM.
How Did The Arctic Monkeys Get Famous?
In 2002, Alex Turner, Matt Helders, and Andy Nicholson formed The Arctic Monkeys after meeting in secondary school.
The band's name was suggested by Jamie Cook, the fourth member and second guitarist, and is possibly a pun on 'northern monkey', an old-fashioned term for someone from Northern England.
They gained recognition from BBC Radio and the British tabloid press, and released their EP 'Five Minutes with Arctic Monkeys' in May 2005, containing the tracks 'Fake Tales of San Francisco' and 'From the Ritz to the Rubble'. The release was limited to 500 CDs and
Does The Arctic Monkeys Write Their Own Songs?
The Arctic Monkeys collaborate together to create some of the most popular songs of all time. Alex Turner is credited with writing the lyrics, while the rest of the band members contribute to the music.
Together, they combine their talents to produce record breaking and chart topping hits.
What is The Arctic Monkeys's Net Worth?
Nick O'Malley has a $2 million net worth. Meanwhile, Matt Helders has $16 million networth. Jamie Cook's networth is estimated to be at $24 million. Lastly, Alex Turner's net worth is at $25 million. Overall, Arctic Monkey's net worth is at $67 million.
Nothing has been able to halt the cherished band's and its bright stars' inevitable ascension. As they continue to attract a wide variety of individuals, even those who listen to rock music, with the fresh and upbeat style of their music.
Therefore, Arctic Monkeys has undoubtedly made and been making its profit off of all of these triumphs, even if they were only doing it for art or anything else.
Other Artists Signed To Domino and Warner Bros
Animal Collective
The Kills
Franz Ferdinand
Hot Chip
Four Tet
Dirty Projectors
Anna Calvi
Wild Beasts
and many more are part of Domino Record Label.

Likewise, Warner Bros artist roster includes:
NLE Choppa
Zach Bryan
Bella Poarch
Dua Lipa
Madonna
Anitta
and many more
Does The Arctic Monkeys Own Their Masters?
There is not enough information to suggest that they own the masters to their recordings. However, their case can be like the case of other artists where the masters to their recordings are owned by the record label. We will update this information once we verify it.
The Wrap Up
There you have it!
I'm curious, was that what you expected from The Arctic Monkeys? Let me know in the comment section...
To stay up to date with The Arctic Monkeys be sure to follow the official The Arctic Monkeys Twitter Page and the The Arctic Monkeys YouTube Channel for all of the latest The Arctic Monkeys events!
Record labels can be very complicated, and there are so many different types of record deals and contracts to be aware of.
If you are an artist yourself, exploring possible options for your career, you might wanna check out our example record deal contracts to stay in the know - record label scams are rampant in the industry, sadly.
Not surprisingly, many artists are choosing to stay independent and start an independent record label - we at Industry Hackerz are ALL for that; whatever route gets you to where you want to go!
We also have free music licensing templates that you can download and use if you do go that route; protect yourself, always.
You might also like to check out the contract status of these other prominent artists:
About Author
Lyrics
Please save some lyrics first.