When it comes to Akai MPCs, you really want to buy once and buy right!
Now, all of these models are serious contenders, as Akai is a serious brand with a long history of data to back it up.
I won't bore you with all of that... But what I will say is, some models will more suited for your intended use than others.
And again, you want to buy one based on your needs, rather than the one with the highest number of Amazon stars... big mistake.
Below, I have picked out the best, tried and tested AKAI MPCs for beginners based on a few different criterion:
Best All-rounder
Best budget-friendly
Best premium pick
Best for the beginner/intermediate who is also taking this seriously as a profession (I see you!)
Best casual pick (you don't want to spend too much but don't want to go basic and wish you spend an extra buck)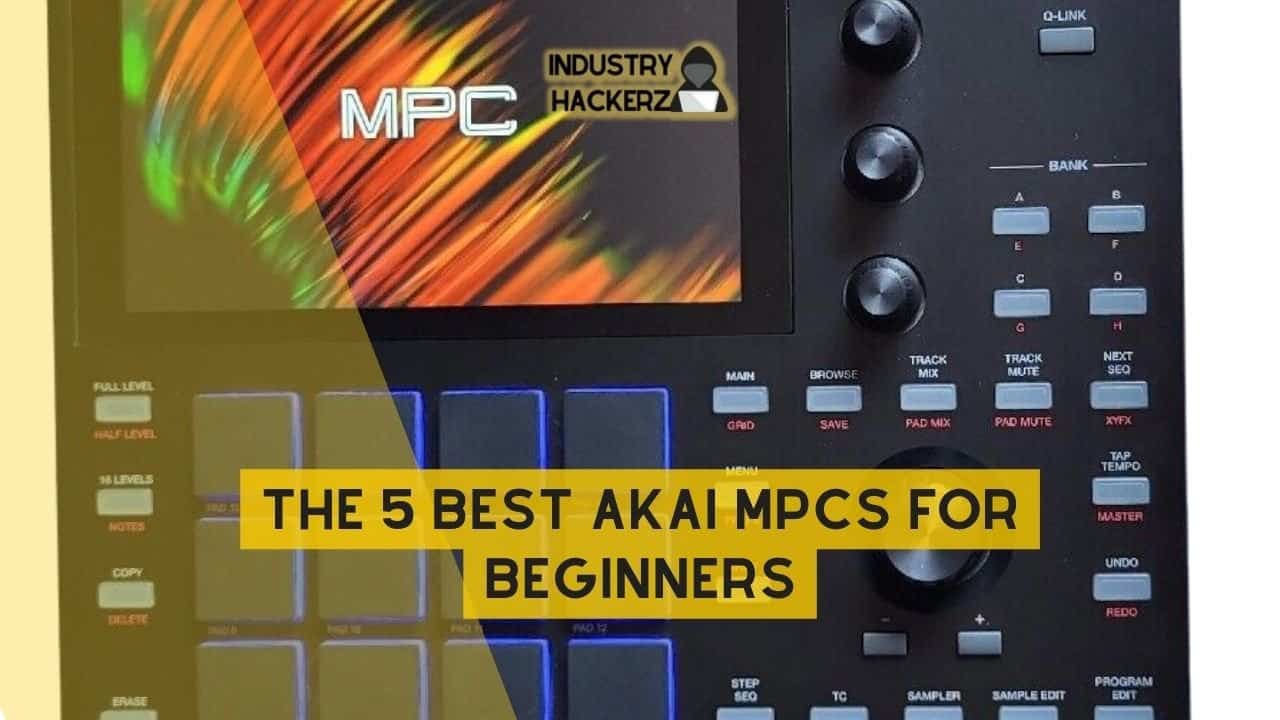 Here they are:
You Should Read This Next!
1. Akai MPC One: Best All-Round Choice For Beginners
The Akai MPC One is one of the best all-around choices for beginners. It provides a straightforward workflow and just enough features to get started without being overly complex.
The MPC One has 16 velocity and pressure-sensitive pads, built-in speakers, and a 7-inch multi-touch display.
It runs on Akai's MPC 2.0 software, which is intuitive for new users. There are also plenty of onboard sounds to get you going right away.
Around $700, the MPC One hits a sweet spot of affordability and quality for a starter MPC. It's a great way to dip your toes into standalone music production.
2. Akai MPC Studio: Best Budget-Friendly Pick
If you want something even more budget-friendly, check out the Akai MPC Studio. This model strips things down to the basics, with 16 pads, 6 assignable knobs, and MPC Essentials software.
Since it's a controller instead of a standalone unit, you'll need a computer to run the software. But at around $200, the MPC Studio lets you get into the MPC workflow at a fraction of the cost.
It's a smart choice if you want to try things out or don't need advanced features yet.
3. Akai MPC Live II: Best Premium Pick
On the higher end, the Akai MPC Live II brings standalone power plus touchscreen workflow. It's loaded with effects, sampling capabilities, and storage for expansion.
The Live II is an excellent choice if you want to start on a pro-level MPC you can grow into. At $1,300 it's an investment, but also Akai's most full-featured all-in-one production studio. From melodies to mixing, everything happens on the MPC.
If you can afford it, go for it! You won't be disappointed!
4. Akai MPC X: Best Choice For Beginner/Intermediate Professionals
Serious beginners who want the ultimate standalone unit should look at the Akai MPC X. This flagship MPC offers immense creative possibilities with its large color touchscreen, 16 velocity-sensitive pads, and on-board audio interface.
There's a learning curve due to the depth of features on the MPC X. But it will let any beginner create professional-sounding tracks once mastered. The $2,000 price tag is steep, so it's best for those who know they want to fully immerse themselves in MPC production.
5. Akai Professional MPC Renaissance: Best If You Are On The Fence About Spending TOO Much But Want Something Solid For Years To Come...
The Akai Professional MPC Renaissance combines the classic MPC workflow with extensive production capabilities. Under the hood, there's a powerful sound engine that can handle complex arrangements and effects.
This is a great middle ground between the more affordable MPCs and the pricier flagship models. At around $500 it's reasonably priced, yet still offers many possibilities to explore as a beginner.
The Bottom Line
The MPC One, MPC Studio, MPC Live II, MPC X, and MPC Renaissance each bring something different to the table. Consider your budget, goals, and experience level when deciding. Any of these models can provide an excellent entry point into standalone or controller-based beatmaking with MPC.
About Author
Lyrics
Please save some lyrics first.