Do you want a job at a record label? If so, you are in the right place!
This article will provide you with a step-by-step guide on how to work for a record label and hopefully help land you your dream job at a record label.
I have also included insider tips and tricks that I learned from my experience in the industry.
This is not an easy process, but if you follow these steps and use the advice below, it can be done!
List Of Top Record Label Jobs
Before we get into it, it will help to identify the different jobs that you could hold at a record label.
There are many different positions available, and they all require very different skillsets - so it is important to know where your interests lie in order to match the right position for yourself.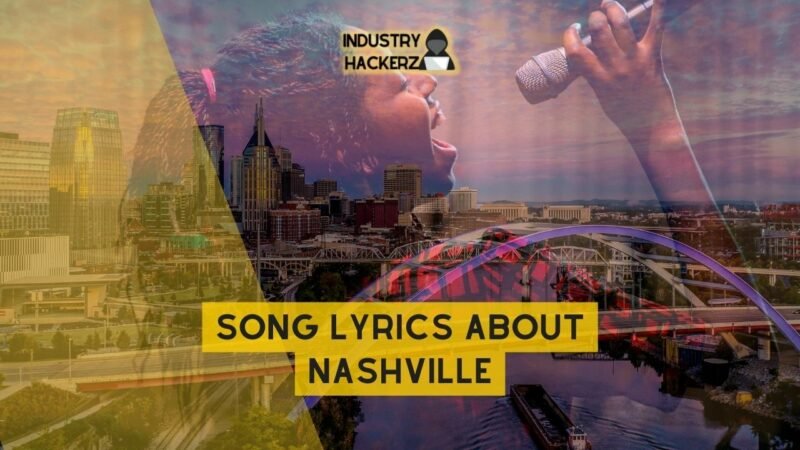 You Should Read This Next!
Some popular roles include:
Music Manager
Promotions Coordinator
Publicist
A&R Representative
Marketing Manager
Sales Coordinator
Graphic Designer
Sound Engineer
Music Manager
A music manager is like the backbone of an artist's career. They're the go-to person for everything from booking gigs and planning albums to crafting marketing strategies.
They're not just focused on the day-to-day; they also have their eyes on the big picture, guiding artists toward long-term goals.
They wear a ton of hats—think PR agent, business manager, and talent scout all rolled into one. They negotiate contracts, ensure the artist gets paid, and even handle finances.
Being super organized and a people person is pretty much a given. In essence, they're the Swiss Army knife in an artist's career toolkit.
How to Become a Music Manager
First things first, think about snagging a bachelor's degree in something like music business.
It's not just about the books; real-world experience is gold. Lock in an internship with a music management company or record label to get your feet wet and network like a pro.
Stay woke on industry trends by devouring publications and hitting up conferences. Ever thought about being a sidekick to an already established manager?
Working under industry professionals can be a game-changer. You've gotta be a Swiss Army knife of skills—creative, organized, and thick-skinned.
And let's not forget, your network is your net worth. So, slide into industry events, join the cool clubs, and be a social media butterfly.
---
Promotions Coordinator
This job entails promoting any product from within the company. This could mean social media posts, physical advertisements, or radio ads.
You are directly involved with marketing and advertising for the company's products to make sure they reach as many people as possible!
This is an entry-level position that requires previous experience in a similar role. The promotion coordinator must be very organized and able to multitask through long hours.
What type of person this role would suit:
A social media fanatic
Someone who is willing to work long hours and weekends for short periods of time.
---
Publicist
This role focuses on creating buzz around the company's events or products. This could be an album release, tour announcement, festival appearance - anything! Publicists use their contacts within the industry as well as strong writing skills to get the word out.
Publicists must have excellent communication skills, be able to think on their feet, and be very organized. They are often the ones who work with the media to generate positive press for their company.
What type of person this role would suit:
A writer - they must have great writing skills as most of their work is pitching to the media.
Someone with a lot of industry contacts and excellent people skills.
---
A&R Representative
This is probably the most popular role at a record label and for good reason. A&R Rep is responsible for finding new talent and signing them to the label.
You must have excellent knowledge of current music trends, as well as an ear for talent. This position also requires great networking skills in order to find the best talent.
This is probably the most difficult role to get into, as you must have a lot of connections in the industry and be known for your ability to find great artists before anyone else does!
This position requires amazing communication skills so being confident when speaking with people comes naturally.
This job also requires someone who is passionate about music and has an ear for good music.
What type of person this role would suit:
An outgoing and social person with a lot of industry contacts.
Someone who is passionate about music, has an ear for good music, and knows what's going on in the industry at all times.
---
Label Marketing Manager
The marketing manager is responsible for all the marketing initiatives of the company. They create and implement campaigns across different platforms, such as social media, radio, TV, etc. to generate awareness and interest in the product. Marketing managers must be creative and have excellent writing skills.
This position typically requires a few years of previous experience in marketing - so it is not the best option if you are looking to get into this industry right after college.
What type of person this role would suit:
A creative thinker who enjoys coming up with new ideas and campaigns to promote their product.
Someone who knows social media and advertising well and loves to use different platforms for promotional purposes.
---
Sales Coordinator
This position entails working directly with the sales department in order to ensure that all products are sold as efficiently as possible. They will be responsible for maintaining accurate records, communicating with partners/distributors about orders, etc.
This role requires excellent organization and communication skills, as well as a keen eye for detail.
What type of person this role would suit:
A strong negotiator who enjoys working with numbers!
Someone who is organized, has strong attention to detail, and can multitask through long hours.
---
Graphic Designer
A graphic designer creates album covers, logos, and other marketing materials for the company. Graphic designers must have excellent design skills, this goes without saying. But they also need to be able to be flexible in their creative approach.
This position requires a lot of creative thinking and an eye for good design. It also requires the ability to work within deadlines - graphic designers are often involved in last-minute projects at record labels!
What type of person this role would suit:
A skilled designer who knows how to adapt their style according to different platforms, such as album covers, logos, and social media.
You will likely be well-versed in programs like Photoshop, Illustrator, and InDesign, and ProCreate.
---
Sound Engineer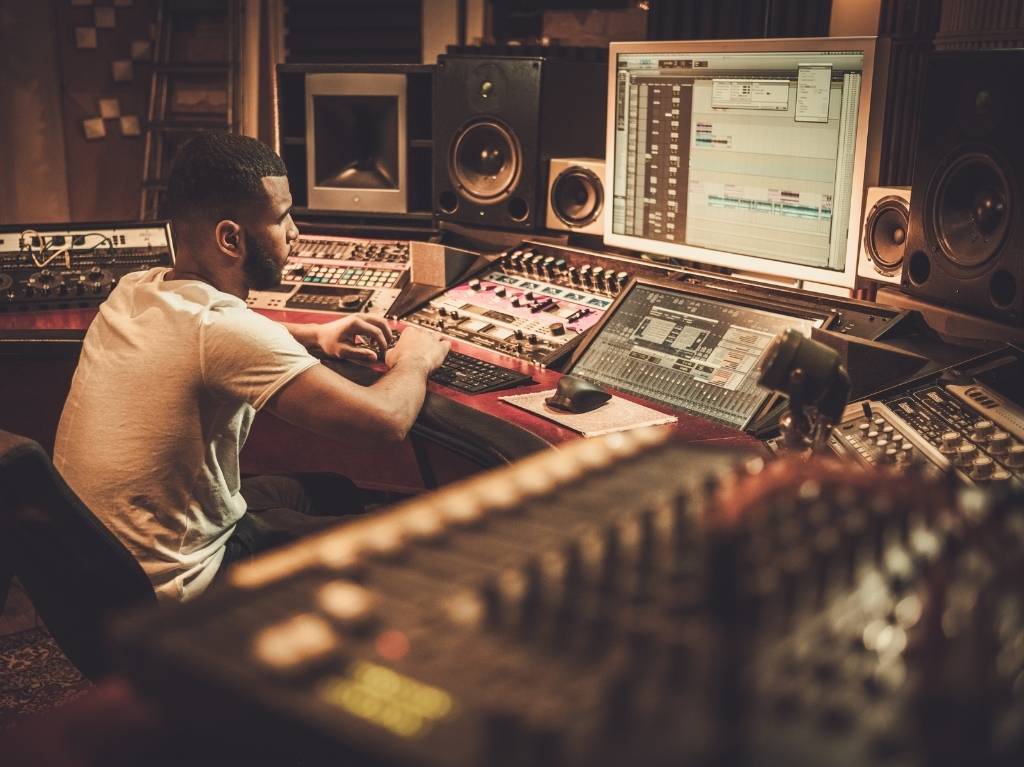 Sound Engineers are responsible for the sound quality of an album during the recording process.
They must have a keen ear for sound and be able to make quick adjustments in order to achieve the desired sound.
Sound Engineers typically have an audio engineering degree or some sort of experience working with sound. This position requires someone who is passionate about music and has a good understanding of how sounds work together.
What type of person this role would suit:
Someone who loves music and can quickly adjust their sound according to what they are working on. You need a good ear for sound!
Depending on the size of the company, you may or may not require previous experience in this field before starting out.
However, it is likely that companies will want someone with technical knowledge of sound and music.
How to Get Job at Recording Studio
Dreaming of a job in a recording studio? Start by crafting a killer resume, cover letter, and portfolio to show off your skills.
Don't just rely on a degree; take classes, workshops, or even work on your own projects to really hone your craft. Internships are your golden ticket for hands-on experience and networking, so apply like crazy.
And hey, don't forget to do your homework on each studio's vibe and work style before you reach out.
Networking is your secret weapon. Hit up industry events, slide into studio DMs, and keep those connections warm.
If you're getting radio silence after applying, be that squeaky wheel and follow up.
Studios dig persistence and a genuine passion for the craft, so keep grinding and make yourself impossible to ignore.
---
Label Manager
The label manager is responsible for the day-to-day operations of the company. This includes overseeing budgets, hiring/firing employees, managing contracts, etc.
They also work closely with A&R to develop new talent and oversee their progress.
If you aspire to be a label manager one day, you should have a few years of experience in the music industry under your belt.
Alternatively, you could start your own label and manage that!
Now that you know what some of the different positions are at a record label, let's go over how to get hired for one.
How to Get a Job at A Record Label : 5 Easy Steps to Make You A More Desirable Applicant
Network In The Industry
Be A Student
Prepare for the Interview
Have a Portfolio of Your Work Ready
Be Flexible
1. Network In The Industry
Networking is very important in the music industry. Likewise, keeping positive mutual relationships is key to getting hired.
Be sure that you stay in contact with everyone and check in with your existing contacts once in a while - and not just the ones that work at the label you want to work at.
If you do not know anybody right now - relationships are the backbone of the music industry, so start building them now!
You can start using social media. But you need to gauge what platform is best, with the least noise - especially if you intend to reach out to them.
Linked In would be the most professional setting, but you might find that the Instagram profile of a lesser-known A&R has little noise and is a great opportunity to reach out.
---
2. Be A Student
This one is pretty straightforward - if you want to work in the music industry, be a student of the music industry!
Attend shows and events, read articles, and listen to as much music as you can. You should have a general understanding of how the industry works before attempting to approach anybody in it.
Being a student has less to do with academic achievements and more to do with your thirst for knowledge and how you apply it.
At can also pay off big time if you seek out somebody in your desired role and try and gain a mentorship.
Somebody who is currently working in the music industry and is willing to help you out, guide you, and give you advice.
Mentorships are not always easy to obtain, so be prepared to be able to offer some sort of value to make the exchange somewhat mutual. Always think win-win (or better; give-give-give-take)
---
3. Prepare for the Interview
Eventually, you may land an interview. This could be via video or in person.
Be prepared for a variety of questions that may be asked. A lot of the questions will revolve around your experience and understanding of the music industry, but some could also be about specific label-related knowledge.
Do your research! Make sure you know as much as possible about the company you are interviewing with, inside and out.
---
4. Have a Portfolio of Your Work Ready
If you have the opportunity to send in a portfolio of your work, do it!
Your work could be anything from writing about music, designing album covers or posters, creating marketing materials, or recording and mixing tracks.
The more you can show that you are passionate and knowledgeable about the industry - the better.
---
5. Be Flexible
Last but not least, be flexible!
The music industry is ever-changing and so are the job roles within it. You may start off in an entry-level role and eventually move up. Or you might find that your dream job isn't what you expected it to be.
Be prepared to do a little bit of everything and don't be afraid to get your hands dirty, don't limit yourself.
Make sure you always treat others with respect, regardless of whether they may be higher up than you or whether they might not know as much about music as you do.
Pathways to Geting a Job at a Record Label
Record Label Internships & Apprenticeships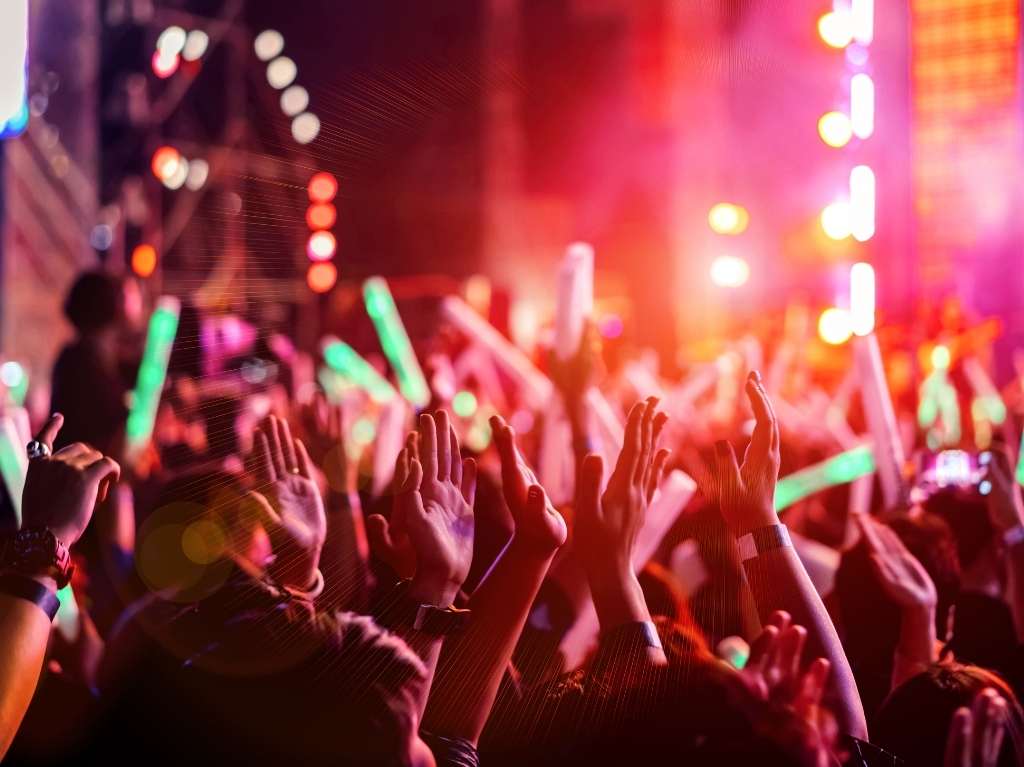 If you are still in school, then internships can be the perfect way for you to get your foot in the door. Many record labels offer internships, and these are a great way to learn about the day-to-day operations of a label.
Some internships may even lead to an apprenticeship - which is an amazing opportunity to learn from those who have been in the industry for years.
There are also many music festivals that offer apprenticeships as well - think outside the box.
You do not need to work at a label immediately, you just need the experience in the industry as leverage to level up and then rinse and repeat! I have already mentioned, networking is key!
It will be one of the best ways to gain experience and make connections with those who can help further your career in the industry.
You can begin this process by checking in with local music studios, labels, events spaces etc.
---
Music Industry College & University Courses
Getting a degree in music business or a related field can also be a great way to get your foot in the door of the music industry.
There are many colleges and universities that offer courses specifically tailored for those who want to work in the music industry - this is an excellent option if you know exactly what you want to do.
Many of these institutions also have partnerships with various record labels, so you can be sure to gain some amazing experience while still in school.
What Qualifications Do I Need?
A degree in marketing, business management, or a related field is usually required.
The music industry has changed significantly over the last several decades. It used to be that record labels only needed someone with good taste in music who could also write reports about what songs were popular at the time so they could plan their releases accordingly.
Nowadays, it's more common for there to be an extensive team working on various aspects of the label - from artists management and booking agent representation all the way down to publicists and social media coordinators.
In other words, you'll need experience as well as knowledge if you want to work at a record label today!
Final Thoughts
To conclude, breaking into the music industry can be difficult, but it's not impossible.
There are many pathways you can take to get where you want to be - it all depends on what you're willing to do and how much effort you're willing to put in.
Networking is key, so make sure you start building those relationships as early as possible!
About Author
Lyrics
Please save some lyrics first.