NEWS: Industry Hackerz Acquires The Godmother Of Soul, ErykahBadu.Com Official Site: Bio, Concerts, Tours, Videos, News, and More...
Embed from Getty Images
Erykah Badu, born Erica Abi Wright, is regarded highly by the music industry, as a soulful queen. Many grew up on Erykah Badu, and her music often provides a time capsule of childhood and teen years for 80s and 90s babies.
Erykah Badu's music has a unique blend of soul, R&B, hip-hop, and jazz influences that create a captivating and timeless sound. Her voice is soothing, powerful, and filled with emotion, which allows her to convey her messages with depth and authenticity.
Match that with the deep bass lines groovy rhythms, and intricate musical arrangements, and you have the signature sound that defines Erykah Badu's music. And, as one YouTube commenter once said "This isn't music, this is poetry mixed with a psychedelic trip."
But don't just take my word for it - this page showcases the history of Baduizm!
Badu Wiki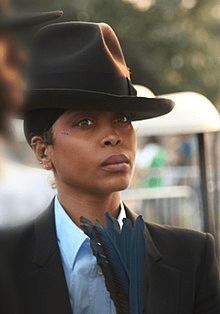 | | |
| --- | --- |
| Born | Erica Abi Wright, February 26, 1971 (age 52), Dallas, Texas, U.S. |
| Education | Booker T. Washington High School, Grambling State University |
| Occupations | Singer, songwriter, rapper, record producer, actress |
| Years active | 1994–present |
| Partners | André 3000 (1996–1997), Common (2000–2002), The D.O.C. (2003–2004), Jay Electronica (2004–2009), Carl Jones (2013–2018) |
| Children | 3 |
| Awards | Full list |
| Genre | R&B - Neo soul - Psychedelic soul - Conscious hip hop - Progressive soul |
Erykah Badu Discography
Full discography can be found here.
1. "Baduizm" (1997):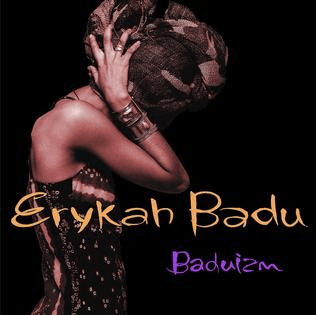 Erykah Badu's debut studio album, "Baduizm," was released on February 11, 1997. The album received critical acclaim and commercial success, reaching number two on the Billboard 200 chart. It featured hit singles like "On & On" and "Next Lifetime." "Baduizm" is often credited with popularizing the neo-soul genre
2. "Live" (1997):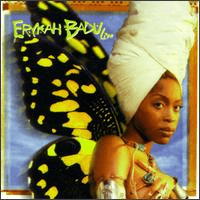 Following the success of "Baduizm," Erykah Badu released a live album titled "Live" on November 18, 1997. The album was recorded during her concert at Washington D.C.'s Howard Theatre. It included live performances of songs from her debut album as well as covers of other artists' songs.
---
---
3. "Mama's Gun" (2000):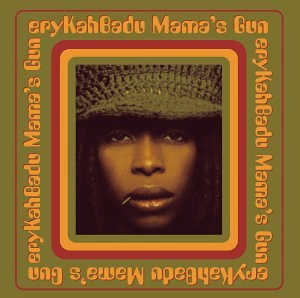 Erykah Badu's second studio album, "Mama's Gun," was released on November 21, 2000. The album showcased a more experimental sound compared to her debut album and received positive reviews from critics. It featured singles like "Bag Lady" and "Didn't Cha Know?"
4. "Worldwide Underground" (2003):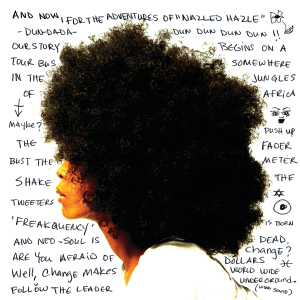 Released on September 16, 2003, "Worldwide Underground" is Erykah Badu's third studio album. It incorporated elements of funk, hip-hop, and jazz into her signature neo-soul sound. The album received mixed reviews but still achieved commercial success.
---
---
5. "New Amerykah Part One (4th World War)" (2008):
This album, released on February 26, 2008, marked a departure from Badu's previous works. It explored themes of social and political issues and featured a more electronic and experimental sound. The album received critical acclaim and included singles like "Honey" and "Soldier."
6. "New Amerykah Part Two (Return of the Ankh)" (2010):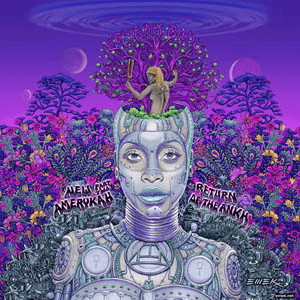 Released on March 30, 2010, this album served as a sequel to "New Amerykah Part One." It showcased a more soulful and introspective sound compared to its predecessor. The album received positive reviews and featured singles like "Window Seat" and "Gone Baby, Don't Be Long."
---
---
7. "But You Caint Use My Phone" (2015):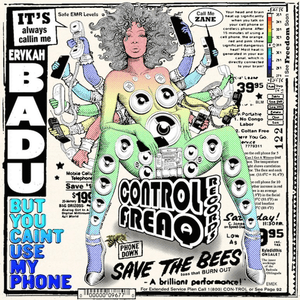 Although not a full-length studio album, this mixtape was released on November 27, 2015. It was inspired by Badu's remix of Drake's song "Hotline Bling" and explored themes related to communication in the digital age.
---
These are some of the key albums in Erykah Badu's discography. In addition to these studio albums, she has also released various singles, collaborations, and EPs throughout her career.
Erykah Badu Music Videos
Erykah Badu has released a total of 38 music videos (both official and unofficial). These music videos span across her various albums and singles.
And we cannot forget the live classic, Tyrone. Which has recently made a remixed appearance in Netflix's top movie They Cloned Tyrone.
Erykah Badu Net Worth
Erykah Badu holds an estimated net worth of $12 million. Just remember, this is just a ballpark figure and its accuracy may swing one way or the other.
Her cash-flow mainly stems from her success in the music world. From album sales reaching millions globally to taking centre stage at high-energy concerts - this has all been music to her bank account.
And let's not forget about her foray into acting!
Her roles on both the big and small screens have definitely padded her net worth.
She's also got serious business acumen under her hat. Starting Control FreaQ Records, plus, collaborating with other artists on different projects, this has all added to her overall fortune.
Today, Erykah Badu continues to grow both as an artist and as a businesswoman. And, all these endeavors contribute significantly in making Erykah Badu the multi-millionaire she is today.
Erykah Badu Family
Erykah Badu was born into a talented family. Her dad, William Wright Jr., was a singer and loved the stage while her mom, Kolleen Maria Gipson, brought characters to life as an actress and taught others to do the same as a drama teacher.
She grew up alongside her brother, Eevin Wright and sister Nayrok Wright.
She's not just an artist but also a mom!
Her firstborn is Seven Sirius Benjamin. Born on November 18, 1997, Seven's dad is none other than OutKast's own André 3000. While he pops up in public with his mom from time to time, he likes to keep things chilled and out of limelight.
Erykah's second child is Puma Sabti Curry (seen in the TikTok below). This little lady came into the world on July 5, 2004. Her dad is Tracy Lynn Curry or The D.O.C., another big name in hip-hop. Much like her brother Seven, Puma values her privacy too.
Last but not least is Mars Merkaba Thedford (seen in the TikTok above), Erykah's third. Mars was born on February 1, 2009 with Jay Electronica (real name Timothy Elpadaro Thedford), yet another rapper in the mix!
Like her siblings, she mostly stays away from the public eye but has made some appearances alongside her superstar mom.
Erykah Badu News
Tours & Tour Dates
There are worldwide tour dates throughout the year. To view her latest tour dates and buy tickets, see here.
Random Trivia & FAQs
Top 10 Mis-spellings of Erykah Badu
Believe it or not, no two are the same! 😅
Erika Badu - Eriykah Badu
Eryka Badu - Erykah Badu
Erica Badu - Ericykah Badu
Erikah Badu - Eriykah Badu
Erkyah Badu - Erkykah Badu
Ericka Badu - Ericykah Badu
Erkah Badu
Erykha Badu
Erykah BaDUH (🤣)
Erakah Badu
Disclaimer: Industry Hackerz have acquired ErykahBadu.com in order to showcase the singer's talents and achievements while keeping her fans up to date via news and trivia.
Lyrics
Please save some lyrics first.