Today, I am reviewing two very popular mixers (or audio interfaces if you're posh :-p) the PreSonus StudioLive AR12C vs Tascam Model 12.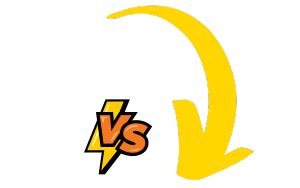 Key Differences Between PreSonus StudioLive AR12C And Tascam Model 12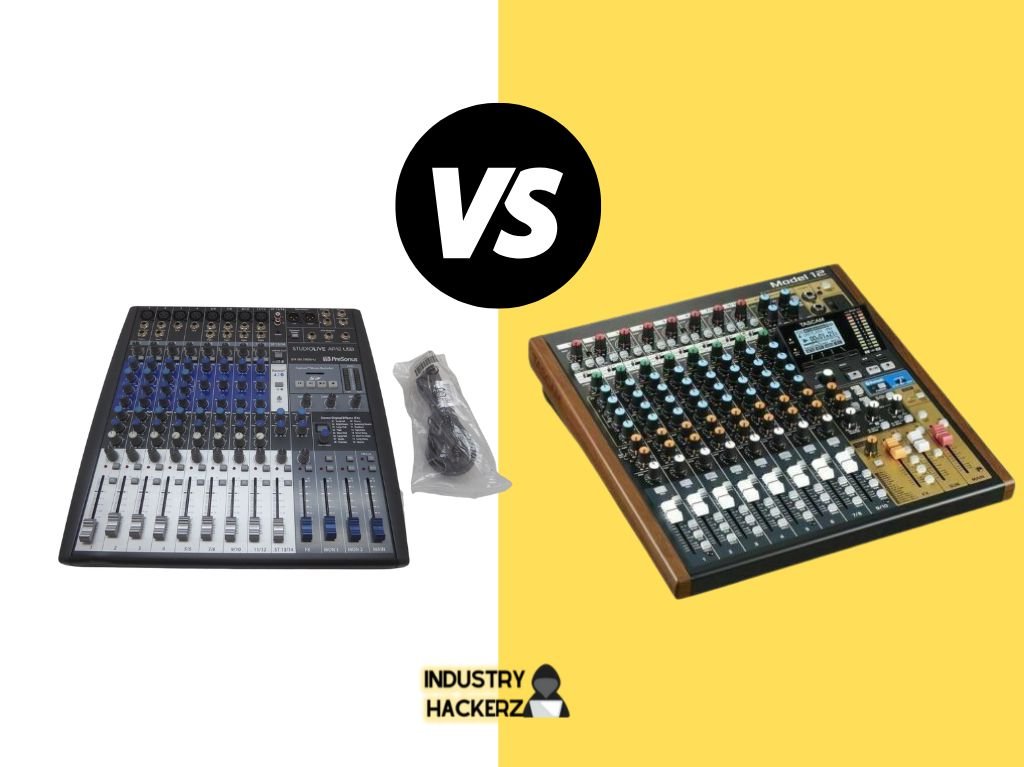 PreSonus StudioLive AR12c: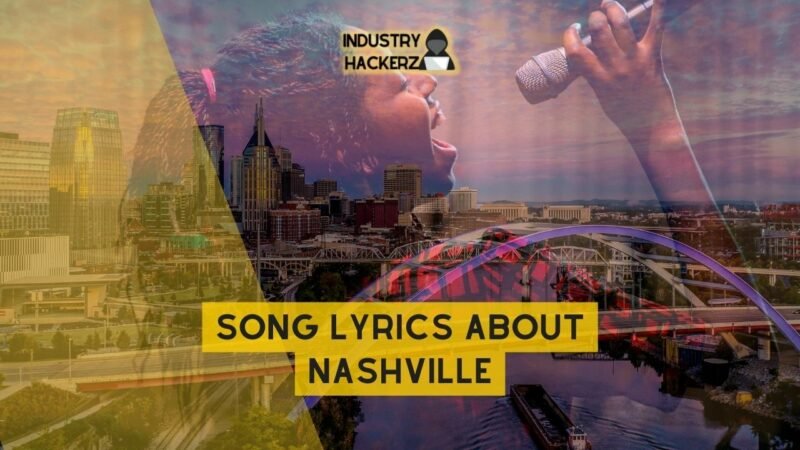 You Should Read This Next!
12-channel mixer with a built-in 24-bit/96kHz 14-track recorder
3-band EQ and built-in effects
14-in/4-out USB audio interface
Compatible with various DAWs
Tascam Model 12:
10-channel mixer with built-in 12-track recorder and audio interface
Supports Mackie Control or HUI for DAW control
Up to six mono and two stereo channels can be recorded directly to a computer via USB
Main Differences:
1. Channel count: The PreSonus StudioLive AR12c has more input channels (12) than the Tascam Model 12 (10). This may be an important factor if you need more inputs for your recording setup.
2. Recording capabilities: While both mixers offer multitrack recording, the PreSonus AR12c records up to 14 tracks simultaneously, whereas the Tascam Model 12 records up to eight tracks. Additionally, the Tascam Model series supports direct-to-computer recording via USB, while the PreSonus AR series does not have this feature.
3. EQ and effects: The PreSonus StudioLive AR12c has a built-in three-band EQ and effects processor on each channel, giving users more control over their sound during mixing. The Tascam Model does not have these features.
4. DAW compatibility: Both mixers are compatible with popular digital audio workstations (DAWs), but the Tascam Model series supports HUI/Mackie Control for more seamless integration with DAWs like Pro Tools, Cubase, or Logic.
Ultimately, the best mixer for you will depend on your specific needs and preferences. If you require more input channels and built-in EQ/effects, the PreSonus StudioLive AR12c may be a better fit.
However, if direct-to-computer recording and DAW control are more crucial to your workflow, the Tascam Model 12 might be a better choice.
Feature
PreSonus StudioLive AR12C
Tascam Model 12
Channels
12
12
Inputs

8 x XLR-1/4" combo (mic/line)
2 x 1/4" (line)
1 x 1/8" (aux)

8 x XLR-1/4" combo (mic/line)
2 x 1/4" (stereo line)
1 x 1/8" (aux)

Outputs

2 x XLR (main)
2 x 1/4" (monitor)
2 x 1/4" (control room)
1 x 1/4" (headphones)

2 x XLR (main)
2 x 1/4" (sub)
2 x 1/4" (monitor)
1 x 1/4" (headphones)

Phantom Power
Yes, 48V
Yes, 48V
EQ
3-band EQ
3-band EQ
Effects
Yes, built-in digital effects processor
Yes, built-in digital effects processor
USB Connectivity
Yes, USB-C 2x2
Yes, USB 2.0 Type-C
Recording/Playback
24-bit/96kHz
24-bit/48kHz
SD Card Slot
No
Yes
Bluetooth
No
No
Dimensions
3.7" x 15.6" x 15.0" (HxWxD)
3.9" x 14.1" x 13.4" (HxWxD)
Weight
13.9 lbs
12.8 lbs
What You Need To Know About PreSonus StudioLive AR12C
First off, let me say that I've been using mixers for quite some time now, and the PreSonus StudioLive AR12C definitely caught my attention as a potentially great addition to my setup. So, I took it upon myself to test this bad boy out and provide you with an honest review.
Design and Build Quality
The first thing you'll notice about the AR12C is its solid build quality. The metal chassis feels durable and can definitely withstand regular wear and tear in a studio environment or while gigging.
The knobs are sturdy enough to resist accidental damage, but don't feel overly stiff when turning them. Overall, I'd say it's well-built for its price range.
Channel Inputs
The 12 inputs on this mixer include 8 mono channels with XLR mic inputs and 1/4" line inputs as well as two stereo channels with RCA inputs on Channel 9/10 and 1/4" TRS on Channel 11/12.
There are also insert points for channels 1-4 which allow you to connect external processors directly into your signal path, making it even more versatile.
Stereo Super Channels (Channels 13/14)
One unique feature that sets the StudioLive AR12C apart is the Stereo Super Channel (channel 13/14).
This channel includes multiple input options: Bluetooth audio streaming from your phone or tablet, an onboard SD card slot for playing back WAV files directly from the mixer itself without needing any other devices connected, an RCA line input, a USB connection if you're using your computer/laptop as your playback source - all controllable via a single fader!
Digital Effects & EQs
For those who like to add some flavor to their mix, the AR12C comes loaded with a built-in digital effects processor that delivers 16 preset options.
Although the effects aren't the best quality compared to higher-end mixers, they do add value for their price range and are more than suitable for basic live performances.
The mixer also features a 3-band semi-parametric EQ on each input channel which, although not as robust as fully-parametric EQs, allows you to adequately shape your sounds.
USB Recording and Studio One Artist DAW Integration
One major selling point of the AR12C is its USB recording capabilities. With this mixer, you can record all channels individually straight to your computer without the need for an external audio interface.
As a bonus, it comes with a free license of PreSonus' Studio One Artist DAW software which integrates seamlessly with the mixer.
The Downsides
As much as I'd like to say that everything works perfectly with this mixer - it doesn't. The main issue I encountered was low headroom on the preamps, causing some distortion when dealing with hotter signals such as drum mics or even some vocalists who have powerful voices.
This may require additional outboard gear (like external preamps) if you're planning on using it in a demanding environment like studio recording or live gigs with louder instruments.
Another downside is the lack of built-in compressors across channels 1-8 - something that would have been great to see in this price range.
The Verdict
To wrap things up, after thoroughly testing out the PreSonus StudioLive AR12C, I'd say that it offers great value for money considering its modest price point.
It's a good choice if you're looking for an entry-level mixer that has USB recording capabilities and solid build quality. However, if you're going to be using it in more demanding environments, the low headroom on preamps might be a deal-breaker.
With that said, I would recommend this mixer to anyone who is looking for an affordable and versatile mixer for their home studio or small live gig setup. Its unique features and general ease of use make it a solid option in its price range.
What You Need To Know About Tascam Model 12

When I first heard about the Tascam Model 12, I was on the lookout for a device that could handle not only recording, but also mixing and general audio control in a compact package.
Just like any other buyer, I wanted to make sure I got my money's worth, so here's my honest take on the Tascam Model 12.
Build and Design
Upon unboxing the unit, it was evident that the Tascam Model 12 is solidly built. The metal chassis and smooth knobs give it a rugged feel. It has a smaller footprint than other comparable devices in its class (14.17" x 7.56" x 3.7"), which is great if you are short on space or need something portable.
Input Channels
The Model 12 has 10 inputs (8 mono and 2 stereo) with XLR/TRS combo jacks for microphones or instruments. Each input channel has its own gain knob with overload LED indicators, making it easy to dial in your levels during setup.
Channels 1-6 are equipped with TASCAM Ultra-HDDA (High Definition Discrete Architecture) microphone preamps for clean, low-noise audio quality.
EQs & Effects
The onboard EQs available on each input channel include high/low shelf bands and semi-parametric midrange controls where you can select the frequency band you want to affect.
Also included is a built-in multi-effects processor that provides creative options such as reverb, delay, chorus - always handy for adding some depth to your recordings.
Digital Recording & Playback
The Tascam Model 12 comes with an integrated digital recorder supporting SD cards (up to SDXC), allowing you to record up to 12 tracks simultaneously, with a maximum of 24-bit/48kHz quality.
You can also bounce down tracks to free up space and create your final stereo mix right on the device itself.
Additionally, the Model 12 can function as a USB audio interface, with support for up to 14 inputs and outputs. This makes it compatible with the latest DAWs, making it easy to integrate into your existing workflow.
Live Streaming & Podcasting
If you're into live streaming or podcasting, you'll appreciate the Tascam Model 12's built-in Bluetooth receiver for wireless audio playback from your smartphone or tablet.
There's also a Talkback function, which could help facilitate communication during podcast interviews or panel discussions.
The Downsides:
With everything this unit has to offer, there are some limitations - notably, the lack of motorized faders that some competing devices boast. During my sessions, I found myself missing this feature as it would have made recalling previous mixing settings much easier.
Another aspect I didn't particularly enjoy was that the Model 12 only supports a maximum sample rate of 48kHz for recording. While this is sufficient for most applications (such as podcasts or live streaming), higher sample rates are more desirable for professional music production.
In summary, I found that the Tascam Model 12 packs quite a punch in terms of its build quality and features despite its compact size. It's great for those seeking an all-in-one solution at an affordable price point.
However, keep in mind it might not be ideal if you require motorized faders or higher sample rates in your recording setup.
Who The PreSonus StudioLive AR12C Is For & Why You Might Choose It Over The Tascam Model 12
The PreSonus StudioLive AR12C is a powerful and versatile mixer that appeals to various audio professionals, such as musicians, podcasters, live streamers, and event managers. Its wide range of features makes it an attractive alternative to the Tascam Model 12.
Here's why someone might choose the PreSonus StudioLive AR12C over the Tascam Model 12:
Key Features of PreSonus StudioLive AR12C
All-in-one solution: The StudioLive AR12C is not only a mixer but also a multi-track recorder and USB audio interface, making it suitable for both live performances and studio recordings.
Analog feel with digital capabilities: While maintaining an analog-style workflow, it also offers digital effects processing and wireless connectivity to devices for added functionality.
Built-in SD card recording: With its integrated multi-track SD card recorder, users can effortlessly record their mix directly onto an SD card without using a computer.
XMAX preamps: The StudioLive AR12C features PreSonus' high-quality XMAX Class A preamps that ensure optimal audio quality for microphones.
Dedicated effects processor: It includes the Stereo Effects processor with 16 presets providing reverbs, delays, and other essential effects that enhance mixes without using external devices.
Capture software integration: This mixer comes bundled with PreSonus Capture multitrack recording software for simple one-click recording on Mac or Windows systems.
Studio One Artist DAW: PreSonus StudioLive AR12C includes the Studio One Artist digital audio workstation software, giving users access to professional-grade recording and mixing tools.
Why Choose PreSonus StudioLive AR12C Over Tascam Model 12?
All-in-one solution: The AR12C can be a multi-track recorder, mixer, and USB audio interface providing versatility that may be more appealing than the Tascam Model 12.
Built-in SD card recording: This feature allows users to record their mix without a computer, adding convenience to live performances or on-location recordings.
XMAX preamps: The high-quality XMAX preamps present an advantage over the Tascam Model 12 in terms of audio quality for microphones.
Dedicated effects processor: The Stereo Effects processor with 16 presets adds value to the PreSonus StudioLive AR12C by eliminating the need for external effects processing devices.
Capture software integration and Studio One Artist DAW: These included software packages provide seamless integration and added functionality compared to the offerings of Tascam Model 12.
The PreSonus StudioLive AR12C is an excellent choice for audio professionals looking for an all-in-one solution combining mixer, recorder, and USB interface capabilities.
Its high-quality components and bundled software make it a worthy competitor to other mixers on the market, such as the Tascam Model 12.
Who The Tascam Model 12 Is For & Why You Might Choose It Over The PreSonus StudioLive AR12C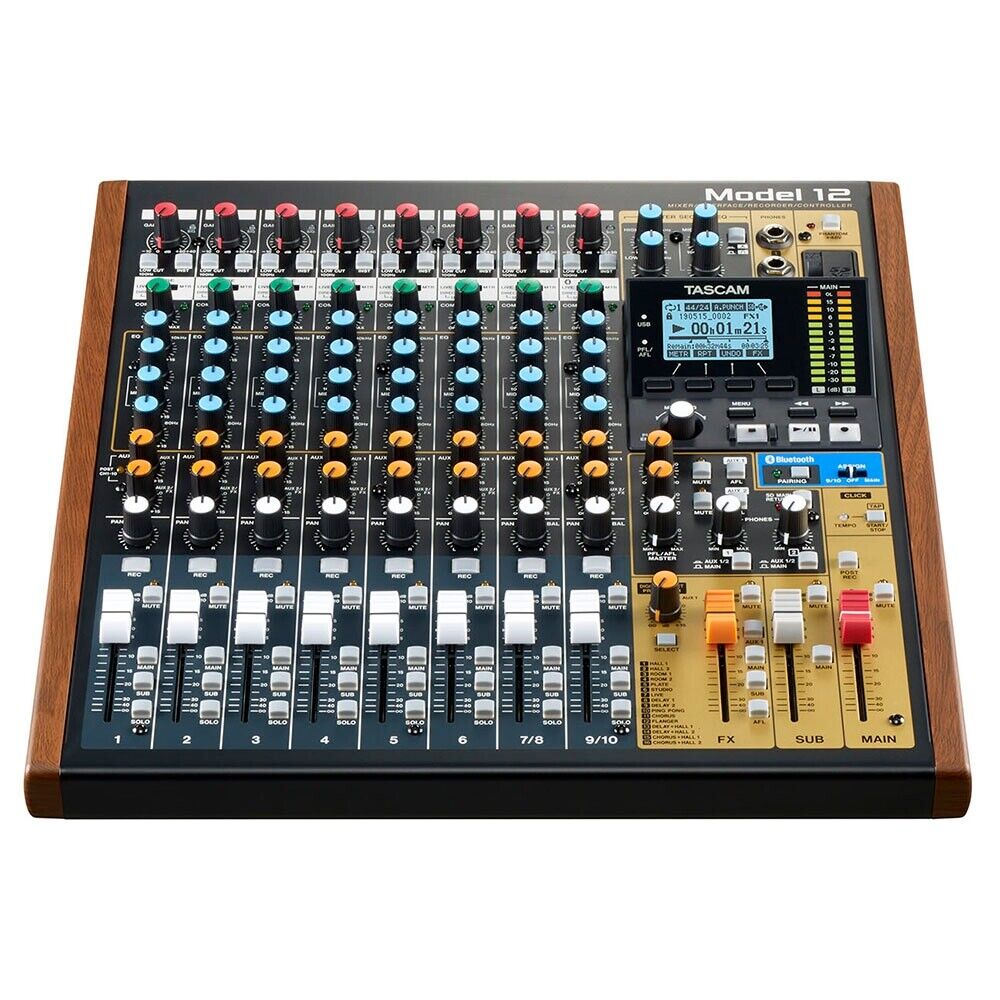 Who is the Tascam Model 12 for?
The Tascam Model 12 is an all-in-one mixer, audio interface, and recorder designed for:
Home studio producers: The Tascam Model 12 is perfect for those who are looking to create a professional setup in their home studios. With its multiple input channels, onboard recording capabilities, and various mixing functionalities, it's an ideal choice for producing music or podcasts.
Singer-songwriters and musicians: This compact unit is great for solo artists or bands who need a reliable mixer capable of handling live performances or rehearsal sessions. Its one-touch recording feature also allows musicians to capture their sessions easily.
Podcasters and content creators: Thanks to its multitrack recording capabilities and user-friendly interface, the Tascam Model 12 is suitable for podcasters who want to manage multiple audio sources for their episodes, as well as YouTubers and other content creators who require a versatile audio solution for their projects.
Small event organizers: The compact design of the Tascam Model 12 makes it an excellent choice for handling sound at small events such as conferences or ceremonies. With multiple inputs available, users can effortlessly manage microphones and other audio sources during the event.
Why choose the Tascam Model 12 over the PreSonus StudioLive AR12C?
Although both mixers offer fantastic features suitable for different users, here are some reasons why someone might prefer the Tascam Model 12 over the PreSonus StudioLive AR12C:
Multitrack recording capabilities: The Tascam Model 12 can record up to 12 tracks simultaneously, whereas the PreSonus StudioLive AR12C is limited to stereo recording. This makes it easier for users to edit and mix individual sound sources post-recording with the Tascam Model 12.
Advanced EQ and processing options: The Tascam Model 12 features a fully-parametric 4-band equalizer and various built-in processing options such as compression, gating, and reverb, which provide more control over the audio mix compared to the semi-parametric EQ offered by the PreSonus StudioLive AR12C.
Dedicated DAW control: While both mixers can function as audio interfaces for your digital audio workstation (DAW), the Tascam Model 12 offers dedicated control surface functionalities for seamless integration with your DAW.
This feature allows users to take advantage of transport controls, track selection, and even plugin parameters directly from the mixer itself.
User-friendly layout: Some users may find the intuitive interface and layout of the Tascam Model 12 more straightforward than that of the PreSonus StudioLive AR12C. With clearly labeled buttons and knobs, it's easier for beginners or those transitioning from another mixer to grasp its functionalities quickly.
While both Tascam Model 12 and PreSonus StudioLive AR12C offer great features catering to different user needs, someone might opt for the Tascam Model 12 due to its multitrack recording capabilities, advanced EQ options, dedicated DAW control features, and its user-friendly design.
Buyer's Guide: Important Things To Consider & Look Out For When Buying A Mixer
1. Hello, Digital or Analog?
Maybe it's time to decide if you're a die-hard fan of the warmth and character of analog gear, or if you crave the ease and efficiency that digital mixers bring to your creative process. Just remember that with great power comes great responsibility...to make sick beats!
2. Integrating with your DAW-namic Duo
If your recording process relies heavily on using a Digital Audio Workstation (DAW), then consider how each product integrates with it.
Some top-notch audio interfaces bring seamless DAW integration, making recording feel like a breeze while also giving you more time to ponder whether avocado toast is worth the hype.
3. Live Sound: When Gigs Call!
Congratulations! Your music has now reached a level where people want to hear it in person! Before diving headfirst into live performance territory, make sure your shiny new studio equipment caters for live sound requirements as well.
After all, no one likes technical glitches at their debut gig.
4. Money Matters: A Penny Saved is a Penny Earned
No matter how tempting those vintage analog modeling gadgets may be, always keep your budget in mind. As much fun as owning pricey studio gear can be, paying rent on time has its perks too.
Affordability: Compare prices before making any decisions
Maintenance Costs: Ensure you can afford to keep your gear in tip-top shape
Resale Value: Just in case your priorities change (like suddenly needing a new sofa)
5. Space: The Final Frontier of Studio Real Estate
Your living space constraints should be a key factor when choosing studio equipment. Make sure that whichever products you choose can fit comfortably in your space without having to evict your roommate or, worse, your precious vinyl collection.
6. Expandability: Future-Proofing Your Set-Up
If building an extensive studio is part of your grand plan, look for options with ample room for expansion and growth. This way, you won't find yourself sobbing over obsolete gear amidst a pile of cables and MIDI controllers.
7. Sonic Character: Beauty is in the Ear of the Beholder
Sometimes it all boils down to personal taste. You may prefer the vintage vibe provided by analog modeling units or simply love the crystal-clear sound that digital mixers offer.
When push comes to shove, make sure that each piece of equipment complements your unique musical style.
8. Connectivity: Plugging into Your Options
The last thing anyone needs is an obscene number of cables and connections cluttering their studio (and life) because their new equipment doesn't play nice with existing gear!
Look for products with versatile connectivity options like USB ports or even Bluetooth integration to simplify your workflow as well as reduce cable chaos.
9. User Experience: You've Got to Feel Good
Studio equipment that's frustrating to set up or difficult to use will only leave you questioning your life choices as an artist (and we don't need that kind of existential crisis on a random Tuesday).
So, opt for gear that makes you feel like the audio wizard you are!
10. Listening & Learning: Trusting the Wisdom of Others
Gather opinions from fellow musicians, scour online message boards, and read reviews extensively before taking the plunge.
We may be stubborn creatives, but sometimes it's wise to trust those who have ventured into the realm of studio equipment before us.
In conclusion, armed with this newfound knowledge and a dash of wit, you're ready to embark on your journey towards finding the perfect studio gear! And remember, when in doubt – just dance it out!
About Author
Lyrics
Please save some lyrics first.