You're ready to make a big purchase, but you're having trouble deciding between these two powerhouses, the M-Audio BX4 and the Yamaha HS5.
Trust me, I know how difficult that decision is... especially if you have no plans on whipping out that dreaded return postage label!
You know how the saying goes, buy right, buy once! Or something like that...
Either way, I've got you covered!
I've broken down the good, the bad and the ugly of these babies, so providing you have a clear idea of exactly what you plan on doing with it, you will have a clear idea on which one is best for you, by the end of this article.
Let get into it...
At A Glance:
M-Audio BX4
M-Audio BX4 Pros & Cons
Pros:

The speakers are loud and clear.
Multiple inputs, especially the BALANCED 1/4" TBS jacks.
Low profile look.
Powerful studio speakers, far more powerful than others priced in this range.
Sound quality is impeccable when connected using the balanced method.
Have some bass to them.
Knobs to control lows and highs.
Ability to power off on the volume knob.
Sound superb for what you paid.
High quality, powerful, and clear sounding speakers.
Have all the connections you'll ever need.
High & low shelving EQ's (@ 8k and 150 hz respectively) are a great inclusion at this price point.
Surprisingly loud and reproduce more bass than their small size would indicate.

Cons:

Priced high.
Issues with the cables provided with the unit.
The 3.5 to 3.5 plug when connected to a computer with a metal chassis generates a loud buzz due to a ground fault.
Cheap RCA cables produce bad buzz and ground issues if plugged directly into the computer jack.
Speakers are lighter and feel cheaper compared to the AV40 model.
Aux cannot be plugged in all the time, have to unplug when not in use.
Volume knob does not allow fine grain use of the entire range, it's either off, lowest volume at talking level, or rock concert loud.
The connection between speakers uses a short TS 3.5mm cord.
If something is connected to the front Aux port, Bluetooth will not sound.
You Should Read This Next!
Yamaha HS5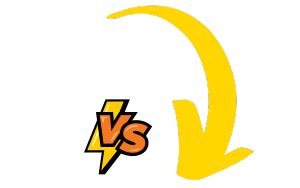 Yamaha HS5 Pros & Cons
Pros:
Sound quality is clear and detailed.
More accurate in showing mid-range and treble frequencies than some other comparable products.
Good for mixing tracks and noticing details in music.
Does not color the sound with any amplification.
Instrument separation is brilliant and flat.
Very directional, providing a focused sound when sitting in the sweet spot.
Cons:
Subdued bass, may require a subwoofer for those who want more bass in their music.
Each speaker unit requires its own power outlet.
Requires an external soundcard or audio interface.
Could require additional equipment like isolation pads and soundproofing for optimal results.
Not ideal for casual listening.
Room acoustics and speaker placement can greatly impact sound quality.
Treble frequencies can get muffled if not sitting in the sweet spot.
May need to switch off fans, coolers, and ACs for the best sound quality.
Key Differences Between The M-Audio BX4 And The Yamaha HS5
The main differences between M-Audio BX4 and Yamaha HS5 are primarily centred around their suitability in different listening environments, their build quality, feature sets and price point.
Yamaha HS5, with its focus on critical listening, is designed for accurate music production and mixing in smaller spaces. These monitors are often referred to as reference speakers built mainly for mixing and monitoring purposes. They offer a flat response and exceptional clarity which is crucial for an authentic sound representation with no coloration.
M-Audio BX4, on the other hand, has earned raves for its durability and an extensive list of features. Its notable design element includes Kevlar LF drivers and identical silk dome tweeters that contribute to a robust build quality. The BX4 model offers solid performance along with a visually appealing design.
Here are some key product differences,
The Yamaha HS5 shines in environments requiring precise sound reproduction which is essential during critical listening sessions.
The M-Audio BX4 stands out due to its superior build quality featuring Kevlar LF drivers along with silk dome tweeters.
M-Audio BX4 has an edge over the Yamaha HS5 when it comes to budget preferences providing better value owing to its competitive pricing.
Even though these two models differ significantly, both of them have integrated amplifiers indicating their powered nature. This means they only require an audio source to function efficiently eliminating the need for external power amps.
To summarise, if your requirements demand keen attention to detail while listening or producing music then Yamaha HS5 could be your go-to choice. If you prioritise longevity and additional functionalities within a tighter budget then M-Audio BX4 might be more applicable for your needs.
| Features | M-Audio BX4 | Yamaha HS5 |
| --- | --- | --- |
| Type | Desktop Computer Speakers With Studio Monitor Sound | 2-Way bass-reflex bi-amplified nearfield studio monitor |
| Power | 120-Watt powered speakers | 45W LF plus 25W HF bi-amp system for high-performance 70W power amplification |
| Components | Acoustically-inert MDF cabinet and bass reflex design; 4.5" Kevlar low frequency drivers and 1" natural silk dome tweeters | 5" cone woofer and 1" dome tweeter |
| Experience | Computer-optimized tweeter waveguide for precise imaging; High & Low EQ for dialling in the perfect sound; Rear ports for extended bass response | 54Hz-30kHz frequency response; Room Control and High TRIM response controls |
| Versatility | 1/4", 1/8"and RCA inputs offer complete hook-up flexibility; perfect for gaming, podcasting, streaming, DJ performances and more | XLR and TRS phone jack inputs accept balanced or unbalanced signals |
| Included in the package | Includes 1 passive speaker, 1 active speaker, 1/8" speaker cable, 1/8" to 1/8" cable, 1/8" to RCA cable, and AKAI Professional's MPC Beats | N/A |
What You Need To Know About M-Audio BX4
The M-Audio BX4 is a pair of top-notch, 120-Watt powered desktop computer speakers, ideal for enhancing your gaming experience, podcasting, streaming or even boosting your DJ performances. They are designed with premium quality materials including an Acoustically-inert MDF cabinet that helps deliver deep and rich sound. These studio-quality speakers feature 4.5" Kevlar low frequency drivers and 1" natural silk dome tweeters for an optimal blend of sound.
To make your listening experience even better, these speakers have a specially designed computer-optimized tweeter waveguide that helps achieve precise imaging. You can also customize the sound to your preference thanks to the High & Low EQ settings. What's more? The BX4 speakers come with rear ports which extend the bass response, adding depth to your music and games.
Whether you're on the hunt for gaming speakers or something robust for your record player or DJ setup, the BX4 has got you covered with its versatile range of inputs - it includes 1/4", 1/8"and RCA connectors! The package ensures you have everything you need to get started: a passive speaker and an active speaker along with several cables (1/8" speaker cable, 1/8" to 1/8" cable and 1/8" to RCA cable).
As a bonus, it comes bundled with AKAI Professional's MPC Beats software that will take your creative process to another level!
For further details about this amazing set of desktop computer speakers check out the official M-Audio BX4 page. This could be exactly what you need for a more immersive audio experience at home or in the studio!
My 1 Month Review Of The M-Audio BX4
Introduction
As a music enthusiast, getting my hands on the M-Audio BX4 was quite an experience. After putting it to use for a month, I thought it would be helpful to jot down my thoughts and impressions about this product to help others make a considered decision.
Unboxing Experience
Unboxing the M-Audio BX4 was in itself an exhilarating experience. The clean packaging, chic design of the speakers and overall sleek aesthetics were rather inviting.
The excitement of experiencing the sound quality of these music monsters kept me glued for hours!
Sleek Design and Build Quality
Right off the bat, I was impressed with how sleek and professional these studio monitors looked. They blend well with any studio setup or even a home office setting. The build quality is robust and classy - quite what you'd expect from M-Audio.
Ease of Installation
The installation process was smooth sailing.
I had no issues connecting these to my computer using the included cables. Whether you are tech-savvy or not, setting up is straightforward and hassle-free.
Incredible Sound Quality
Now coming to the most important part –the sound quality.
The bass: Punchy but not overpowering, handling lower frequencies exceptionally well.
The mids: Clear as crystal! It felt like I could hear every nuance in my favorite tunes.
The highs: Crisp without being too sharp or harsh.
All this combined created an immersive listening experience that made me want to listen more.
Honestly, it's been a pleasure using them primarily for leisure listening but they've also proven amazing for video editing due to their excellent clarity.
On Value for Money
When we're talking about value here – I'd say "Yes!" without thinking twice!
You get fantastic sound at an affordable price. In fact, they feel like they should cost much more than they do.
In conclusion,
This has been quite an adventure with M-Audio BX4 over the past month.
If you are looking forward to upgrading your audio game either at home or in your small studio setup without breaking your bank - go ahead! This is worth every penny.
What You Need To Know About Yamaha HS5
The
Yamaha HS5
is a two-way, bass-reflex, bi-amplified nearfield studio monitor. It features an absolutely amazing 5" cone woofer and a 1" dome tweeter - these work together to give you the clear audio output you need for accurate mixing and mastering.
One great thing about this speaker is its wide frequency response of 54Hz-30kHz. This means it can reproduce low bass sounds as well as high-pitched sounds accurately.
Something else that's really worth knowing: It has a powerful 70W power amplification system made up of two components - A 45W low frequency (LF) amplifier for the woofer and a separate 25W high frequency (HF) amplifier for the tweeter. This dual setup ensures that both the LF and HF bands are accurately amplified, resulting in better overall sound reproduction.
What makes this piece of kit even more awesome is its 'Room Control' and 'High TRIM' response controls feature! These allow you to adjust the speaker's output to match your room acoustics and listening preference, ensuring that you always get the best sound possible.
Plus, it offers XLR and TRS phone jack inputs which accept both balanced or unbalanced signals. So no matter what audio equipment you're using, it'll work just fine with this studio monitor.
So yeah, that's your Yamaha HS5 - top-class audio quality, flexibility in use, all in one sleek package!
My 1 Month Review Of The Yamaha HS5
After a month of testing the Yamaha HS5, here are my thoughts:
Sound Quality
The sound quality these monitors deliver is excellent.
The tone from the Yamaha HS5 is incredibly clear and balanced, providing an accurate representation of your audio.
Highs are crisp and defined, mids are full-bodied, and lows have depth without being overwhelming.
Power and Volume
Though they may look small, don't underestimate their power.
These studio monitors pack a punch, delivering a great volume output.
I found them to be perfect for home studios and small rooms.
Design
Moving on to design,
the vintage aesthetic of these white cones is not only visually appealing but also functional.
These monitors feature thoughtful rear-panel room control and high-trim response controls that perfectly tailor the output for any environment.
Durability
In terms of durability,
I have noticed that Yamaha didn't skimp on build quality:
The sturdy construction seems built to last, making it worth every penny.
- Clear & balanced sound
- High volume output
- Visually appealing design with functional controls
- Durable build quality
To conclude, I'm grateful for the opportunity to review the Yamaha HS5. They have proven to be more than capable in delivering high-quality audio, wrapped up in a durable and attractive package. I can honestly say it has been an enhancement to my studio setup!
Who The M-Audio BX4 Is For & Why You Might Choose It Over The Yamaha HS5
The M-Audio BX4 is a premium choice for individuals seeking superior sound quality and advanced audio control in their workspace. Whether you are an aspiring music producer, a professional in the audio field, or simply an audiophile who appreciates top-tier sound reproduction, this product is engineered to meet your high standards.
Through the customer reviews, it's clear that the M-Audio BX4 shines in three main areas:
• Loud and clear sound: With its far-reaching volume range and immaculate audio clarity, these speakers deliver an immersive listening experience. This makes them excellent for those who value detailed and voluminous sound.
• Multiple inputs: The inclusion of BALANCED 1/4" TBS jacks among other inputs offers versatile connectivity options. This is a highlight for users requiring varied input possibilities.
• Bass and treble control: These speakers come with knobs to control lows and highs, giving you dynamic command over your audio output. If customized soundscape is what you're after then this feature will be appealing.
However, based on user feedback there are areas that might require your attention:
- The included cables had been identified as problematic by some users due to ground issues leading to buzz when connected to certain devices.
- There seem to be constraints regarding the simultaneous use of Aux while another connection is active.
- Some users noted that volume levels rapidly rise even with slight adjustments on the knob.
User feedback suggests that these are formidable studio speakers but they may not be right if you're looking for traditional desktop speakers due to their specialized features like balanced connections. Also remember, you need quality cables designed for studio speakers like 1/4" TBS cables running through an audio interface for optimal performance.
Users have also shared positive experiences using Bluetooth adapters with these speakers which can provide a workaround if you're experiencing ground issues with direct connections.
Finally, while some users expressed concerns about the weight of these speakers feeling lighter than expected - please note that lighter does not mean lower quality - advances in technology often lead to lighter but equally or more powerful products.
Who The Yamaha HS5 Is For & Why You Might Choose It Over The M-Audio BX4
The Yamaha HS5 is designed for those who have a keen ear for quality sound and are passionate about achieving audio perfection. These studio monitors provide sound clarity that allows you to hear every detail of your music or audio tracks. By noticing the minutiae, it becomes possible to create an audio masterpiece. Here are some reasons why someone like you might choose to invest in them:
- Space Optimization: If your workspace is small, around 30-50 sqf, these speakers can comfortably fit and perform well.
- Clear Sound: In comparison with other brands such as the KRK 5's, XR 624's, JBL LSR305's, Yamaha HS5's offer a more distinct and uncoloured sound. They provide a flat response which is crucial when it comes to professional mixing.
- Quality Versus Cost: Although the Genelec 8330A's might outperform the Yamaha's in terms of low-end response, they come with a higher price tag - approximately $800 each.
Casual listeners may find these speakers lacking. Their bass is subdued and needs a subwoofer to bring out that thump. The Yamaha HS5's are made with professional mixers in mind - those who know what they're listening for and want precise control over their tracks.
If you're considering buying these speakers, know that each unit requires its own power source meaning additional wall outlets will be required. You'll need additional equipment such as an external soundcard or audio interface (like a Focusrite Scarlett 2i2), two TRS cables (either TRS to TRS or TRS to XLR) plus isolation pads and potentially soundproofing materials for optimal results.
One month into using these speakers reveals their full potential - after the break-in period where cones become more sensitive and boomy sounds diminishes. Room acoustics play an essential role so don't rush the set up if you choose these monitors. Take time finding out the perfect setting for your room while playing around with DB gain and trim.
The Yamaha HS5, without doubt, has an upper hand when it comes to mid-range frequency monitoring compared to headphones like ATH M50x which although having brilliant tight bass aren't as accurate for mids or treble frequencies.
If accurate monitoring of bass frequencies is important for you then consider investing in an additional subwoofer such as the Yamaha HS8S or pair of headphones (ATH M50X) which can complement this need effectively.
Note:
These speakers are highly directional implying placement precision so unless you're sitting right within their sweet spot formation – an equilateral triangle with your head forming one vertex – you won't get its best output.
If the comparison between M-Audio BX4 and Yamaha HS5 in this post doesn't quite hit the spot for you, why not dive deeper into my other posts where I compare similar products?
You may find your perfect match in one of the alternative comparisons like M-Audio BX4 vs Kali Audio LP-6 V2 or perhaps the M-Audio BX4 vs Genelec 8010A comparison will tick all your boxes.
If, however, you're considering a JBL model, check out my breakdown of M-Audio BX4 vs JBL One Series 104. Last but not least, don't miss out on seeing how M-Audio measures up against IK Multimedia in my analysis of M-Audio BX4 vs IK Multimedia iLoud MTM. Keep exploring until you find the perfect sound for you!
FAQs
What is the sound quality difference between Yamaha HS5 and M-Audio BX4 in terms of bass and treble?
The Yamaha HS5 is known for a flat response, offering accurate sound reproduction that captures the true essence of the sound without coloration. This means both bass and treble are equally represented without any bias towards either end. The M-Audio BX4, on the other hand, comes equipped with Kevlar LF drivers which can produce solid low-frequency sounds, while identical silk dome tweeters ensure clear high-frequency sounds.
How does room size affect these two studio monitors' performance?
The Yamaha HS5, being designed for critical listening, tends to excel at mixing in smaller spaces where detailed attention to sound is paramount. Its clean sound reproduction remains unaffected by room acoustics. Conversely, because of its sturdy build and great features, the M-Audio BX4 can perform well even in larger spaces but ideally should be used within moderately sized rooms.
I'm interested in long-term value - how do these two models compare when it comes to durability?
If your main concern is durability then you might want to lean towards the M-Audio BX4. These monitors are praised for their robust build quality featuring Kevlar LF drivers providing them with a longer lifespan than average speakers. On contrast, while Yamaha HS5 doesn't specifically emphasize on its hardware robustness but it's recognized worldwide as a sturdy model that stands up well over time given its excellent reputation among professionals.
I have a limited budget- should I still consider Yamaha HS5 or stick with M-audio BX4 considering its value proposition?
If your budget constraints are tight then you may find more value in purchasing an M-Audio BX4. While they are cheaper than Yamaha HS5s, they offer great features like durability and balanced audio output making them ideal particularly if you're just starting out or have basic needs. However if your priority lies more on critical listening along with accurate music production then investing extra forYamaha HS5 will definitely be worth considering despite higher cost.
Buyer's Guide: Important Things To Consider & Look Out For When Buying Speakers
1. Understand Your Needs and Fit
The first step in your hunt for the perfect pair of monitor speakers is to understand what exactly you're looking for. Are you a professional music producer or a budding amateur? Do you need them for studio recording, or just everyday listening?
By identifying your needs, you'll be better equipped to sift through the myriad options available online. For studio-grade audio equipment like the M-Audio BX4 and the Yamaha HS5, give some thought to how they'd fit into your setup – both physically and aesthetically.
2. Look at the Specifications
Once you've narrowed down what kind of monitor speakers fit your needs, it's time to look at specifications. Two key points here are sound quality and frequency response. A speaker with high sound quality will produce clean, uncluttered audio across all volumes, while frequency response refers to its ability to reproduce different frequencies without distortion.
The Yamaha HS5s have been praised for their flat frequency response—ideal for creating accurate mixes in a studio environment.
3. Understand Different Types of Monitor Speakers
Monitor speakers come in many shapes and sizes, from nearfield monitors designed for intimate settings, right up through midfields and main monitors used in larger studios. Nearfield monitors like the M-Audio BX4 are designed to be listened close up (typically less than 1m away), making them ideal choices for smaller rooms or home studios.
4. Validate The Quality Of The Brand
When it comes down to making an investment in audio equipment online, brand reputation matters immensely. Before adding that pair of studio monitors into your cart verify their legitimacy by reading reviews from reputable sources or asking friends who are into studio recording about their personal experiences with these brands.
5. Consider Powered Speakers vs Passive Speakers
When shopping online clarity is important - there's no room at all for ambiguity! Monitor speakers can be active (also known as powered) like the Yamaha HS5; which have amplifiers built-in; or passive which will require an external amplifier source.
Guessing isn't recommended when purchasing such delicate equipment so always make sure this is specified before completing the purchase!
6. Research On Your Potential Investment
Before pressing that final 'buy' button on that shiny new M-Audio BX4—or whichever monitor speaker has caught your eye—take a moment longer: read reviews from other consumers who've bought these same models before.
Don't forget to check out YouTube too—it's awash with unboxing videos where folks share initial impressions about everything from sound quality right down through packaging sturdiness!
7. Budget vs Performance
Lastly but certainly not least we cannot ignore price!
While high-end gear such as reference monitors might deliver superior audio quality it does not necessarily mean they're worth emptying bank accounts over —unless perhaps if you're running a professional recording studio.
Do some homework on budget-friendly alternatives like nearfield powered speakers which might offer great performance without quite breaching top-tier pricing brackets!
Remember: knowledge is power so take time exploring options understanding technical jargon reading customer reviews before finally deciding what's best fit according based on individual needs preferences price range!
About Author
Lyrics
Please save some lyrics first.