You're ready to make a big purchase, but you're having trouble deciding between these two powerhouses, the Kali Audio LP-6 V2 and the IK Multimedia iLoud MTM.

Trust me, I know how difficult that decision is... especially if you have no plans on whipping out that dreaded return postage label!
You know how the saying goes, buy right, buy once! Or something like that...

Either way, I've got you covered!

I've broken down the good, the bad and the ugly of these babies, so providing you have a clear idea of exactly what you plan on doing with it, you will have a clear idea on which one is best for you, by the end of this article.
Let get into it...
At A Glance:
Kali Audio LP-6 V2
Kali Audio LP-6 V2 Pros & Cons
Pros:

Great value for the money.
Well-behaved frequency response.
Good for desk use.
Offers lots of options on the back.
Recommended by professionals in the music industry.
Produces high-quality audio.
Brilliant setup options via dip switches.
Great imaging.
Flat, neutral sound for accurate mixing.
Very balanced high end.
Tweeters pop back out when pushed in.
Offers 3 different connections: RCA, TRS, and XLR.
Provides more value than what they cost.

Cons:

Doesn't get super loud especially at some distance.
Annoying blue light that cannot be turned off.
Pretty big in size.
No high pass filter option.
No built-in EQ.
You Should Read This Next!
IK Multimedia iLoud MTM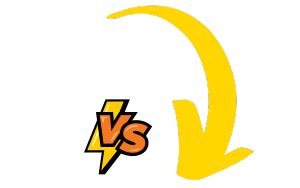 IK Multimedia iLoud MTM Pros & Cons
Pros:

The highs are very crisp and airy but not fatiguing.
The mids have a lot of detail without seeming too far forward.
The lows are surprisingly strong for such small drivers and are tight and very controlled.
The build quality is high and they feel solid.
The included decoupling stands look nice and allow for a wide vertical arc to aim the monitors at the listener's face.
They are very revealing monitors for their price range.
They don't cause ear fatigue like some other brands.
They create a really nice stereo image with a very wide and usable sweetspot.
The modeling software has very low latency and is very usable.
Being able to quickly select different voices and turn on/off the ARC Calibration is very convenient and makes mixing easier.

Cons:

The onboard Arc calibration might not be very effective in correcting the output for room acoustics.
The light on the front is quite bright and can be annoying in a dim room.
The stands don't seem to do much decoupling and might need additional materials to reduce vibrations on the desk.
They produce port noise over a range of low frequencies if placed close to the wall.
The port noise or loose wires inside might be a problem for some users.
The calibrated profile from the ARC can be a little disorienting for producing.
Key Differences Between The Kali Audio LP-6 V2 And The IK Multimedia iLoud MTM
The main differences between Kali Audio LP-6 V2 and IK Multimedia iLoud MTM are centered around their sound quality, response features, and popularity among users.
The Kali LP-6 V2 is particularly noted for its high-quality sound. Users have praised its phenomenal audio output which clearly distinguishes it from other studio monitors.
Furthermore, it offers unique customization options through switches on the back of the monitor. This feature allows you to tailor the sound to your specific needs since a speaker's position in a room can drastically change its frequency response.
Contrarily, the IK Multimedia iLoud MTM stands out for having a flat response and self-calibration capabilities. It uses advanced DSP techniques to provide superior sound quality while reducing ear fatigue that can be caused by traditional 2 or 3-way designs.
Users have commended this monitor for providing an excellent stereo width which makes it ideal for small size and super near field listening.
In terms of popularity based on search results, Kali Audio LP-6 seems to be more favored than IK Multimedia iLoud MTM.
When deciding between these two options:
If you value high-quality bass response with readily available custom sound adjustments then Kali Audio LP-6 V2 could be your choice.
If you prioritize self-calibrating systems with flatter responses then you might want to consider the IK Multimedia iLoud MTM.
However, it is always recommended to try out each monitor before making a decision as individual preferences can vary greatly.
| Features | Kali Audio LP-6 V2 | IK Multimedia iLoud MTM |
| --- | --- | --- |
| 3D Imaging Waveguide | Yes | No |
| Dual Layer Voice Coil | Yes | No |
| Low Noise Port Tube | Yes | No |
| Boundary Eq | Yes | No |
| High Output Audio Monitors | Yes | No |
| Designed as the ideal studio speakers | No | Yes |
| Built-in self-calibration | No | Yes |
| Linear phase sound reduces ear fatigue | No | Yes |
| Deep bass down to 40 Hz | No | Yes |
| Compact and easy to mount | No | Yes |
What You Need To Know About Kali Audio LP-6 V2
The Kali Audio LP-6 V2 is perfect for those who are serious about sound. It offers a unique
3D Imaging Waveguide
technology that lets you hear a full 3-D soundstage from just two speakers. This means the sound feels like it's coming from all around you, not just in front of you.
The LP-6 V2 also features a Dual Layer Voice Coil which gives the speaker more room to move. This results in clearer sound, lower distortion, and an impressive dynamic range. That means your music or podcast will have crisp clear sounds even when you've got lots going on at once!
One of my favorite features is the Low Noise Port Tube. This gives the LP-6 a clean and punchy bass response with very little noise - kind of like having a subwoofer built right into your speakers!
Pair this with Kali Audio's Boundary EQ settings, and you've got great control over your sound quality no matter where you're listening. Whether it's in your cozy home studio or bigger control rooms, these speakers will deliver neutral and accurate sounds.
A big plus for me is how loud these audio monitors can go - We're talking 85 dB continuous output at roughly 6 feet away with 20 dB of headroom. That's plenty loud enough for most personal listening spaces.
Don't miss out on experiencing this groundbreaking audio technology!
My 1 Month Review Of The Kali Audio LP-6 V2
First Impressions
When I first laid my eyes on the Kali Audio LP-6 V2, I was immediately struck by its sleek and modern design. It seemed carefully crafted, enough to pique my curiosity about what it had to offer in terms of sound quality.
One Month In: Sound Quality and Performance
After using these monitors for a month, I must say their performance has far exceeded my initial expectations. The sound clarity is genuinely remarkable. It doesn't matter if I'm listening to classic rock or crushing beats; the sound produced is consistently crystal clear.
I often find myself lost in the music, appreciating all the intricate details and nuances that are faithfully reproduced by these speakers. From booming basslines to high-frequency notes, everything comes through with fantastic clarity.
• Incredible Bass Response: One thing that stood out was the incredible bass response - so deep yet so clear.
• Detailed Mids And Highs: The mids and highs are detailed and bright without any harshness.
• Balanced Sound: There's an exceptional balance across all frequency ranges which makes listening to music a real pleasure.
User Experience
Using the Kali Audio LP-6 V2 over this past month has been a breeze. They're easily adjustable, making it quick and simple for me to switch between settings as needed depending on what I'm listening to.
The back panel provides numerous options for fine-tuning based on your room's acoustics which is fantastic as not everyone has an acoustically perfect room! Plus, the manual included gives a thorough explanation about how to best adjust these settings.
Value For Money
In terms of bang-for-your-buck, this monitor definitely ticks all boxes. With its superior sound quality, user-friendly features, and reasonable price point - it truly feels like a bargain!
In conclusion, after spending considerable time with them, it's safe to say that Kali Audio's LP-6 V2 have blown me away with their impressive performance at such an affordable price point. You can't really ask more from studio monitors at this price range.
If you're looking for premium quality audio without breaking your bank account,
I'd highly recommend giving Kali Audio LP-6 V2 a try!
What an incredible piece of gear they've turned out to be!
What You Need To Know About IK Multimedia iLoud MTM
If you are searching for speakers that supply exceptional sound for your studio, desktop or bookshelf, consider the
IK Multimedia iLoud MTM
. This speaker is known for its crystal clear, linear phase sound and powerful bass that reaches down to 40 Hz - all without the need for a subwoofer.
One of the standout features of this speaker is its built-in self-calibration system. Just use the included ARC mic and it'll adjust to any placement. This means you can set it up on your studio desk, gaming station, or even as your PC speakers – it guarantees balanced sound no matter where it's positioned.
The linear phase sound produced by iLoud MTM is designed to reduce ear fatigue which is crucial when you're doing music production or mixing. Also, because of its point-source performance feature, this speaker delivers audiophile-grade quality sound regardless of how far you are from it.
Don't let its compact size fool you – the iLoud MTM can go toe-to-toe with big speakers and large studio monitors in terms of bass performance. Whether as standalone computer speakers or paired with a powered subwoofer, they won't disappoint.
Finally, these aren't cumbersome or complicated to set up at all. The iLoud MTM offers Atmos bass management and can be easily mounted on mic stands or mounts - providing a superior audio experience compared to any traditional PC sound bar or surround sound setup.
My 1 Month Review Of The IK Multimedia iLoud MTM
After a month of testing the IK Multimedia iLoud MTM, here are my thoughts.
Setup and First Impressions
To start with, let me just say, when I unboxed the iLoud MTM, I could clearly see that this isn't your average studio monitor. Its compact size packs a punch and it's stylishly designed too. The calibration microphone is a fantastic addition that sets it apart from the crowd.

Setting up was a breeze - it's extremely easy to use even for tech novices like myself. It includes step-by-step instructions which made the entire process smooth sailing.
User Experience
Being an audiophile, I have pretty high standards when it comes to audio quality. And let me tell you, these monitors did not disappoint.
One word comes to mind here: precision. The sound accuracy with these monitors is something else entirely. They give me such clarity across different frequencies and volumes.
Noise Control
If there was one negative point about these speakers, it would be the low hum they produce when idle.
While this can be somewhat annoying, especially in a quiet environment, it's not deal-breaker by any means considering their overall performance.
Built Quality
The built quality of iLoud MTMs is excellent – they are sturdy and well constructed which ensures durability.
I love how portable they are too - if you're someone who travels around often or has small studio space like mine then you'll appreciate this feature.
Value For Money
Considering all their features and the quality of sound they deliver, I do believe that these monitors offer good value for money.
Surely they aren't cheap but sometimes paying for quality is definitely worth it in my opinion.
To sum up,
• Excellent build quality
• Super easy setup
• Precision sound accuracy across frequencies
• A low hum when idle which can be slightly annoying
• Good value for money considering its performance
Overall, I've had an incredibly positive experience using the IK Multimedia iLoud MTMs over the past month. Sure there's room for improvement here and there but no product is perfect right? That being said though – in terms of delivering top notch sound precision in a compact package while being user friendly; IK Multimedia iLoud MTMs certainly deliver.
Who The Kali Audio LP-6 V2 Is For & Why You Might Choose It Over The IK Multimedia iLoud MTM
The Kali Audio LP-6 V2 is an excellent choice for a wide range of users including those interested in starting their own home studio, and individuals who appreciate the art of sound. Let's break down why the Kali Audio LP-6 V2 is a good fit for you:
Value for Money:
These speakers are highly praised by reviewers for their exceptional value. You get a high-quality product without breaking the bank, and many consider it to provide more than what you pay for.
Audio Quality:
Reviewers praise the flat and neutral sound they produce which makes mixing tracks accurate. They have great frequency response, offering plenty of low-end along with clarity in mids and hi-end - all important factors when creating music or just simply enjoying it.
Versatility and Connectivity Options:
With RCA, TRS and XLR connections available on these speakers, you have plenty of options to accommodate your setup needs.
Size considerations:
While some users note that these speakers are fairly large in size, this may not be an issue depending on your space constraints.
Now let's consider some aspects that might be considered as pain points:
Loudness:
If you tend to listen at very high volumes or at a larger distance, these speakers might not meet your expectations according to some reviews. They appear to perform well at around 85dB or 9ft/3m distance though.
No High Pass Filter option:
For those wishing to use these with a subwoofer but don't have another option for doing the crossover, it's noted there isn't a built-in high pass filter option.
Annoying Blue Light Indicator:
Some users mentioned being bothered by an annoying blue light indicator that stays constantly on. However, simple solutions such as using tape can be used if this proves too distracting.
Despite minor drawbacks overall consensus among customers is extremely positive towards Kali Audio LP-6 V2 providing great quality sound while being budget-friendly which makes them highly recommendable. Whether you're setting up your home studio or looking for better audio quality in your daily life - take my word; this could be a worthy investment!
Who The IK Multimedia iLoud MTM Is For & Why You Might Choose It Over The Kali Audio LP-6 V2
Who is IK Multimedia iLoud MTM for?
IK Multimedia iLoud MTM is for musicians, producers, and audiophiles who seek a high-quality audio reproduction within an affordable price range. It's also suitable for those looking to produce professional electronic music or simply enjoy various genres of music at their best quality.
Why Choose IK Multimedia iLoud MTM?
• Remarkable Audio Quality:
Reviews indicate that the ILoud MTMs provide crisp and airy highs, detailed mids, and surprisingly robust lows. Such sound performance often exceeds expectations from small drivers, making them a compelling choice.
• Solid Construction:
The well-built and solid feel of these speakers offers you reassurance on durability. They're built to last while maintaining high performance.
• Accommodates Any Setup:
The included decoupling stands offer a huge vertical arc which allows you to aim the monitors directly at your face regardless of how high or low they are placed. This flexibility makes it ideal if your setup differs from time to time because it can comfortably accommodate any changes.
• Ease of Use:
The onboard Arc calibration makes it easy for you to optimize sound output based on your room acoustics. The calibration process is simple – a setup where you normally sit followed by a quick 5-second calibration achieved through the Arc mic.
Note: Some users have noted minor issues such as bright front light which can be easily fixed with electrical tape or slight port noise in some setups – both factors that do not significantly affect the overall user experience.
Comparison With Other Products
Review data suggests that compared to speakers such as Focal CMS65s or Presonus Eris E5s with Temblor T8 sub, the IK Multimedia ILoud MTMs outperform them both in audio detail and low frequency reproduction whilst being considerably cheaper.
It also hints that these monitors could stand toe-to-toe with high-end models like ATCs, Genelecs, Dynaudios, and Neumanns - boasting consistent phase across all drivers and creating a really nice stereo image with very wide and usable sweetspots.
Conclusively, based on review data, if you're seeking detailed sound performance without breaking your budget, IK Multimedia iLoud MTM monitors are worth considering.
If you're still on the hunt for the perfect pair of studio monitors after looking through my post comparing Kali Audio LP-6 V2 and IK Multimedia iLoud MTM, fret not; I've got more options up my sleeve.
You can check out some of my other articles where I put similar products head to head. Take a look at the Genelec 8010A vs JBL One Series 104 or the Genelec 8010A vs IK Multimedia iLoud MTM.
If you're interested in JBL and IK Multimedia, then this comparison might tickle your fancy: JBL One Series 104 vs IK Multimedia iLoud MTM. And last but not least, here's a showdown between another two fantastic monitors: KRK Rokit RP7 G4 vs Focal Shape 65. Hopefully these guides will help you find just what you're searching for.
FAQs
What is the best way to calibrate either the Kali LP-6 V2 or IK Multimedia iLoud MTM for optimal sound output?
Both monitors have different calibration processes. The Kali LP-6 V2 has switches on the back that allow you to tailor its frequency response according to your preference and room placement. For the IK Multimedia iLoud MTM, it comes with a built-in self-calibration system that uses DSP techniques for superior sound quality. It is essential to read through their manuals and follow their guide on how best to calibrate them in your specific environment.
Some users might be concerned about ear fatigue when using these studio monitors for prolonged periods. How do these models address this?
The Kali LP-6 V2's quality sound should reduce instances of ear fatigue by providing clear audio at all frequencies, allowing you to work comfortably for longer periods. On the other hand, the IK Multimedia iLoud MTM uses advanced DSP techniques which are known for reducing ear fatigue caused by traditional 2 or 3-way designs.
In terms of portability, what are some key considerations between Kali LP-6 V2 and IK Multimedia iLoud MTM?
If portability is crucial, you might want to consider factors like weight, size and design of these studio monitors. The specific dimensions and weights can be found in their respective manufacturer's specifications which could affect your decision based upon whether you plan on moving them around frequently or not.
If one's budget is a limiting factor, how do both models compare price-wise?
A potential buyer would need to check prices from different retailers as they may vary over time due to sales promotions or availability factors. However, as per recent search results it seems that generally speaking, Kali Audio LP-6 tends be more affordable than IK Multimedia iLoud MTM but price should not be only deciding factor - performance according user needs should also play big role.
Buyer's Guide: Important Things To Consider & Look Out For When Buying Speakers
1. Understand The Types of Monitor Speakers
Before hitting the 'buy now' button, it's important to first acquaint yourself with the different types of monitor speakers you might come across in your search. Specifically, you'll want to understand the difference between active monitors and passive ones.
Active monitors, such as the Kali Audio LP-6 V2 or the IK Multimedia iLoud MTM, have an integrated amplifier which provides a significant advantage: they can be directly connected to your source without needing a separate amp.
2. Prioritize Sound Quality
The key aim here is top-tier sound quality, but remember: what sounds best to one person may not necessarily sound just as good to another.
Consequently, choosing a speaker should involve careful consideration of several factors - including how well it reproduces sound across various frequencies and how accurately it presents each instrument within a mix.
3. Look Out for Accurate Monitoring
For anyone in music production or studio recording workspaces where accurate representation of sound is vital, finding monitor speakers that offer accurate monitoring is critical – like nearfield monitors that are designed for use in close proximities in small mixing environments.
4. Assess Frequency Response
While browsing through various products online, one specification you're bound to come across frequently is 'frequency response'.
This specifies the range of frequencies (measured in Hz) that a speaker can reproduce effectively - typically ranging from ultra-low bass frequencies (around 20Hz) right up until 20kHz (the upper limit of human hearing).
5. Consider Your Recording Studio Requirements
Your choice will also significantly depend upon your individual setup and what your personal needs are when it comes to studio recording equipment.
Whether you're an experienced mixing engineer or simply an enthusiast seeking better audio for their home studio - there's bound be something out there that fits both your budget and requirements perfectly.
6. Check Reviews & Perform Studio Monitor Comparisons
Online platforms provide access to numerous customer reviews on monitor speakers from diverse brands including Kali Audio and IK Multimedia among others; these insights can guide you while making informed purchasing decisions concerning sound quality or reliability for example.
Moreover, don't shy away from performing some thorough 'studio monitor comparisons'. This involves directly comparing different product specifications against each other — ideally narrowing down your choices based on what ticks most boxes on your checklist.
7. Conclusion: Trust Reputable Brands & Balanced Sound
Lastly but equally important: always consider well-established brands when purchasing online – they're usually reliable bets when seeking consistent performance over time with brilliant warranties too! Audio gear from firms like Kali Audio known for their LP-6 V2 model or IK Multimedia famous for their iLoud MTM speakers won't disappoint either way given their reputation for producing balanced sounds ideal whether listening recreationally or professional usage alike!
About Author
Lyrics
Please save some lyrics first.