You're ready to make a big purchase, but you're having trouble deciding between these two powerhouses, the Akai MPK Mini Mk3 and the Arturia KeyLab 61 Mk2.

Trust me, I know how difficult that decision is... especially if you have no plans on whipping out that dreaded return postage label!
I've got you covered.

I've broken down the good, the bad and the ugly of these babies, so providing you have a clear idea of exactly what you plan on doing with it, you will have a clear idea on which one is best for you, by the end of this article.
Let get into it...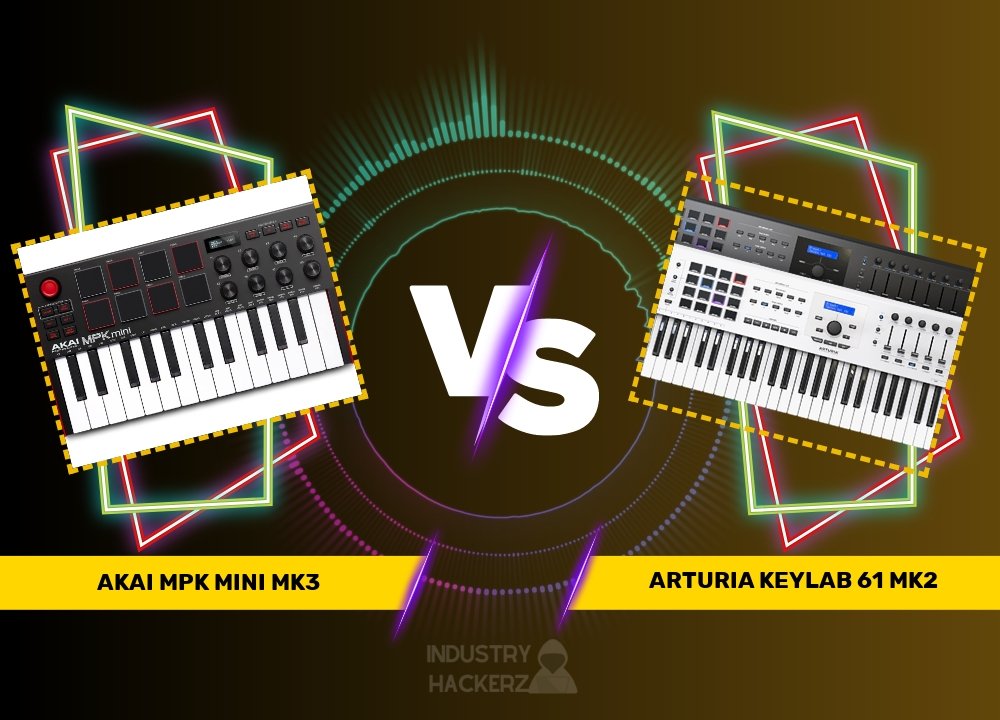 At A Glance:
Akai MPK Mini Mk3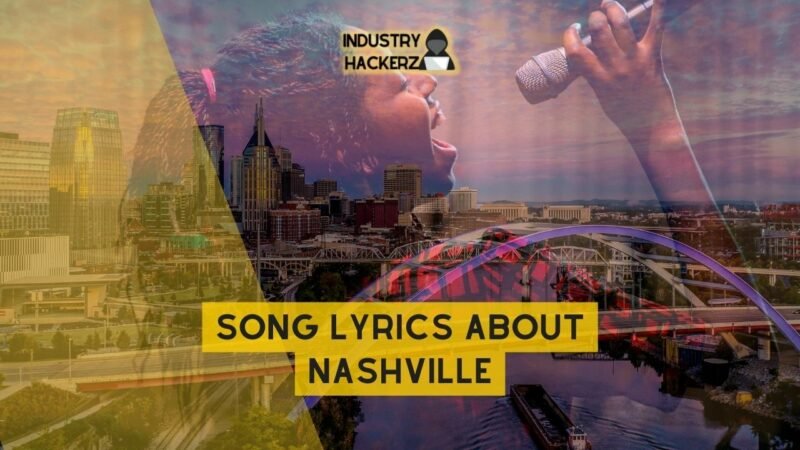 You Should Read This Next!
Arturia KeyLab 61 Mk2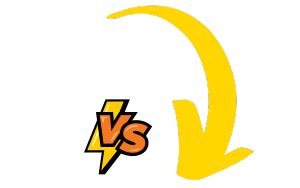 Key Differences Between The Akai MPK Mini Mk3 And The Arturia KeyLab 61 Mk2
The main differences between Akai MPK Mini Mk3 and Arturia KeyLab 61 Mk2 are their size, layout, key action and the number of controls they offer.
The Akai MPK Mini Mk3 is well-known for its portability, making it an excellent choice for those who need a compact, lightweight MIDI controller. This model's standout features include an added LED screen and endless encoder knobs which previous versions lacked.

Some additional features are the better placement of its MPC drum pads with a 4x2 layout. This allows the pads to be larger than those on some other models. Moreover, it also has tap tempo control and arpeggiator function that many users find useful.
The Arturia KeyLab 61 Mk2, however, offers semi-weighted keys and comes with a significantly larger array of controls -
16 drum pads,
9 faders,
and 9 knobs.
A noticeable improvement from previous versions is a more significant screen at 2.5 inches for enhanced visibility and control. The KeyLab is an ideal choice if you need more keys (since it has more than double the keys as compared to AKAI's model) or particularly prize weighted key action.
In conclusion, if portability is your main concern, then Akai's model might be apt; but if you prioritize having more keys and semi-weighted action,
"the Arturia's offering may be more fitting."
Remember that both products are recognized high-quality options in music creation processes so either choice should provide satisfactory performance.
| Specifications | Akai MPK Mini Mk3 | Arturia KeyLab 61 Mk2 |
| --- | --- | --- |
| Number of Keys | 25 | 61 |
| Type of Keys | Synth-action, Mini-keys | Semi-weighted, Full-size keys |
| Velocity Sensitive | Yes | Yes |
| Pads | 8 x Backlit Pads | 16 x Backlit Pads |
| Other Controllers | 8 x Assignable Encoders | 9 x Sliders, 9 x Rotary Knobs |
| Pedal Inputs | 1 x 1/4" (sustain) | 2 x 1/4" (sustain, expression) |
| MIDI I/O | USB | USB, In/Out/Thru |
| USB | 1 x Type B | 1 x Type B |
| Software | Complete Music Production Starter Kit | Arturia Analog Lab, Ableton Live Lite, Piano V, Wurli V |
| Power Supply | USB bus power | USB bus power, AC adapter |
| Dimensions | 12.5" x 7.13" x 1.75" | 34.57" x 11.73" x 2.76" |
| Weight | 1.65 lbs. | 14.33 lbs. |
```
Please note that the specifications listed are examples and may not be completely accurate. Always check the manufacturer's website or contact them directly for the most accurate and up-to-date information.
What You Need To Know About Akai MPK Mini Mk3
The Akai MPK Mini Mk3 is your ultimate music creation partner. This USB-powered MIDI controller packs a ton of features into its compact size, making it perfect for studio production, beat production and controlling virtual synthesizers.
The 25 mini MIDI keyboard velocity-sensitive keys give you the ability to add depth and dynamic to your melodies.
But what really sets this MIDI apart is the innovative 4-way thumbstick. It allows dynamic pitch and modulation control - it's like having a secret weapon for your sound! Plus, the built-in arpeggiator can be adjusted in resolution, range, and modes giving you even more options to create unique music.
Drummers will love the 8 backlit velocity-sensitive MPC-style MIDI beat pads. They're designed for programming drums or triggering samples. And with Note Repeat and Full Level features, controlling your DAW and virtual synthesizers becomes easier than ever.
And let's talk about command! With 8 360-degree knobs that can be assigned to all your music studio plugins, you're in total control of mixing, tweaking synth controls and other audio manipulations.
Finally, get ready to explore a library of over 1500 sounds! The Akai MPK Mini Mk3 comes with a Complete Music Production Starter Kit that includes MPC Beats and six Virtual Instruments. Not forgetting the additional 2GB of sound content that equips you with everything needed for pro-level production!
To see all these amazing features for yourself or to get more information visit the official page. The Akai MPK Mini Mk3 is packed with tools that make creating music fun and professional at the same time!
My 1 Month Review Of The Akai MPK Mini Mk3
Initial Impressions
First things first, the moment I saw the Akai MPK Mini Mk3, I was taken aback by its sleek design and compact size. It had this modern, professional feel to it that made me excited to try it out. Unboxing this piece of technology, I felt like a kid on Christmas morning.
Getting Started
After plugging it in for the first time, I was pleasantly surprised by how user-friendly it was. The included software was easy to install and setup. It didn't take long for me to dive right into making music with the Akai MPK Mini Mk3.
A few key points on my initial test run:
* The touch-sensitive pads are very responsive
* The keys have a nice weight and response to them
* Knobs are smooth and provide good feedback
* Plenty of customization options
The Daily Use Experience
Fast forward about a month of daily use, and my impressions of the Akai MPK Mini Mk3 continued to be positive. It became an integral part of my music production process.
Using it almost every day, some highlights include:
* Durability - even after intense use, it held up incredibly well.
* Portability – its compact size meant I could carry it around effortlessly.
* Versatility – whether creating beats or controlling software parameters, this keyboard had me covered.
The only minor drawback (and trust me when I say minor) is that sometimes the keys might be a bit too small if you've got larger hands. But once you get used to them after a few sessions, they're perfectly manageable.
The Verdict
What started as an impulse purchase quickly turned into one of my favorite pieces of equipment in my studio setup. The Akai MPK Mini Mk3 blends functionality with portability brilliantly.
To summarize:
- Top-notch build quality
- Versatile performance
- Great value for money
If you're looking for a mini keyboard controller that offers plenty without breaking the bank - look no further than Akai's latest offering! This is one investment you won't regret!
What You Need To Know About Arturia KeyLab 61 Mk2
The Arturia KeyLab 61 Mk2 is an amazing tool for digital musicians. It offers a premium-grade 61-note keybed, taken from Arturia's MatrixBrute synthesizer.
The keybed is sensitive to how hard you press the keys and can express every tiny detail of your playing style. Plus, it comes with a modulation and pitch bend wheel for more control while playing live.
You'll love all the other features it comes with too! The KeyLab Mk2 has 16 RGB backlit pads that you can use for finger drumming or triggering samples, and there are also 9 large faders and 9 rotary knobs that are great for controlling automation.
One really cool thing about this keyboard is the magnetic overlays - they let you label the 16 transport controls so you can easily manage your DAW (Digital Audio Workstation).
If you're based in India, the KeyLab Mk2 includes an exclusive offer of Arturia's V Collection 9 software bundle (worth Rs. 50,000). This gives you over 8,000 sounds from vintage keyboards and synths with stunningly realistic quality. All in all, this means you have a huge range of sounds to create your music.
The KeyLab Mk2 works seamlessly with many popular DAWs including Ableton, Reason, FL Studio, Logic and more. There's even quick access buttons for loading patches like piano sounds via the Piano button.
When it comes to design and connectivity options, this keyboard shines as well! The compact but sturdy design has an aluminium chassis with real wood side panels which looks fantastic.
You'll find sustain and expression inputs at its rear along with three configurable AUX inputs ideal for both studio and stage setups.
Plus its standout modular connectivity provides connections for CV pitch, gate & two modulations controls which work well with external synths & Eurorack modules.
Check out more details on the official page. This one-of-a-kind keyboard could be just what your music needs!
My 1 Month Review Of The Arturia KeyLab 61 Mk2
Initial Impressions
As a music lover & budding producer, I have to say that the Arturia KeyLab 61 Mk2 has exceeded my expectations.
Ever since I took it out of its box - wow! The sleek aluminium frame and wooden side panels were the first things that caught my eye. It immediately gave off an air of serious craftsmanship. I had been using a basic MIDI controller until then, but this was clearly on another level.
Setup and Integration
Setting up was a breeze. The KeyLab 61 Mk2 integrated smoothly with my existing studio setup. It's compatible with all major DAWs, and yes folks - that includes Ableton Live, Logic Pro X & Pro Tools.
One thing to note - the free software bundle is quite impressive. I've been really enjoying getting into Analog Lab and experimenting with the presets.
User Experience
After using this daily for about a month now, here are some key things:
Tactility: The semi-weighted keys are an absolute joy to play; they have just the right balance of resistance and bounce back.
Quality: The chassis feels solid, like it could withstand years of use (or abuse!).
User-friendly: Navigating through features is easy thanks to its well-labelled buttons and faders.
Variety: With pads, faders & knobs at your disposal alongside pitch/modulation wheels & aftertouch functionality – the creative possibilities feel endless.
Potential Challenges
It wasn't all roses though. Let's touch on some issues:
The size can be somewhat daunting if space is an issue. This isn't something you'll want to lug around as it's pretty substantial in weight.
I also found that some of the presets in Analog Lab were unusually loud compared to others - not a big deal but worth noting.
In Conclusion...
All in all, after one month of non-stop playing with this bad boy – I'm head over heels. Its versatility has inspired me musically in ways I didn't expect.
The minor issues don't detract much from what is genuinely one fantastic piece of gear.
If you're looking for a high-quality MIDI controller – whether beginner or seasoned pro – do yourself a favour and consider getting your hands on an Arturia KeyLab 61 Mk2.You won't regret it!
Who The Akai MPK Mini Mk3 Is For & Why You Might Choose It Over The Arturia KeyLab 61 Mk2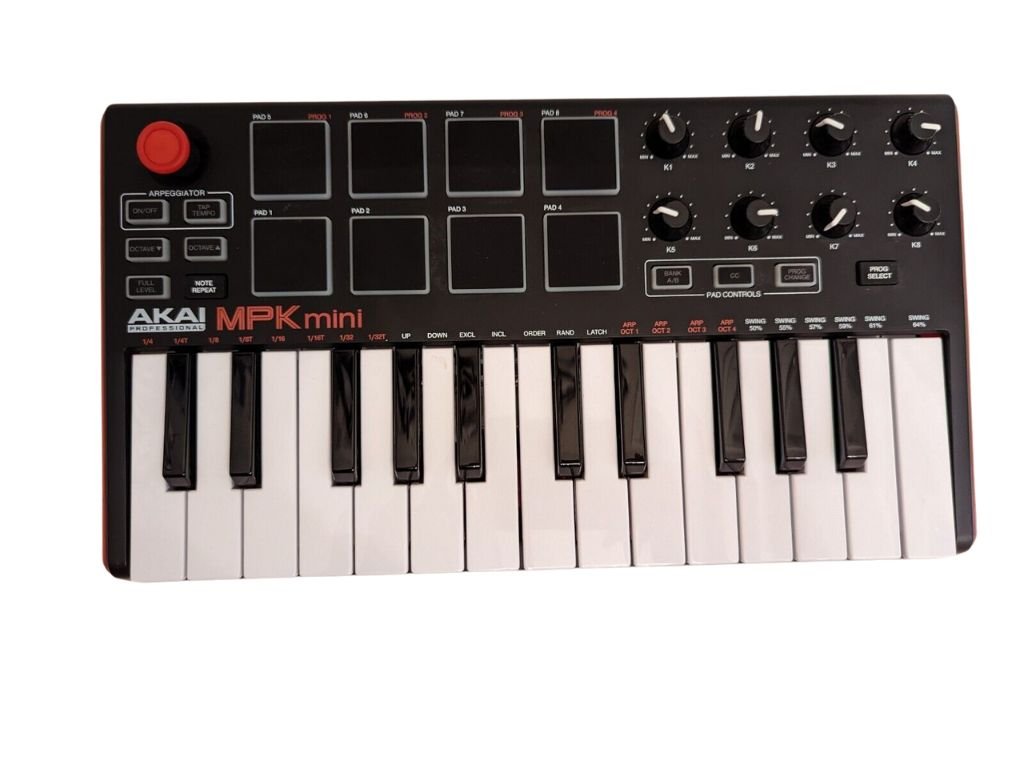 The Akai MPK Mini Mk3 is a fitting choice for musicians who prioritize portability and compact design in their gear. Its lightweight structure allows users to carry it around effortlessly, which makes it preferable for gigs, travelling or small home studios.
Key features that make this model stand out include:
• An LED screen: This new addition to the Akai MPK Mini series enhances user navigation.
• Larger endless encoder knobs: For intuitive control adjustment.
• Redesigned MPC drum pads layout: The 4x2 configuration permits larger pad sizes compared to other models.
• Tap tempo control and arpeggiator function: These contribute to its versatile performance capabilities.
The Arturia KeyLab 61 Mk2, however, is more suitable for those who desire a larger range of keys and prefer semi-weighted key action. With over double the keys than the Akai's model, it significantly broadens musical possibilities.
Some significant features of this MIDI controller are:
• Increased quantity of drum pads, faders, and knobs: Providing extensive control possibilities
• Larger screen size: The 2.5-inch screen improves visibility and simplifies operation
In conclusion, portability and compactness would guide someone towards the Akai MPK Mini Mk3. Conversely, someone might choose the Arturia KeyLab 61 Mk2 when requiring a broader range of keys or preferring weighted key action.
Who The Arturia KeyLab 61 Mk2 Is For & Why You Might Choose It Over The Akai MPK Mini Mk3
Arturia KeyLab 61 Mk2: For The Serious Music Producer
Arturia's KeyLab 61 Mk2 is a powerful MIDI keyboard that's ideally suited to serious music producers and professional musicians. This model focuses on providing a robust user interface, high-quality keys, and extensive functionality.
Why Choose the Arturia KeyLab 61 Mk2 over the Akai MPK Mini Mk3?
While both keyboards are highly regarded, there are several reasons why someone might choose the Arturia KeyLab 61 Mk2:
• Semi-weighted keys: The KeyLab 61 Mk2 offers semi-weighted keys, mimicking the feel of an acoustic piano. This can offer a more authentic playing experience for pianists or musicians used to traditional keyboard instruments.
• More keys: With more than double the number of keys on the Akai MPK Mini MK3, it offers composers more range and room for complex compositions.
• Robust control options: The plethora of drum pads, faders, and knobs make it easier to manipulate sounds and effects in real-time.
Akai MPK Mini MK3: For The Mobile Musician
The Akai MPK Mini MK3 is ideal for creators on-the-go due to its compact size. It's praised as a mobile-friendly option with intuitive controls that cater to modern producers.
Reasons to Consider Akai MPK Mini MK3 over Arturia KeyLab 61 Mk2:
Despite having fewer features than its counterpart, there are reasons why someone might opt for the Akai MPK Mini MK3:
• Portability :The compact size of this model makes it perfect for travelling musicians who need a lightweight MIDI controller.
• User-friendly Interface:The added LED screen provides valuable visual feedback while its effortless design makes it easy-to-use.
In summary; if portability is your priority alongside an intuitive control interface, then Akai's offering will serve you well. However, if you're seeking an authentic piano-feel with wide-ranging functionality and controls (including more keys), then Arturia's unit may be better suited.
If you're still exploring the best MIDI controller to suit your musical needs, and the choices between Akai MPK Mini Mk3 and Arturia KeyLab 61 Mk2 haven't hit the right note for you, don't fret! I've taken a deep dive into similar products in some of my other posts.
You might find my comparison of the Akai MPK Mini Mk3 vs Novation 61SL Mk3 insightful. If that doesn't suit you, there's also an in-depth look at how the Akai MPK Mini Mk3 stacks up against Native Instruments Komplete Kontrol S61.
And if that's not enough, check out my piece on Akai MPK Mini Mk3 vs Arturia KeyStep Pro, or perhaps this one on Akai MPK Mini Mk3 vs Nektar Impact LX88+. No matter what your specific requirements are, I'm sure we can find a MIDI controller that hits all the right keys for you!
FAQs
What are the additional benefits of having a larger screen on a MIDI keyboard like the Arturia KeyLab 61 Mk2?
A larger screen on a MIDI keyboard, such as the 2.5 inches screen found on the Arturia KeyLab 61 Mk2, provides much greater visibility and control during use. The bigger display allows for easier navigation and adjustment of settings without needing to rely on a connected computer. It also typically allows for more detailed feedback about what is being controlled or modified at any given time, making your workflow smoother and more intuitive.
How does the tap tempo control featured in Akai MPK Mini Mk3 enhance its functionality?
The inclusion of tap tempo control in Akai MPK Mini Mk3 is an added advantage since it allows musicians to manually set the desired tempo by simply tapping it out, which can be especially beneficial while performing live or even during practice sessions. This feature gives you instant access to manipulate time-based effects or sequences directly from your controller without having to adjust them manually in your DAW software.
In what scenarios would portability become a crucial factor when choosing between these two models?
Portability could be an essential factor for musicians who frequently travel for gigs or those who have limited space in their setup. In such cases, Akai's lightweight and compact design, like that seen in their MPK Mini MK3 model, would be highly advantageous allowing easy transportation and setup wherever needed.
Why might someone prefer semi-weighted keys as available with Arturia's KeyLab 61 MK2?
Semi-weighted keys provide some resistance when pressed but not as much as fully weighted keys do. This offers a balance between sensitivity and dynamic control that many players find appealing for playing different styles of music. Hence, if you're someone who values this balanced key action then Arturia's KeyLab 61 MK2 with its semi-weighted keys, could potentially be an excellent choice.
Buyer's Guide: Important Things To Consider & Look Out For When Buying A Midi Keyboard
1. Evaluate Your Needs and Preferences
While looking for a MIDI keyboard online, your specific needs should be your guiding beacon. After all, your choice of a MIDI controller will significantly influence your music production process.
Think about how you plan to use the keyboard controller in the context of your own music production gear setup - do you need something portable or will it primarily stay in one location? Perhaps you're a fan of the ultra-compact Akai MPK Mini Mk3 or need more keys like on the Arturia KeyLab 61 Mk2.
2. Consider the Size and Portability
The size and portability of a MIDI Keyboard are important factors to reflect upon. If you're a traveling musician or producer, opting for a compact controller or even portable controller, like the Akai MPK Mini Mk3, could be beneficial due to their space-saving designs.
On flip side, if space isn't an issue and you want an extensive control surface with ample space for knobs and faders then larger keyboards might be right up your alley.
3. Pay Attention to Key Count and Type
MIDI keyboards come with various key counts ranging from 25 to 88 keys - so it all boils down to personal preference. For instance, if you have classical piano training — go for 88 keys; however, if portability is more important — consider fewer keys like the Arturia KeyLab 61 Mk2 with its velocity-sensitive keys.
4. Check Out The Extra Features
While browsing online stores, take note of any extra features that could supercharge your productions such as drum pads, assignable knobs or faders on-board each option.
The Akai MPK Mini Mk3 exemplifies this with its built-in arpeggiator function alongside eight backlit pads enhancing every beat production session.
5. Understand DAW Integration Level
Your selected MIDI Keyboard's DAW (Digital Audio Workstation) integration level can greatly impact your workflow efficiency hence pay close attention to it! Some models offer seamless DAW integration providing direct access from hardware surface which simplifies music creation process whereas others may require some manual tinkering , e.g., mapping parameters etcetera .
6. Review Software Compatibility
Just as critical is software compatibility! Not every piece performs harmoniously across diversified digital audio workstations thus always ensure that chosen MIDI Keyboard supports requisite software platform(s). This consideration invariably helps avoid future hindrances related directly towards productivity , thereby saving time , effort plus potential disappointments .
7. Read User Reviews & Ratings
Lastly yet importantly – scrutinize user reviews along with ratings prior parting hard-earned money . These comments provide helpful real-world insights about product's performance , durability , usability amongst others apart manufacturer's perspective . They might also help uncover unforeseen shortcomings thereby guarding against impulsive decisions undoubtedly fortifying confidence purchasing online mediums .
About Author
Lyrics
Please save some lyrics first.