Welcome to the Jamaican Patois Song Lyrics Generator!
Unleash your creativity with the magic of our Jamaican Patois Song Lyrics Generator.
A tool, that is not just simple and easy to use, but also 100% free.
What's more? You own the rights to every lyric you generate.
Yes, you read it right! Just like owning your masters!
The Magic of Our Tool
Inspired by the rich culture and vibrancy of Jamaica, our generator is designed to give life to your music.
It crafts lyrics that echo with the rhythms of Jamaican Patois – a unique creole language brimming with melody.
User Friendly Interface
We've built this generator for everyone who aspires to infuse their music with the distinctive charm of Jamaican patois.
User-friendliness is at its core. It's as simple as entering a theme or keyword and hitting 'generate'. The tool does all the hard work for you!
100% Free and The Rights are Yours
Pumping out song after song without worrying about costs? Sounds dreamy, right? That's exactly what we offer - a premium lyric generating experience at zero cost!
Better still; all rights are yours - completely royalty-free! This means you can monetize your creations without any legal hurdles.
Inventive Lyric Creation
This isn't just another generic lyric generator.

Our algorithm has been fine-tuned to understand nuances in language, emotion, rhythm- creating lyrics that are not only catchy but also meaningful.
Liven up your music with fresh lines infused with iconic Jamaican vibes.
Create Your Unique Masterpiece Today! Here is how...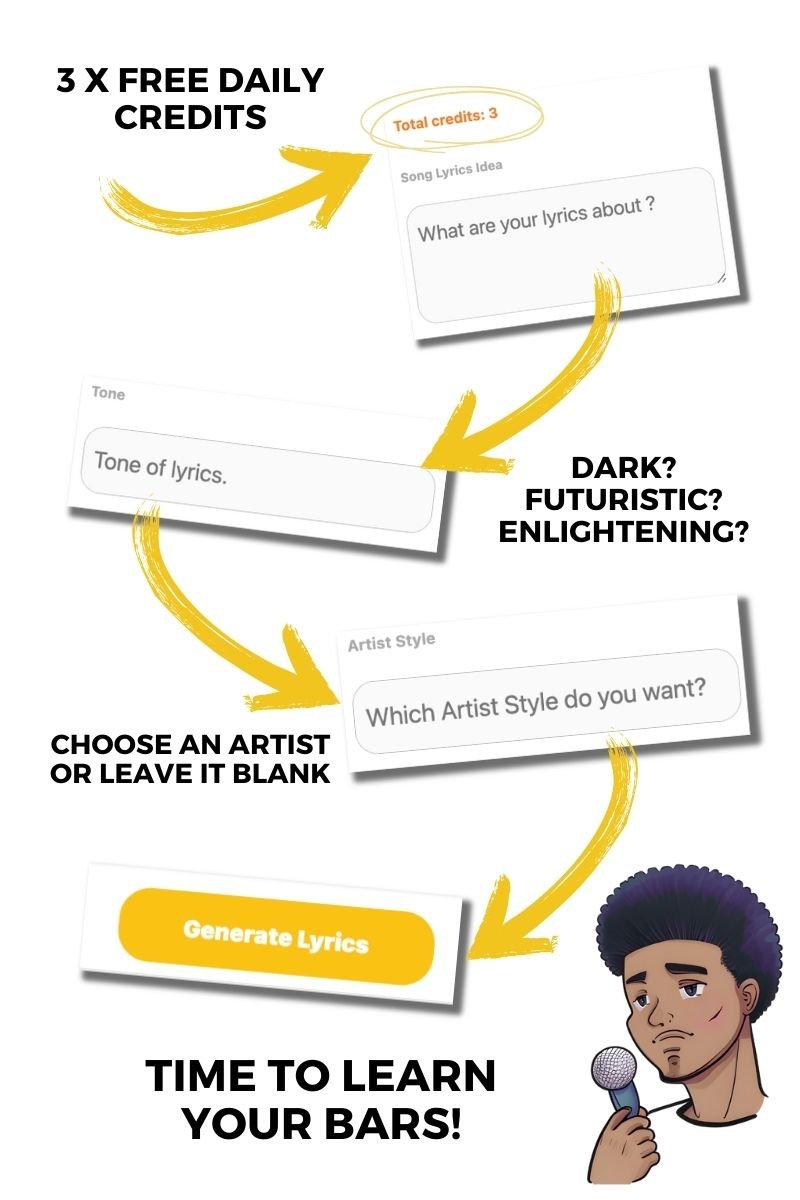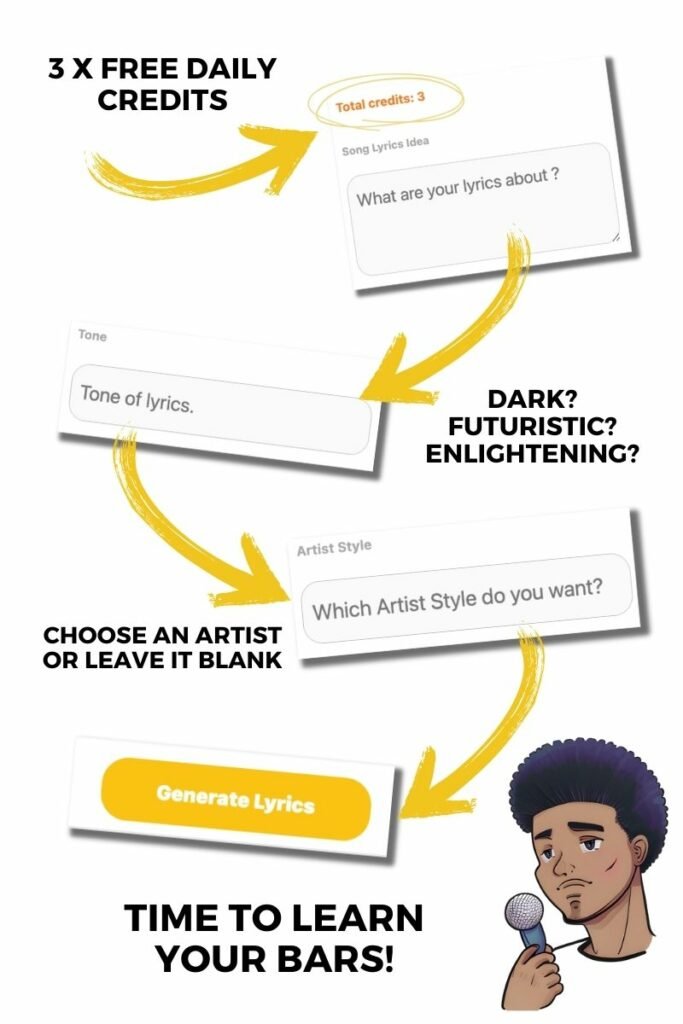 Your creative journey starts here.

A step into uncharted territories filled with vibrant melodies waiting to be tapped into. How about crafting your first Jamaican Patois song today?
Jamaican Patois AI Lyrics Generator
AI Generated Jamaican Patois Lyrics
Please click on Generate Lyrics then lyrics will show up here.
Need More Lyrics?
You can use our tool for free each day to generate a maximum of 3 songs!
But, if you need more lyrics and don't want to be held back from your creative efforts, try one of our packages:
Buy 1000 lyric generator credits to use on any of … Look Inside!
Buy 100 lyric generator credits to use on any of … Look Inside!
Lyrics
Please save some lyrics first.