You're ready to make a big purchase, but you're having trouble deciding between these two powerhouses, the Novation 61SL Mk3 and the Arturia KeyStep Pro.
Trust me, I know how difficult that decision is... especially if you have no plans on whipping out that dreaded return postage label!
I've got you covered.
I've broken down the good, the bad and the ugly of these babies, so providing you have a clear idea of exactly what you plan on doing with it, you will have a clear idea on which one is best for you, by the end of this article.
Let get into it...
At A Glance:
Novation 61SL Mk3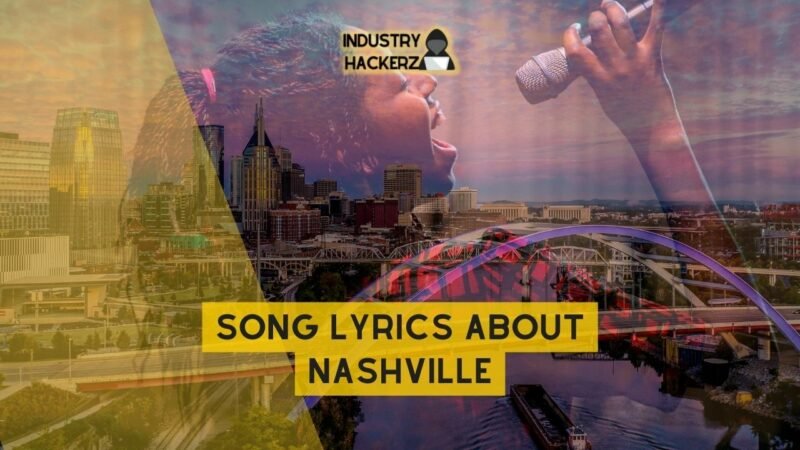 You Should Read This Next!
Arturia KeyStep Pro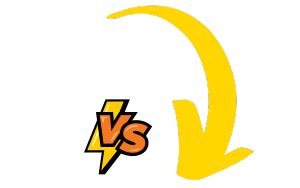 Key Differences Between The Novation 61SL Mk3 And The Arturia KeyStep Pro
The main differences between Novation 61SL Mk3 and Arturia KeyStep Pro are numerous and varied depending on individual needs and priorities.
Novation 61SL Mk3 is well-suited for users who need a built-in 8-track sequencer, as well as deep integrations with Logic, Reason, and other major DAWs due to its HUI compatibility.
This MIDI keyboard also offers 61 full-size keys with semi-weighted action, allowing for dynamic playability. It has a more comprehensive layout than the KeyStep Pro, making it an ideal central control hub for your setup.
Conversely, the Arturia KeyStep Pro shines with its four independent polyphonic sequencers and a 24-part integrated drum sequencer. Despite being physically smaller than the Novation SL MKIII, it's perfect as a modular controller especially when you require more than 128 steps for songs.
Pricing: The Novation SL retails at around $699 USD while the cheaper Arturia KeyStep pro comes with fewer keys and tracks.
User reviews: Opinions vary greatly between users; some prefer the robustness of Novation SL MKIII whilst others favor the portability and intuitiveness of Arturia Keystep pro.
In conclusion, while both keyboards have their own strengths & weaknesses, choosing between them should come down to personal preference depending on what you prioritize - size & portability versus robustness & functionality or even budget restrictions.
| Specifications | Novation 61SL Mk3 | Arturia KeyStep Pro |
| --- | --- | --- |
| Keys | 61 | 37 |
| Aftertouch | Yes | No |
| Pads | 16 | 16 |
| Faders | 8 | 0 |
| Rotary Encoders | 8 | 5 |
| Sequencer | Yes | Yes |
| Arpeggiator | Yes | Yes |
| USB Powered | Yes | Yes |
| MIDI Ports | In/Out/Thru | In/Out/Thru |
| CV/Gate Outputs | No | Yes |
| Weight | 14.33 lbs | 5.73 lbs |
| Dimensions | 40.2 x 13.2 x 3.9 inches | 23.2 x 8.2 x 1.5 inches |
What You Need To Know About Novation 61SL Mk3
The Novation 61SL Mk3 is a handy device that helps you bring your MIDI hardware and CV/Gate synths together. Have you ever struggled with integrating your hardware with your digital audio workstation (DAW)? This product is the solution. It's also the ideal controller if you're an Ableton Live music-making software user.
One of the highlights of this device is its internal 8 track pattern-based sequencer. This feature allows you to create and arrange musical patterns, giving you greater control over your music production. The device also has a routable clock that synchronizes all elements in your setup - perfect for keeping everything in time!
Did we mention that it comes with a 3-year warranty from Novation? This means you can buy with confidence, knowing that Novation stands behind their products. Check out all the features on the official page for more information!
My 1 Month Review Of The Novation 61SL Mk3
Initial Impressions and Setup
As soon as I unboxed my Novation 61SL Mk3, I could feel the quality. The keys were sturdy and responsive, a weighted synth-style keyboard that offered just the right amount of resistance. The setup was surprisingly easy for this beast of a MIDI controller.
The automatic mapping really came through for me, recognizing all my DAWs without me needing to lift a finger beyond the initial connection. A major time-saver!
A Month In Use
Solid Build, Sleek Design
A month into using it daily, I am still impressed. The build quality is second to none; every knob and slider feels robust and durable. The design is sleek, too - it's both modern and slightly retro in its look.
Integration with DAWs
To say this controller integrates well with DAWs would be an understatement. FL Studio? Check. Ableton Live? Double-check! It worked flawlessly with all the software I threw at it! With the screens showing key information from my DAWs, switching between projects was a breeze.
Incredible Features!
The features offered are phenomenal; 16 RGB pads, transport controls, two colorful screens displaying critical data from your computer – What more could you ask for?
The 8-track Sequencer!
But let's talk about that sweet sequencer! Having an onboard 8-track sequencer has been game-changing for me; it took my workflow to another level entirely.
In Summary
The Novation 61SL Mk3 is more than just a MIDI controller - it's an indispensable tool for music production.
Here are some of my favorite aspects:
• Solid build: Feels great under your fingers
• Automatic mapping: Fantastic compatibility with all major DAWs
• Dual Screens: So convenient having necessary info right on your controller.
• The Sequencer: This is easily one of the best additions to this unit!
If anything does happen to this unit (touch wood), I'd not think twice before getting another Novation 61SL Mk3!<
What You Need To Know About Arturia KeyStep Pro
The Arturia KeyStep Pro is a top-notch performance controller. It's like having a MIDI keyboard, a sequencer, and an arpeggiator all in one! This neat device lets you smoothly perform and create full music sets with multiple hardware and software devices.
One of the best things about this gadget is its comfy slimkeys that respond to how hard you press them - giving you complete musical expression. Plus, it has loads of controls that you can fiddle with for even more creative freedom. For more details on these features, check out the comprehensive feature list here.
With KeyStep Pro, creating complete songs is super easy and fun! Its extensive list of features makes sequencing feel like child's play –– but totally customizable to suit your style. You'll love playing around with the Chord Mode, Quick Edit, Time Shift or Touch Strip Looper and others for crafting complex melodies quickly or building evolving compositions.
Do you have tons of Eurorack modules, analog synths or VST instruments? Great! KeyStep Pro has unmatched connectivity options to help synchronize your entire setup. It offers 4 CV, Gate and Mod outputs as well as 8 dedicated drum Gate outputs among other connections.
With its smart sequencing features and arpeggiation options, KeyStep Pro brings your musical ideas to life at the touch of a button. Whether it's detailed step sequencing or custom arpeggios - this device helps in making every note count.
Plus if you're into making beats – whether on a drum machine or DAW – KeyStep Pro can be your best buddy! Thanks to Track 1's dedicated polyrhythmic drum sequencer that comes with individual Gate outputs.
So why wait? Go ahead & explore more about Arturia KeyStep Pro here!
My 1 Month Review Of The Arturia KeyStep Pro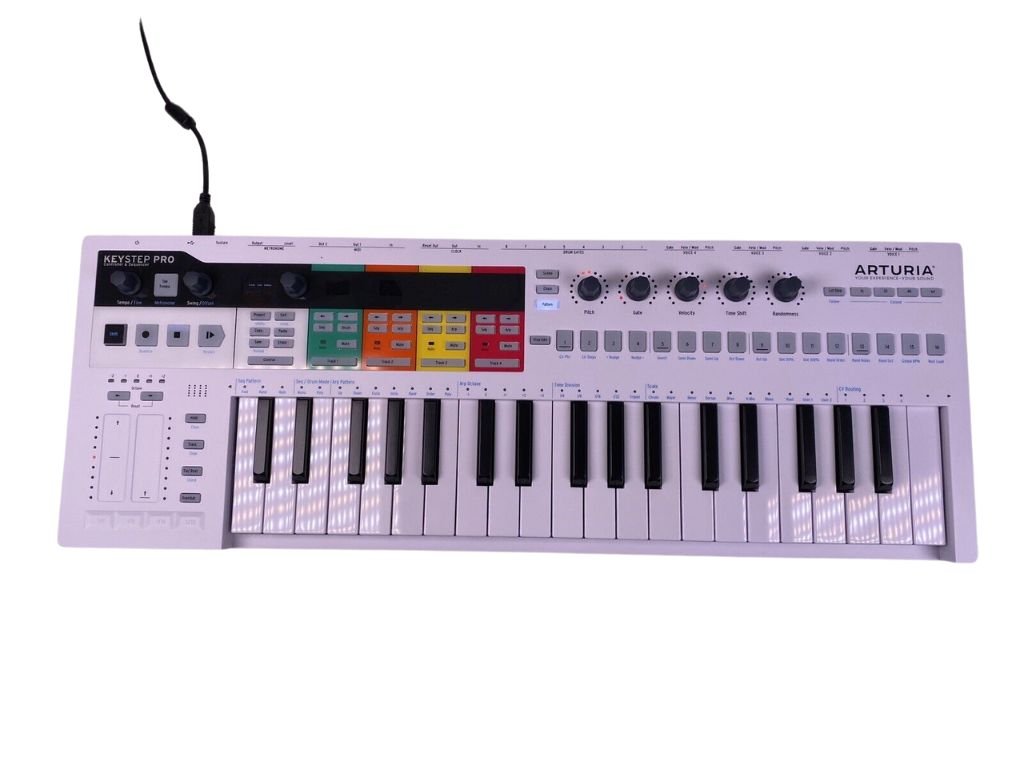 First Impressions
From the moment I unpacked the Arturia KeyStep Pro, I was totally in awe of its sleek design and smooth keys. My hands couldn't wait to start testing it out. The quality felt spot-on, it's solid without being too heavy or bulky, plus it's quite a looker with its modern aesthetic.
Features Galore
Then there's the functionality - oh boy, do we have a lot to talk about!
- Multitude of Connections: There are so many connection options. From MIDI In/Out to CV gate and even an analog clock out. It offers a wealth of possibilities for my different gear.
- Sequencer: The sequencer is loaded with four-track polyphonic sequencing capabilities which is just music to my ears.
- Scales and Chords: The scale modes and chord memories are certainly bonuses that not every controller offers.
The Joyride
The first time I started experimenting with this thing... wow! It was like riding a rocket of creativity. From playing melodies on the fly, creating complex rhythm patterns all the way through to controlling multiple synths at once - it felt as though my musical potential had suddenly skyrocketed.
Hints of Complexity
But then comes some complexity. While most features were relatively easy to master, some took me longer than others especially if you're not well-versed in analog synths or sequencers (like me!). Also, the manual wasn't always super helpful so I found myself mostly learning via trial and error or referring to online forums for tips.
A Month Later...
After using this for a solid month now, I can say that while there may be some difficulty getting accustomed at first (and yes, occasional bouts of frustration!), it's utterly rewarding once you get the hang of it. This device has boosted not just my productivity but also my creative experimentation - exploring new sounds has been an absolute joy.
To sum up: If you're looking for something that will provide deep control over your gear while offering plenty of features for melody creation, then give Arturia KeyStep Pro serious thought. It might take some time getting used to but trust me; you'd be amazed at what you can accomplish with this beaut.
Who The Novation 61SL Mk3 Is For & Why You Might Choose It Over The Arturia KeyStep Pro
The Novation 61SL Mk3 is a fantastic choice for music producers who need a MIDI keyboard that's deeply integrated with major DAWs. Its built-in 8-track sequencer, semi-weighted full-sized keys with aftertouch and velocity, make it highly responsive for dynamic playability.
Here are some reasons why someone might prefer it over the Arturia KeyStep Pro:
• Integration with Major DAWs: Logic, Reason, Cubase, Pro Tools, Studio One, Reaper users will find the Novation 61SL Mk3's HUI compatibility incredibly useful.
• Comprehensive Layout: The SL MKIII offers a more extensive layout than the Keystep Pro – perfect if you're using it as the hub to control everything in your setup.
• Semi-Weighted Full-Sized Keys: Ideal for those who value sensitive and dynamic playability.
It does come in at a higher price point of around $699 USD compared to the cheaper Arturia KeyStep pro. However, remember that you're getting several more keys and tracks with the SL MKIII.
The Arturia KeyStep Pro, on the other hand is suited to musicians and producers who want compactness without compromising on capabilities. This MIDI keyboard shines as a modular controller especially when you need more than 128 steps for songs.
Reasons to choose this over Novation 61SL Mk3 include:
• Polyphonic Sequencers: It offers four independent polyphonic sequencers which control whichever synth, module or drum machine you want.
• Integrated Drum Sequencer: The 24-part integrated drum sequencer is another highlight.
• Size & Portability: It's less bulky than its comparison counterpart - good if portability matters.
Lastly, consider user reviews when making your purchase decision - some users appreciate the robustness of Novation SL MKIII while others favoring size & intuitiveness of Arturia Keystep pro.
Who The Arturia KeyStep Pro Is For & Why You Might Choose It Over The Novation 61SL Mk3
The Arturia KeyStep Pro is the go-to choice for musicians who value portability, intuitiveness, and versatility. This MIDI keyboard, while smaller in size compared to the Novation 61SL Mk3, excels as a modular controller - making it an ideal option for those needing more than 128 steps for their compositions.
Key Features:
• Four independent polyphonic sequencers
• Integrated 24-part drum sequencer
Moreover, its price point of approximately $400 USD makes it an affordable choice for those with budget considerations.
Novation 61SL MK3, on the other hand, is perfectly suited to those seeking a more robust solution. It features a comprehensive layout and deep integrations with popular DAWs such as Logic and Reason. It's equipped with semi-weighted action keys providing sensitive and dynamic playability which can be crucial for seasoned musicians.
Key Features:
• Built-in 8-track sequencer
• HUI compatibility with major DAWs
• 61 full-size keys
Priced at around $699 USD, the Novation SL should be considered by those prioritizing extensive functionality over cost.
User reviews indicate varied preferences; some favoring the robust nature of Novation SL MKIII, while others appreciate the portability and ease-of-use offered by Arturia Keystep pro.
In conclusion: Choose Arturia KeyStep Pro if you need a portable yet versatile controller that won't break your budget. If you don't mind spending more in exchange for greater functionality and integration capabilities, then Novation 61SL MK3 is your best bet.
If you find the Novation 61SL Mk3 and Arturia KeyStep Pro aren't quite fitting your needs, I've also completed some thorough comparisons on similar products.
Have a look at my posts on Novation 61SL Mk3 vs Nektar Impact LX88+ and Novation 61SL Mk3 vs Akai Fire to see how these options stack up.
Alternatively, you might want to consider the Native Instruments range; I've done detailed reviews on both Native Instruments Komplete Kontrol S61 vs Arturia KeyStep Pro and Native Instruments Komplete Kontrol S61 vs Nektar Impact LX88+.
My goal is to help you find the perfect product for your music production needs, so hopefully these options provide a good starting point!
FAQs
What are the distinct features of the Novation 61SL Mk3 that make it ideal for users prioritizing robustness and functionality?
The Novation 61SL Mk3 stands out due to its advanced features. Firstly, it has a built-in 8-track sequencer, allowing complex music composition right on the keyboard itself. Additionally, it boasts deep software integrations with popular DAWs such as Logic and Reason, further enhancing its functionality. Notably, it includes HUI compatibility with Cubase, Pro Tools, Studio One, Reaper and other major DAWs. The keyboard also offers impressive playability attributes - having 61 full-size keys with semi-weighted action along with aftertouch and velocity sensitivity.
In what aspects does KeyStep Pro stand out in providing portability benefits while maintaining versatility?
Despite being physically smaller than Novation's SL MKIII,bold>, the Arturia KeyStep Pro is still highly versatile as a MIDI keyboard/controller. It offers four independent polyphonic sequencers - which means users can control multiple synths or drum machines simultaneously - providing a high level of control over your musical arrangements despite its compact size. Furthermore,it has an integrated 24-part drum sequencer which adds to its versatility.The KeyStep Pro shines especially when you need more than 128 steps for songs,making it a perfect choice for extended compositions.Finally,the pricing also makes this product more accessible.
How do user reviews reflect on both keyboards' strengths & weaknesses in terms of robustness versus portability?
Users have expressed varied opinions about these two keyboards based on their needs & preferences.Some prefer the robust nature of Novation SL MKIII; they appreciate the comprehensive layout that allows them to control everything in their setup from a single hub.Others favoring Arturia Keystep pro; they value its smaller size,portability,and intuitiveness.It's clear that these keyboards have different strengths:the Novation is better suited for those who want a powerful,function-filled controller at their fingertips while Arturia caters to musicians who prioritize mobility,intuitiveness,and extended sequencing capabilities.
Buyer's Guide: Important Things To Consider & Look Out For When Buying A Midi Keyboard
1. Determine Your Music Production Needs
When delving into the vast world of a midi controller purchase, you must first start by examining your own music production needs. Are you a beatmaker who requires a plethora of pads and knobs for sequencing or are you more of a traditional pianist needing a full range of velocity-sensitive keys? Knowing what you want to get out of your midi keyboard will significantly narrow down your options and assist in making the right choice.
2. Check for DAW Integration
Online shopping is fantastic, but it also carries the risk that what arrives at your doorstep may not fit seamlessly with your existing setup. One integral aspect to look out for is DAW integration. Make certain that the midi keyboard you are looking at integrates smoothly with your preferred Digital Audio Workstation (DAW). A good keyboard controller should have no issues linking up with popular DAWs like Ableton Live, Logic Pro, or Pro Tools.
3. Performance Control Considerations
In terms of actual playability and usability, it's important to pay attention to how much performance control the midi keyboard offers. This can include things such as pitch bend wheels, modulation wheels, faders and assignable buttons - all designed to enhance live performance capabilities and elevate creative freedom during music production.
4. Look for Aftertouch Functionality
To get even more expressiveness out of each note played on your prospective new midi keyboard, consider purchasing one with aftertouch functionality. This allows musicians to alter elements like vibrato or volume by applying pressure on the keys even after they've been struck - an amazing tool for adding nuances and depth into performances.
5. Evaluate The Midi Interface Quality
Another vital component when buying online is ensuring that the midi interface i.e., connectivity options available on the midi controller are compatible with your other gear.
These can vary considerably from traditional USB connections to modern USB-C ports or even wireless Bluetooth connectivity - choose according to what suits best within your current setup.
6. Consider CV/Gate Outputs
A feature often overlooked when buying online is whether or not there's an option for CV/gate outputs on the MIDI Controller.
The presence of CV/gate output functionality can provide praiseworthy advantages:
Firstly, it broadens interoperability by allowing connection even with older analog synth modules.
Furthermore, this feature enables more precise control over parameters such as pitch & rhythm which translate into an expanded sonic palette during music production sessions.
7.Choose According To Your Budget And Space Constraints
The last consideration before clicking 'buy now' doesn't concern features or specs but rather practicality: How much space do you have? How much money are willing to spend?
It's necessary because MIDI keyboards come in different sizes from compact 25 key variants suitable for mobile studios up till full-sized 88 key behemoths!
Also while some lower budget options may lack certain bells & whistles; they still offer excellent value hence aligning needs vs resources makes sure you'll end up satisfied post-purchase!
So be clear about what features matter most in accordance with corresponding costs; always compare prices across multiple vendors before finalizing any decision since this aids in securing top deals & maximizing value received per dollar spent!
About Author
Lyrics
Please save some lyrics first.