You're ready to make a big purchase, but you're having trouble deciding between these two powerhouses, the KRK Rokit RP7 G4 and the JBL One Series 104.
Trust me, I know how difficult that decision is... especially if you have no plans on whipping out that dreaded return postage label!
You know how the saying goes, buy right, buy once! Or something like that...
Either way, I've got you covered!
I've broken down the good, the bad and the ugly of these babies, so providing you have a clear idea of exactly what you plan on doing with it, you will have a clear idea on which one is best for you, by the end of this article.
Let get into it...
At A Glance:
KRK Rokit RP7 G4
KRK Rokit RP7 G4 Pros & Cons
Pros:
Quality. Damn these are heavy duty! I have a feeling they'll last a long time.
Audio. Once you have them properly grounded, positioned, and calibrated, audio is crystal clear. Surprisingly good low ends for reference hardware as well.
Software. The phone app was pretty nice. Definitely feels a bit more of a gimmicky selling point when compared to the quality of the actual speakers, but I did get some use out of the alignment tool.
Controls. They let you change different EQ ranges right on the device itself.
Questionable:
Sleep mode? The front logo that lights up when they are powered on seems to dim out when they haven't been active for a while. Not sure if this saves power but if it does, another bonus.
Cons:
Logo placement. I'd love to see studio monitors of this quality not outwardly show the brand logo. The characteristics of the speaker design speaks for itself. I think using the brand logo as the power indicator and slapping it in the front was a poor choice.
The RP7s enveloped you in a cloud of hiss/white noise that I found distracting when playing the keyboard at low volumes.
The RP7s' are noticeably more powerful with huge low end extension and headroom, but they were overkill for my room.
It's a bit puzzling that they don't throw some RCA inputs or BT capabilities (or even Airplay 2) to compete with 500-1k audiophile speakers.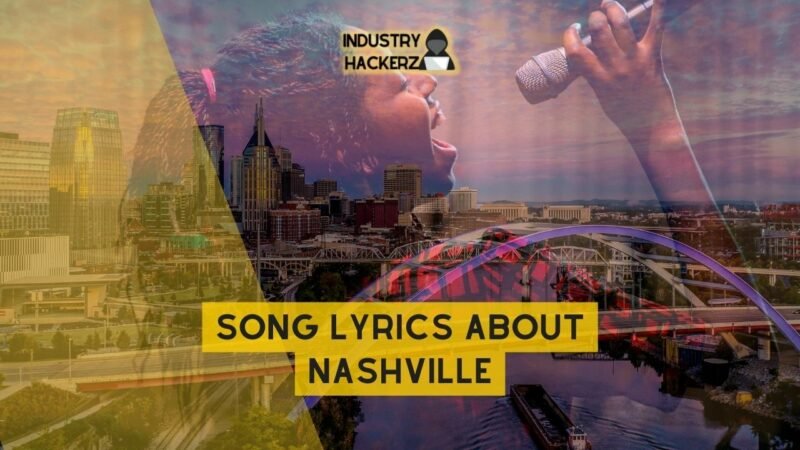 You Should Read This Next!
JBL One Series 104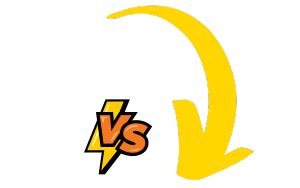 JBL One Series 104 Pros & Cons
Pros:

Designed for optimum performance
Reproduce digital masters accurately
Accurate and worth the price
Great imaging
Refined and less ear fatiguing
Sound nice for Windows 10, Creative DAC/amp, and HD music
Inexpensive

Cons:

Bottom heavy with a boost in the 100Hz range
Some female vocals and guitars don't sound good
Thin midrange, especially for male vocals
Nonexistent low end
Distort easily in larger rooms
No dynamics or bass
Peak in the top end
Issues with volume and power
Shape is not stable
Power cord doesn't fit tightly
May require additional equipment for better performance
Disappointing compared to other JBL products
Too quiet for 60-watt amplifiers
Key Differences Between The KRK Rokit RP7 G4 And The JBL One Series 104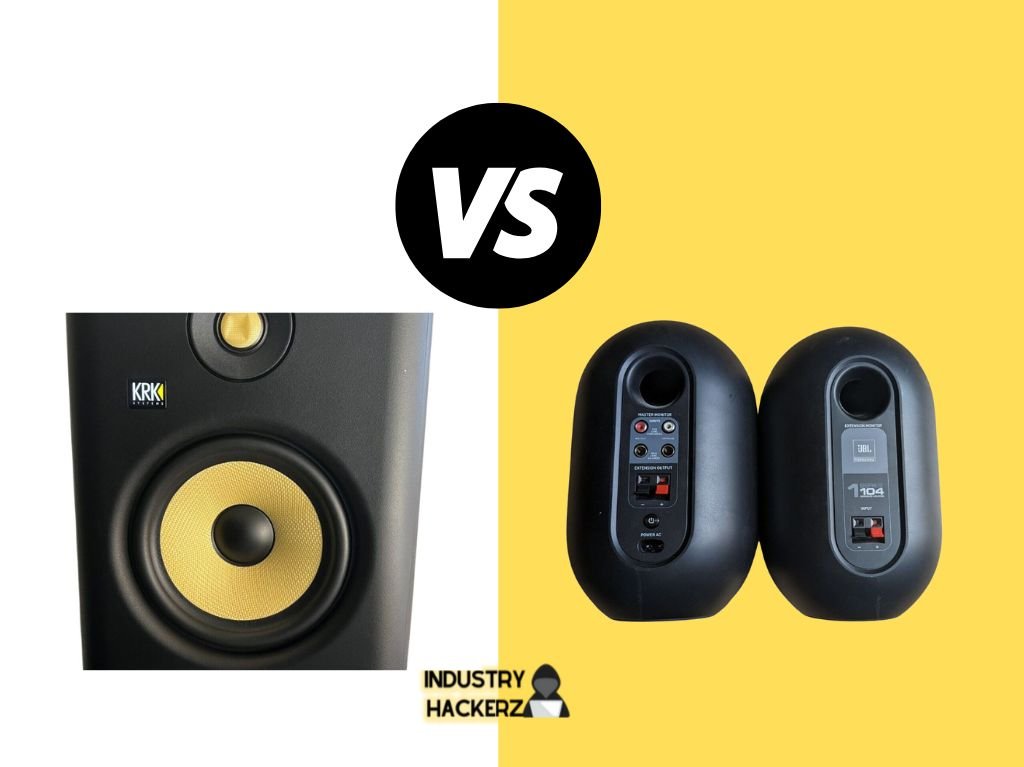 The main differences between KRK Rokit RP7 G4 and JBL One Series 104 are based on their designs, sound quality, and additional features. Both are popular choices among professionals in the music industry.
KRK Rokit RP7 G4 is highly regarded as one of the best nearfield monitors for electronic music. It has a wide frequency range of 42Hz – 40 kHz, making it versatile for all genres of music-making. The bi-amp professional monitor, with a power output of up to 145 watts, ensures superior sound creativity.
On the contrary, JBL One Series 104 is equipped with distinguished components such as a powerful Class D amplifier that provides up to 60W of power,, high-quality 4.5" woofers, and 0.75" soft-dome tweeters.. These components attribute to its overall sound quality.
Key differences include:
The JBL model offers Bluetooth connectivity allowing easy streaming from compatible devices; however KRK's model does not offer this feature.
In a certain comparison test, JBL ranked one position higher than the KRK suggesting that it might be more critically acclaimed overall.
The price point varies between models which can make an impact when deciding between these two options.
Both models come from manufacturers known for their premium quality products:
KRK's Rokit series'- recognised worldwide due to their reliable performance
JBL's legacy-- spanning over seven decades in engineering high-quality audio equipment.
Ultimately, choices will depend on individual needs like genre specifics or connectivity preferences.
| Specs | KRK Rokit RP7 G4 | JBL One Series 104 |
| --- | --- | --- |
| Type | 7" Powered Near-Field Studio Monitor | Reference Monitors |
| Drivers | Matching Kevlar Drivers | Coaxial 4.5-Inch (118 mm) LF driver and 0.75-Inch (19 mm) soft-dome HF driver |
| Onboard EQ | DSP-driven Onboard EQ with Visual LCD | Not Specified |
| Enclosure | Scientifically Designed Enclosure | Acoustically optimized for desktop Placement |
| Power Amplifier | Custom Class D power amplifier | Integrated 60-watt Class D power amplifier; 30 watts distributed to each speaker |
| Inputs | Not Specified | Three sets of inputs allow connection with professional equipment, personal music players and consumer products. Input connectors: 2x 1/4-inch balanced; 2x RCA; 1x 1/8-inch unbalanced |
| Additional Features | Not Specified | Smart features include front-panel volume control and headphone jack with speaker mute feature |
| Purchase Includes | Not Specified | 1x extension monitor speaker wire (2-Conductor, 2 meters); 1x 1/8-inch (3.5 mm) to RCA audio cable; 1x AC power cable; 1x quick setup guide |
What You Need To Know About KRK Rokit RP7 G4
The KRK Rokit RP7 G4 is a fantastic 7" powered near-field studio monitor. It's perfect if you're passionate about recording or mixing music in a home or professional studio. It comes with matching Kevlar drivers, designed to give you the same high-quality sound no matter how loud or quiet the volume is.
One of the coolest features is its DSP-driven onboard EQ with a visual LCD. This means you can adjust and fine tune your sound right from the monitor itself, and see all your settings on an easy-to-read screen!
This studio monitor also has a specially designed enclosure. Scientists made sure it produces the best sound possible, so you know it's not just good, it's science-level good! Plus, it has a custom Class D power amplifier which makes your music sound rich and full.
To learn more about its stellar capabilities and why you might want to choose this monitor, check out the official KRK Rokit RP7 G4 page.
My 1 Month Review Of The KRK Rokit RP7 G4
Introduction
As a music producer who is constantly hunting for the best studio monitors, my curiosity piqued when I first came across the KRK Rokit RP7 G4 . After a solid month of use, it's safe to say that I am a convert. The experience has been truly impressive.
Sound Quality
Powerful bass and high frequency clarity, that's exactly what I was hoping for in studio monitors and the KRK Rokit RP7 G4 delivered exactly that. As someone who frequently works with heavy bass lines, trust me when I say these speakers handle low end sounds like a champ. The highs were also very detailed and crisp which helped me fine tune my mixes easily.
User Experience
The setup process was seamless.
I particularly appreciated how sleek and modern they looked in my studio. Not a feature to be ignored in today's world where aesthetics matter.
The on-board LCD visual DSP-driven EQ which allows you to tailor the sound towards your room acoustics is something worth mentioning. It provided an improved listening experience tailored specifically to my space.
• Kevlar Drivers:
The inclusion of kevlar drivers is one commendable feature. They're lightweight yet rigid, providing exceptional clarity without any coloration, perfect for those critical listening sessions.
•Rounded Edges:
The rounded edges and extended sweet spot gave me an overall great audio performance regardless of where I was in my room.
• Built-in Limiter:
There were moments during marathon mixing sessions where I lost track of volume levels; thankfully, the built-in limiter rescued both; my eardrums and speakers by keeping those distortion levels low no matter how heavy-handed I got with the volume knob.
Conclusion
At this point, it should be clear - there's nothing 'rookie' about these Rokits! If you're looking for monitors offering high quality sound at a price that won't break your bank account then look no further than the KRK Rokit RP7 G4.
Whether you are just starting out or an experienced professional like myself, these monitors are all about delivering great results every time.
To sum up: exceptional sound quality, top-notch features with modern aesthetics - it's not just an investment but a smart decision towards elevating your music production game!
What You Need To Know About JBL One Series 104
The
JBL One Series 104
is a mighty sound system designed to work seamlessly with most desktop and laptop computers, as well as home or professional recording equipment. This handy speaker set is acoustically optimized for desktop Placement, ensuring the best possible sound quality for your listening pleasure.
With three sets of inputs, the JBL 104 can connect with professional equipment, personal music players, and even consumer products. This makes it a truly versatile option for all your audio needs.
The front panel features smart controls like volume adjustment and a headphone jack that also includes a speaker mute feature. Now that is clever design!
We mustn't forget about the heart of any speaker: its drivers. The JBL 104 packs a coaxial 4.5-Inch (118 mm) LF driver and a 0.75-Inch (19 mm) soft-dome HF driver to deliver smooth, clear sound across all frequencies.
Powering these drivers is an integrated 60-watt Class D power amplifier that divides its strength equally between each speaker with 30 watts each - enough power to fill the room with vibrant sound!
But what about connections? The JBL One Series 104 has you covered - it's equipped with two pairs of input connectors: two1/4-inch balanced ones; two RCAs; and one1/8-inch unbalanced connector.
When you buy this powerful pair of speakers, you also receive an extension monitor speaker wire (2-Conductor, measuring up to 2 meters in length), an1/8-inch (3.5 mm) to RCA audio cable and an AC power cable along with a quick setup guide to get you started right away! That's pretty awesome value if you ask me!
My 1 Month Review Of The JBL One Series 104
Sound Quality
After a month of testing the JBL One Series 104, my thoughts are overwhelmingly positive, particularly when it comes to sound quality.
These speakers have genuinely changed the way I listen to music.
The sound output is incredibly clear and balanced, with a kind of richness that's hard to find in this price range.
The highs are crisp without being piercing and the bass is powerful but not overpowering.
Design
Moving on to the design aspect of these speakers, I found them aesthetically pleasing.
The compact build, while still providing excellent sound quality, was definitely a standout feature for me.
Not only do the speakers look sleek and modern but they fit effortlessly into my workspace thanks to their small footprint.
Taking up next-to-no desk space while still delivering high-quality audio is a significant benefit.
User Experience
As for my hands-on experience, it has been nothing short of incredible.
The controls are intuitive, with easy-to-understand buttons and knobs that make adjusting volume or fine-tuning frequencies a breeze.
I also appreciated how quickly I was able to set everything up out of the box. The JBL One Series 104 does not require any complicated assembly or setup process - it's just plug and play!
Durability
In terms of durability, these speakers feel solidly built.
I've moved them around quite a bit over the past month - knocked them over once in fact - and they've held up brilliantly: no scratches, no damage whatsoever. JBL's reputation for durable products really shines through.
In conclusion, after spending a good amount of time with the JBL One Series 104,I'm genuinely impressed with their performance. The combination of excellent sound quality, compact design,and user-friendly controls makes this product an outstanding choice for anyone looking for new audio equipment.
Who The KRK Rokit RP7 G4 Is For & Why You Might Choose It Over The JBL One Series 104
Who is KRK Rokit RP7 G4 For
The KRK Rokit RP7 G4 is designed for music enthusiasts, amateur and professional producers who value quality audio and precision. Whether you are setting up a home studio or are a seasoned music producer, these speakers could be an excellent addition to your setup.
Why You Might Choose KRK Rokit RP7 G4
• Quality. If you're looking for studio monitors that offer durability and longevity, the heavy-duty construction of the KRK Rokit RP7 G4 is impressive. They deliver dependable performance that could potentially last for years.
• Audio. When it comes to sound quality, you need clarity and accuracy in your audio outputs. These speakers provide crystal clear audio with surprisingly solid low ends compared to other reference hardware in the same price range.
• Software & Controls. The added benefit of an app offers a visual EQ tool which can give some insight into how your smartphone mic receives audio. Furthermore, having the ability to change different EQ ranges directly from the device itself can be useful in less ideal environments where sound treatment may not be optimal.
• Versatility. The usage isn't limited to just music production; they're also great for keyboard workstations like Roland FA as they maintain clarity even at low volumes.
While there are minor drawbacks such as logo placement and potential hiss at low volumes, the value offered at this price point seems remarkable when compared with other audiophile speakers within the 500-1k range. So if you are seeking reliable, clear-cut audio quality in your studio monitors without burning a hole in your pocket, I believe KRK Rokit RP7 G4 might be a worthwhile consideration.
Who The JBL One Series 104 Is For & Why You Might Choose It Over The KRK Rokit RP7 G4
The JBL One Series 104 speakers are designed for those looking for an entry-level set of reference speakers for a home recording or production studio environment.
• Designed for optimum performance, these speakers give their best output when triangulated at an arm's length from the listening position.
• If you're a budding audio engineer or someone who enjoys creating digital masters at home, these speakers do a credible job at sound reproduction.
• They have slight boost centered around 100Hz but apart from that, the JBL 104s have been found to be accurate and worth the price.
However, remember, they may not be suitable if you're looking to fill a larger room with sound since they get uncomfortable beyond arm's length and distort easily. They also lack in bass power due to their small size and drivers. The midrange too can seem thin and lifeless to some listeners.
JBL One Series 104 is perfect if your focus is more on imaging - something these speakers excel at, thanks to their coaxial drivers.
While there might be concerns about sound volume in comparison with other brands like M-Audio, you may find that JBL offers a more refined experience that is less fatiguing to the ears. It might not provide a spacious soundstage but you can consider adding a pre-amp or headphone amp to enhance the volume if needed.
Lastly, take note of their design while setting up your workspace - they have been described as similar looking to suppositories which could potentially cause stability issues due to their small base size.
As an entry-level reference system in your home audio setup journey, JBL One Series 104 is worth considering if all you need is accurate performance and fantastic imaging within arm's reach at a reasonable price point.
If the KRK Rokit RP7 G4 and JBL One Series 104 do not quite fit your needs, I've written some more comparisons that may interest you.
You might want to check out my post comparing the KRK Rokit RP7 G4 vs IK Multimedia iLoud MTM for another take on KRK's offerings.
Alternatively, if you're interested in other brands, I also have reviews comparing Focal Shape 65 vs Adam Audio A7V, Focal Shape 65 vs M-Audio BX4, and Focal Shape 65 vs Neumann KH120.
Each comparison breakdowns the strengths and weaknesses of these models, providing in-depth insights to help you make an informed choice.
FAQs
How does the frequency range of KRK Rokit RP7 G4 and JBL One Series 104 impact their sound output?
The frequency range of a studio monitor can significantly impact its sound output. The KRK Rokit RP7 G4 with a frequency range of 42Hz – 40 kHz is likely to deliver fuller bass and more detailed highs, making it versatile for all genres of music-making. However, the specifics about the JBL One Series 104's frequency range aren't mentioned in this comparison which would be crucial information for those looking to use these monitors for specific genres or tracks.
Do both models offer comparable power outputs?
While both KRK Rokit RP7 G4 and JBL One Series 104 are known for their quality performance, they have different power outputs. The KRK Rokit RP7 G4's bi-amp professional monitor delivers up to an impressive 145 watts, which suggests it could offer higher volume levels without distortion. On the other hand, the JBL model's Class D amplifier provides up to only 60W; however, that doesn't necessarily mean that its sound quality is inferior as other factors like speaker efficiency also play important roles.
What makes JBL One series possibly more critically acclaimed than KRK's Rokit series?
Although both products are highly regarded in audio professional circles globally, one comparison suggests that JBL's One Series may be slightly more acclaimed than KRK's Rokit model. This could potentially be due to several factors such as JBL's innovative acoustic design or Bluetooth connectivity option not available in KRK's offering.
In terms of cost-effectiveness considering their features and performance which model offers better value between these two options?
Considering price is always essential when choosing studio monitors. While exact prices aren't given here, you should consider what each model offers against its cost — including features like power output, versatility across music genres (KRK's forte) or innovative acoustic design and Bluetooth connectivity (JBL's strengths). Ultimately though it will depend on your individual needs when evaluating cost-effectiveness between these two options.
Buyer's Guide: Important Things To Consider & Look Out For When Buying Speakers
1. Define Your Needs and Budget
Your journey into the world of professional audio gear should always start by assessing your specific needs. Not all monitor speakers are designed with the same purpose in mind. Some might excel in a home recording studio environment, while others are built for large, professional studios.
Consider how you'll be using these speakers and set a realistic budget according to your requirements.
Studio monitors can vary greatly in price range. Don't be seduced by high-end models if they don't suit your needs or financial capacity, instead focus on finding a pair that offers the best balance between cost and performance for your circumstances.
2. Get Familiar with Specifications
In order to make an educated speaker comparison, it's crucial to understand relevant technical specifications such as frequency response, power rating, driver size among others. These parameters help define not only sound reproduction capabilities, but also how well the speakers match your studio equipment.
Remember that higher specs do not necessarily translate into better sound quality; sometimes it's all about how well these features work together to bring out the best audio quality possible.
3. Understand The Importance of Room Acoustics
Every room interacts differently with sound waves due to its size, shape, materials used in construction and other factors - known as room acoustics. Before buying monitor speakers online consider your particular room characteristics as this can significantly influence speaker performance.
Proper placement of monitor speakers is equally important for achieving optimal sound reproduction especially in a home recording studio setup where acoustical anomalies might be more prevalent due to non-professional design elements and layout rules being applied.
4: Size Does Matter!
5 Be Critical About Brand Reputation
Since likely spending long hours listening carefully mixes produced speaker comfort becomes paramount consideration . Look features such automatic standby mode , adjustable volume controls , ergonomic design contribute overall listening experience reducing fatigue improving productivity .
 Weighing these considerations along thorough study specifications help select right pair online thus ensuring an immersive audio experience every time hit play button !
 Everyone hears things differently what may sound perfect one person could be completely off another hence crucial take time understand personal preferences defining need before jumping onto bandwagon purchasing first set see screen,
Investing proper piece essential part setting either home professional immensely influence end results achieve thus requiring careful thought research process ,
By following tips mentioned above you're bound find perfectly match both budget requirements without compromising performance remember ultimately mission producing best music possible let guide finding perfect partner musical journey !
About Author
Lyrics
Please save some lyrics first.