You're ready to make a big purchase, but you're having trouble deciding between these two powerhouses, the JBL One Series 104 and the IK Multimedia iLoud MTM.
Trust me, I know how difficult that decision is... especially if you have no plans on whipping out that dreaded return postage label!
You know how the saying goes, buy right, buy once! Or something like that...
Either way, I've got you covered!
I've broken down the good, the bad and the ugly of these babies, so providing you have a clear idea of exactly what you plan on doing with it, you will have a clear idea on which one is best for you, by the end of this article.
Let get into it...
At A Glance:
JBL One Series 104
JBL One Series 104 Pros & Cons
Pros:

Optimum performance when positioned at arms length.
Good for entry level reference speakers for home recording/production studio.
Does a credible job reproducing digital masters.
Performs well on commercial HD evaluation recordings.
Very accurate in sound reproduction.
Good value for the price.
Lower midrange/midbass is quick and punchy.
Imaging is fantastic.
Sound is balanced and less ear fatiguing.
Excellent for the price point.

Cons:

A bit bottom heavy centered around 100Hz.
Mixes and masters may tend to be light in the upper bass.
Top end is peaky, affecting the sound of some vocals and guitars.
Midrange is extremely thin, affecting the sound of male vocals.
Low end is nonexistent due to small drivers.
Distorts easily, especially in larger rooms.
Not a ton of fun to listen to due to lack of dynamics, bass, and thin midrange.
Midrange could use a boost.
Not as loud as other speakers with similar wattage.
Needs more headroom.
Design is unstable and can easily be knocked over.
Power cord doesn't fit tightly.
Volume is not as expected for a 60-watt amplifier.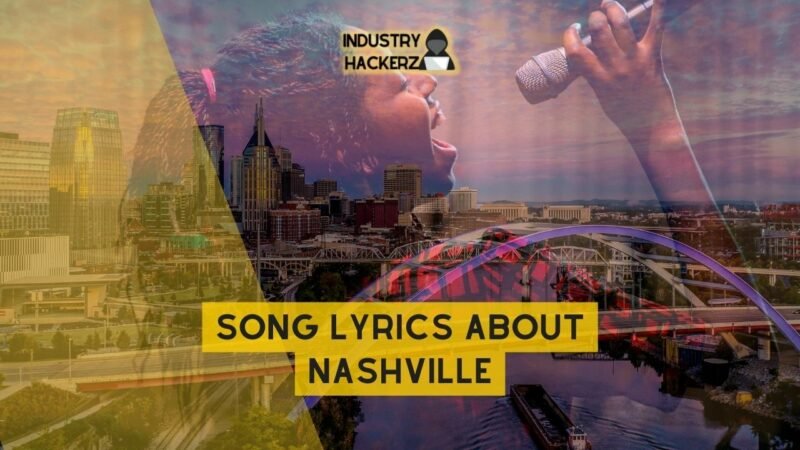 You Should Read This Next!
IK Multimedia iLoud MTM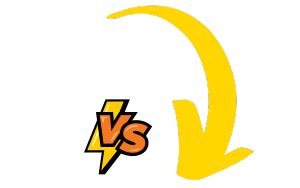 IK Multimedia iLoud MTM Pros & Cons
Pros:

Highs are very crisp and airy but not fatiguing.
Mids have a lot of detail without seeming too far forward.
Lows are tight and very controlled, surprising for such small drivers.
Very well-built and feel solid.
Included decoupling stands allow for a huge vertical arc to aim the monitors.
More revealing monitors at this price range.
Don't cause ear fatigue unlike some other brands.
Produce a really nice stereo image with a very wide and usable sweetspot.
Modeling software has very low latency and is very usable.
Ability to quickly select different voices and turn on/off the ARC Calibration.

Cons:

Onboard Arc calibration makes a difference in sound, but it's unclear if it's better or just different.
Front light is quite bright in a dim room.
Stands don't seem to do much decoupling, vibrations on the desk were noticed.
Produce port noise over a range of low frequencies when placed close to the wall.
Port noise might also be due to loose wiring vibrating inside.
Calibrated profile can be a little disorienting for producing.
Key Differences Between The JBL One Series 104 And The IK Multimedia iLoud MTM
The main differences between JBL One Series 104 and IK Multimedia iLoud MTM are found in their unique features and targeted user base.
JBL One Series 104 is recognized for its:
Portability and convenience: Designed with content creators in mind, the JBL One Series 104 can be easily transported.
Sonic profile: Delivers neutral, detailed sound that surpasses typical desktop monitor quality.
Bluetooth 5.0 connectivity: Allows for easy pairing with various devices.
Bass reflex woofer and coaxial tweeters: These components, powered by a 60W Class D amplifier, result in high-quality sound reproduction.

On the other hand, the

IK Multimedia iLoud MTM

features:

Treble clarity and defined mids: Ideal for those looking for high-resolution sound in a compact monitor. This aspect makes it suitable for professional mixing or deployment in smaller spaces.
Highest performance compact size:The iLoud MTM offers superb performance despite its relatively small size.
Bass management technology:The integration of Atmos technology provides an immersive audio experience not found standard PC speakers.

In conclusion: If you need portability with good sound reproduction quality, consider the JBL One Series 104.If prefer treble clarity and defined mids suitable for professional mixing or deployment in small spaces, then look at the Ik Multimedia iLoud MTM.
Ultimately, your choice between these two products should be based on your personal preference tailored towards your specific usage scenarios like space constraints or particular audio output requirements.

| Specifications | JBL One Series 104 | IK Multimedia iLoud MTM |
| --- | --- | --- |
| Compatibility | Compatible with most desktop and laptop computers, as well as home or professional recording equipment | Designed as the ideal studio speakers, as well as desktop speakers or bookshelf speaker |
| Acoustic Optimization | Acoustically optimized for desktop Placement | Offers incredibly clear linear phase sound and deep, extended bass down to 40 Hz without a subwoofer |
| Inputs | Three sets of inputs allow connection with professional equipment, personal music players and consumer products | Built-in self-calibration via included ARC mic lets iLoud MTM adjust to any placement |
| Smart Features | Front-panel volume control and headphone jack with speaker mute feature | Linear phase sound reduces ear fatigue for music production and mixing. Point-source performance delivers audiophile sound at any distance |
| Drivers | Coaxial 4. 5-Inch (118 mm) LF driver and 0. 75-Inch (19 mm) soft-dome HF driver | Deep bass down to 40 Hz lets iLoud MTM rival any big speaker, large studio monitors or computer speakers for desktop with powered subwoofer |
| Power Amplifier | Integrated 60-watt Class D power amplifier; 30 watts distributed to each speaker | Compact and easy to mount, these studio monitor speakers offer Atmos bass management and mount to mic stands or mounts for immersive audio |
| Input Connectors | 2x 1/4-inch balanced; 2x RCA; 1x 1/8-inch unbalanced | Not specified |
| Purchase Includes | 1x extension monitor speaker wire (2-Conductor, 2 meters); 1x 1/8-inch (3. 5 mm) to RCA audio cable; 1x AC power cable; 1x quick setup guide | Not specified |
What You Need To Know About JBL One Series 104
The JBL One Series 104 is a pair of reference monitors that work great with most desktop and laptop computers. Whether you're working with home or professional recording equipment, these speakers adapt well. They've been specially designed for optimal sound when placed on desktops.
With three sets of inputs, the JBL 104 can connect to a wide variety of devices. These include professional equipment, your personal music player, and even other consumer products. The front-panel comes with volume control and a headphone jack that also has a speaker mute feature. Now that's smart!
The speakers themselves feature a 4.5-inch (118mm) LF driver and a small but mighty 0.75-inch (19mm) soft-dome HF driver for full-range audio production. Also built into the unit is an impressive integrated 60-watt Class D power amplifier, providing each speaker with balanced sound distribution through 30 watts each.
As for input connectors, the One Series gives you many options including two balanced 1/4-inch slots; two RCA slots; and one unbalanced 1/8-inch slot for maximum versatility.
When you buy these speakers, the package includes an extension monitor speaker wire (2-Conductor, measured at 2 meters); an audio cable from 1/8 inch (3.5mm) to RCA; an AC power cable; plus they give you a quick setup guide to help make installation easy!
Overall, if you need high-quality sound right from your desk without cluttering it up too much, the JBL One Series 104 could be just what you're looking for!
My 1 Month Review Of The JBL One Series 104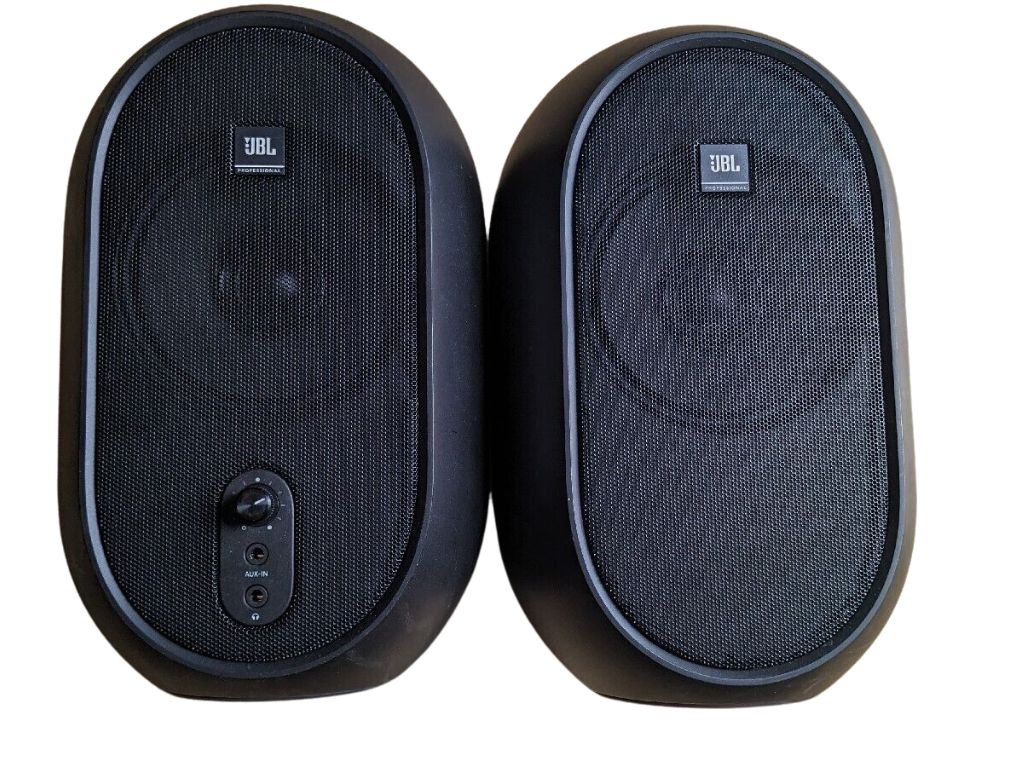 As an avid music lover, I was thrilled when I first got my hands on the JBL One Series 104. Now, after a full month of use, I'm eager to share my experience. These speakers are compact, reliable and pack quite the punch for their size!
Design and Build Quality
First things first - these tiny monitors are just easy on the eyes! The sleek black design seamlessly blends into any home or office environment. And they're surprisingly light too. Lightweight doesn't mean cheap though - JBL has not skimped out on build quality.
One minor gripe is that they feel a little plasticky to touch; but then again, it doesn't affect their performance.
Punchy Sound Output
Now onto what matters most - sound quality.
The performances have been simply top-notch. Whether it's jazz or metal, these speakers deliver a balanced audio output. The bass is punchy without being overpowering and the highs are crisp and clear.
User-friendly Interface
I adore the user-friendly interface.
Volume control? Check. Power switch? Check. Headphone jack? Check! All right there at the front for easy access.
Bang for Your Buck!
Another aspect worth mentioning is value-for-money.
For a pair of studio-grade monitor speakers at this price range – it's safe to say that JBL has nailed it!
• Compact Design
• Good Build Quality
• Balanced Audio Output
In conclusion, after spending a month with these beauties from JBL – do I recommend them? Hell yes! As an affordable option in studio-grade monitor speakers – you can't go wrong with the JBL One Series 104.
What You Need To Know About IK Multimedia iLoud MTM
The
IK Multimedia iLoud MTM
is a versatile set of speakers that deliver powerful, clear sound. Perfect for use as studio speakers, desktop speakers, or bookshelf speakers, the iLoud MTM produces deep bass that goes as low as 40 Hz without needing a subwoofer.
The speaker also comes with a useful built-in self-calibration feature. This means it can adjust its output to fit any placement. So you can place it on your music studio desk or use it as gaming PC speakers and expect balanced sound.
When working on music production and mixing tasks, you'll appreciate this speaker's linear phase sound. This feature ensures less ear fatigue during long periods of listening. It also delivers point-source performance for superior audiophile-quality sound at any distance.
Despite its compact size, the iLoud MTM matches the performance of larger speakers and even rivals computer desktop speakers fitted with powered subwoofers. Also, these studio monitor speakers are easy to mount and compatible with mic stands or mounts for an immersive audio experience.
With Atmos bass management technology included, you're assured of high-quality bass sound that surpasses standard PC sound bars or surround sound rigs.
My 1 Month Review Of The IK Multimedia iLoud MTM
Sound Quality
After a month of testing the IK Multimedia iLoud MTM, here's what I can tell you about it.
The sound quality is nothing short of breathtaking. Crystal clear highs, full-bodied mids, and rich, deep bass are all beautifully produced by these tiny powerhouses. It's a balanced mix that has taken my music production to new heights.
Design and Build
They're also pretty sleek to look at. The build quality is excellent - they feel robust and well-constructed. The horizontal design is unique and allows these monitors to fit into small spaces without compromising on sound quality.
Advanced Technology
These speakers also come loaded with advanced technology that I found highly useful. The built-in ARC room correction system helps tailor the speaker output based on the acoustics of your room, ensuring optimal sound reproduction in any environment.
The DSP-controlled frequency response guarantees linear phase response making sure your mix always sounds authentic and unaltered.
User Experience
Using the iLoud MTMs for a whole month has been a pleasure because of how user-friendly they are. With the included measurement microphone for ARC system calibration, setting up was a breeze.
Their compact size makes them very portable, which has been fantastic as I move around quite regularly with my equipment.
Here are some standout features after my one-month test:
• Sonic accuracy: These speakers deliver an incredibly accurate sonic representation.
• Built-in ARC system: This feature helps adapt output based on room acoustics.
• DSP-controlled frequency response: Guarantees linear phase response ensuring an authentic mix.
• User-friendliness:: Easy setup with included measurement microphone.
In conclusion, using the IK Multimedia iLoud MTM over this past month has enhanced my music production experience tremendously. From its superior sound quality to its advanced technology features and easy usability, this is one powerful monitor speaker that I highly recommend to all fellow music enthusiasts out there!
Who The JBL One Series 104 Is For & Why You Might Choose It Over The IK Multimedia iLoud MTM
The JBL One Series 104 is designed for those seeking a reliable, entry-level reference system. These speakers are ideal for home recording/production studio environments, providing excellent performance when triangulated at arm's length from the listener.
• The JBL 104s are praised for their impressive reproduction of digital masters.
• They provide an accurate, slightly bottom-heavy audio experience centered around 100Hz.
• However, some may find that mixes created using these speakers require minor adjustments.
Why choose JBL One Series 104?
Professional Quality:
These speakers deliver a credible performance even as per industry professionals like retired audio engineers and commercial recording studio owners. If the mix sounds good on the 104s, it's likely to be in the ballpark on most other reference systems.
Affordability:
At $130 for a pair, they provide excellent value for money and serve as a cost-effective entry into professional-quality sound production.
Imaging:
The JBL 104s feature outstanding imaging due to their coaxial drivers.
However, potential buyers should consider certain aspects:
• Some users comment on a peaky top end and thin midrange in sound quality.
• These speakers might not be suitable if you need them to fill larger rooms due to distortion at higher volumes.
• The bass can be perceived as lacking due to small speaker drivers.
In comparison with other products at this price range like Micca PB42 or Edifier R1280DB, some users found those options preferable over the JBL One Series 104.
Other reported issues include:
• A lack of volume despite having more power compared to competitors
• Instability due to the shape of the speakers base
• A loose-fitting power cord
Potential solutions suggested by users include using RCA plugs instead of balanced plugs and potentially adding an amplifier or DAC. Some also suggest that running them continuously (breaking in) could potentially improve sound quality.
Who The IK Multimedia iLoud MTM Is For & Why You Might Choose It Over The JBL One Series 104
Who is IK Multimedia iLoud MTM for?
IK Multimedia iLoud MTM is for music professionals and enthusiasts who desire a high level of detail in their sound. It's ideal for those engaged in music production, mixing, mastering or "making beats", as well as individuals who simply enjoy listening to a broad range of music genres.
It's well suited to those seeking out monitors which provide a superior audio experience without causing ear fatigue.
Why one might choose IK Multimedia iLoud MTM
You might opt for the iLoud MTM due to its excellent sound quality across different frequencies:
- Crisp Highs: The highs on these monitors are described as crisp and airy while not being fatiguing to the ears.
- Detailed Mids: The mid-range detail on these speakers is said to be impressive without being overly forward.
- Tight Lows: Users may be pleasantly surprised by the low-end output of such small drivers. The lows are described as tight and very controlled.
The build quality of the MTMs adds more reasons for you to favor them. They're sturdy, solidly built, and come with decoupling stands that allow you to aim them at your face from varied placements.
IK Multimedia iLoud MTM also features onboard Arc calibration which adjusts the output based on room acoustics. If you're sensitive about how your setup looks like in a dim room environment, worry less because its front light - though quite bright - isn't glaringly blue.
While some minor issues have been noted (such as port noise at certain frequencies when close to walls), many users deem it not significant enough to be heard from their seated position or demerit their overall performance.
In terms of value for money, users often compare the iLoud MTMs favorably with more expensive ones such as Focal CMS65s or Neumanns.
Their clarity across all drivers and highly detailed highs create a nice stereo image with a wide sweetspot. Furthermore with modeling software and low latency, they offer adjustable voices and ARC Calibration that make mixing easier while reducing ear fatigue.
If you're still searching for the perfect audio equipment and haven't decided on the JBL One Series 104 or IK Multimedia iLoud MTM, I've got some other comparisons that could be useful to check out.
I've directly compared similar products in other posts, so you can get a good sense of what's available. Head over to these links for more information: You can check out the KRK Rokit RP7 G4 vs Focal Shape 65 comparison.
If you desire an alternative, perhaps the KRK Rokit RP7 G4 vs Adam Audio A7V comparison may interest you.
And don't miss the KRK Rokit RP7 G4 vs M-Audio BX4 comparison to ensure you're making an informed decision that best fits your needs and preferences.
FAQs
What kind of connectivity options do the JBL One Series 104 and IK Multimedia iLoud MTM offer?
The JBL One Series 104 offers Bluetooth 5.0 connectivity, which allows users to easily connect their devices without having to deal with wires. This is a significant benefit for people who may have to move their setup often and want to minimize clutter. In contrast, the IK Multimedia iLoud MTM does not specify any wireless connectivity options but it integrates Atmos bass management technology that is optimal for delivering immersive audio experience.
How good are these monitors for professional studio mixing and how do they compare in performance?
Both monitors boast impressive sound reproduction capabilities. The JBL One Series 104's neutral sonic profile delivers high-quality sound reproduction that is said to be superior than typical desktop monitors, making it suitable even for professional use. The IK Multimedia's iLoud MTM deliver remarkable detail in treble tones ideal for professional mixing. However, reviews suggest that the iLoud MTMs offer higher definition mids than cheaper alternatives like JBLs.
In terms of portability, which model provides more convenience?
In terms of portability, the JBL One Series 104 edges out due its lighter weight design as it's recognized for its portability and convenience that makes it suitable for content creators who need to carry their equipment around.
I'm dealing with space constraints; which model would work better in a compact setting?
While both models are compact enough to fit into smaller spaces, if you're dealing with serious space constraints or desire high resolution audio within smaller environments then the iK Multimedia iLoud MTM could be your better option, thanks largely due its superb performance in a compact size.
Buyer's Guide: Important Things To Consider & Look Out For When Buying Monitor Speakers
1. Understand the Type of Monitor Speakers You Need
When it comes to audio production, buying the right pair of monitor speakers is an essential decision that could affect your music production quality. Studio monitors, also known as reference speakers, are designed to provide a transparent sound that assists in mixing and mastering tracks accurately.
However, it's important to note that not all monitor speakers are created equal. For instance, nearfield monitors like the JBL One Series 104 are designed for close-listening environments such as small studios or home offices.
2. Choose Brands Renowned for Quality Sound Engineering
Before you plunge into your online purchase, understand who the top-tier players in sound engineering are. Brands such as JBL and IK Multimedia have been at the forefront of audio production technology development for years.
Models like JBL One Series 104 or IK Multimedia iLoud MTM have excellent reviews when it comes to professional studio monitors. These reference speakers typically offer high accuracy and low coloration sound - vital for any serious sound engineering task.
3. Check Comprehensive Product Reviews
Your online shopping experience heavily relies on product reviews from actual users of monitor speakers you intend to buy, especially when considering top-tier models like Ik Multimedia iLoud MTM and JBL One Series 104. These insightful reviews can provide valuable first-hand details about overall performance, robustness, and reliability of those studio monitors.
4. Understand the Specifications
Monitor speaker specifications such as frequency response range can greatly influence their efficiency in music production workflows. The wider this range is on a pair of nearfield monitors or other types -– the better they'll be at accurately reproducing both low (bass) and high (treble) frequencies.
The Ik Multimedia iLoud MTM,, famed for its advanced specs - including superior linear frequency responses - may be an ideal choice if you're after reference-quality mixing and mastering capability.
5. Consider Your Room Size
Before purchasing any monitor speakers online, consider your room size where they will reside! Nearfield monitors such as JBL One series 104 perform optimally in smaller rooms or studios because their design supports closer proximity listening without losing acoustic detail.
6. New vs Used: Evaluate Condition Before Purchase
You must be careful while purchasing used monitor speakers since their condition influences performance significantly over time; however, well-maintained used options could offer value.
Remember though: Newer models like iLoud MTM come with manufacturer warranties – something which second-hand options may lack!
7. Understand Your Budget Constraints
Understanding what you can afford is crucial before embarking on your online shopping venture.Speakers such as JBL one series 104, known for offering professional-grade features at reasonable price points- compared with other pro-level studio monitors-, might be a notable choice if budget constraints apply.
Remember though: while balancing quality amplification & cost-effectiveness is essential- compromise over critical features needed in professional audio productions should never be an option!
About Author
Lyrics
Please save some lyrics first.