Curious about what record label Lana Del Rey is signed to?
Want to know all about past deals, releases, net worth, and Her masters ownership? 
Whether you are an artist yourself, hoping to follow in Lana Del Rey's footsteps, or you are a curious music lover...
You're in the right place!
In this post, we are exploring all of that and more, so scroll on 🙂 ...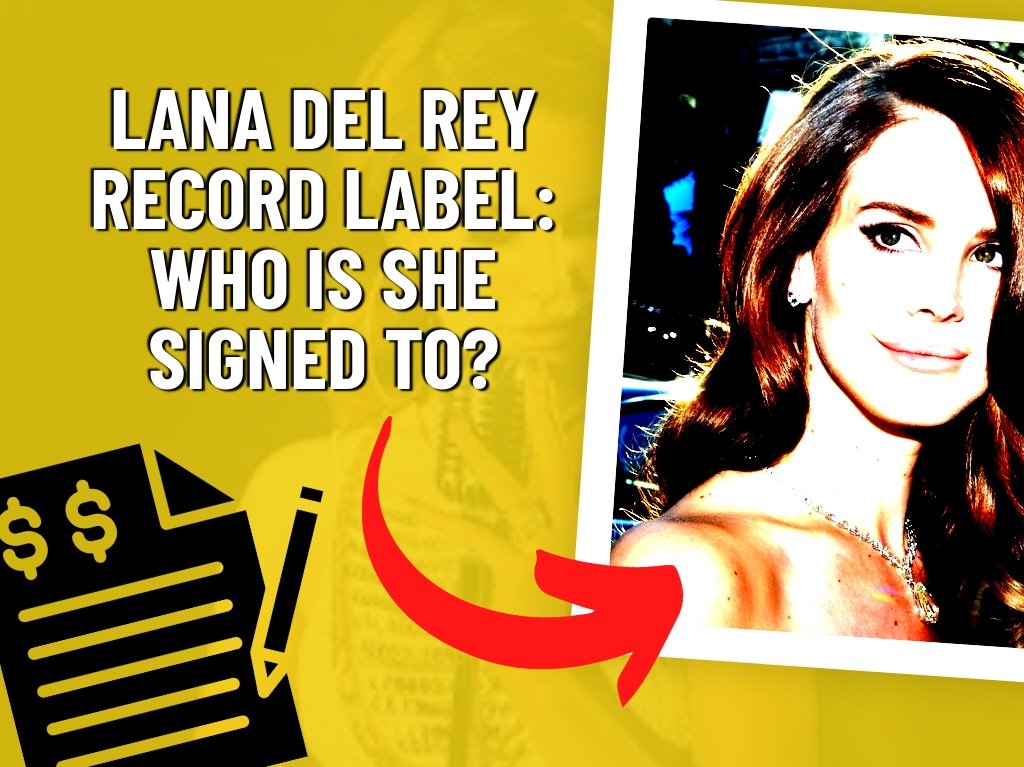 Who is Lana Del Rey Signed To?
Interscope and Polydor:
Lana Del Rey is signed to Interscope Records and Polydor. She entered into a joint venture with the labels for the release of her second studio album, Born to Die. The album was a commercial success, reaching the top of the charts in 11 countries. Del Rey later announced that she had purchased the rights to her debut album and intended to re-release it through Interscope and Polydor. Born to Die was the fifth-best-selling album of 2012.
Artist Background: Lana Del Rey's Previous Record Labels & Contracts
Embed from Getty Images
Del Rey first appeared in front of an audience in 2006 at the
Williamsburg Live Songwriting Competition
, where she met Van Wilson, an A&R representative for David Nichtern's independent company
5 Points Records
. When she was a senior at Fordham in 2007, she sent a demo CD of acoustic songs called
No Kung Fu
to 5 Points, which then made her a
$10,000 recording contract
. With the money, she moved to a trailer park in North Bergen, New Jersey, where she started working with producer
David Kahne
. Nichtern observed, "Like a lot of artists, she morphed. Our objective was to get it all organized, have a record ready to go, and she'd be touring right after she graduated from
college
.
Awards: Lana Del Rey's Achievements
Lana Del Rey has achieved a great deal of success and recognition in her career, having been honoured with nine GAFFA Awards, two Brit Awards, two MTV Europe Music Awards, and a Satellite Award. She has also been nominated for a Golden Globe Award and six Grammy Awards. Variety lauds her as one of the most influential singer-songwriters of the 21st century, recognising her at their Hitmakers Awards.
How Did Lana Del Rey Get Famous?
Embed from Getty Images
While still in college in the spring of 2005, Del Rey registered a seven-track extended play with the US Copyright Office under the names Rock Me Stable and Young Like Me. She also used the stage name May Jailer to record a second extended play titled From the End. Del Rey then created an acoustic album, Sirens, between 2005 and 2006 as part of the May Jailer project. Sirens was released in the middle of 2012, and it was after this that she was able to secure a music label deal.
Does Lana Del Rey Write Her Own Songs?
Lana Del Rey is an acclaimed American Singer and Songwriter, well known for composing the majority of her own songs. She has expressed her preference for writing in her car as opposed to writing at home. Her impressive discography is packed with hit songs, further cementing her success as a talented musician.
What is Lana Del Rey's Net Worth?
Net Worth: $30 million. Lana Del Rey is an American singer, songwriter, and record producer. Critics have praised her music for its polished, cinematic nature and its focus on themes of sad romance and glitz.
Other Artists Signed To Interscope and Polydor
The Interscope roster of artists includes:
Lady Gaga
OneRepublic
Dermot Kennedy
Blackpink
Dr. Dre
DaBaby
Billie Eilish
Imagine Dragons
Olivia Rodrigo
Selena Gomez
Playboi Carti
Kendrick Lamar
Lana Del Rey
Maroon 5
Gwen Stefani
Rae Sre
Blackpink
Billie Eilish
Selena Gomez
Cheryl
ABBA
Miley Cyrus
Demi Lovato
Many more
Does Lana Del Rey Own Her Masters?
No information is available to indicate whether Lana Del Rey owns the masters to her recordings.
The Wrap Up
There you have it! I'm curious, was that what you expected from Lana Del Rey? Let me know in the comment section... To stay up to date with Lana Del Rey be sure to follow the official
Lana Del Rey Twitter Page
and the
Lana Del Rey YouTube Channel
for all of the latest Lana Del Rey events! Record labels can be very complicated, and there are so many
different types of record deals and contracts
to be aware of. If you are an artist yourself, exploring possible options for your career, you might wanna check out our example record deal contracts to stay in the know -
record label scams
are rampant in the industry, sadly. Not surprisingly, many artists are choosing to stay independent and
start an independent record label
- we at Industry Hackerz are
ALL for that
; whatever route gets you to where you want to go! We also have
free music licensing templates
that you can download and use if you do go that route; protect yourself, always.
You might also like to check out the contract status of these other prominent artists:
Lyrics
Please save some lyrics first.