Curious about what record label Kane Brown is signed to?
Want to know all about past deals, releases, net worth, and Kane Brown masters ownership? 
Whether you are an artist yourself, hoping to follow in Kane Brown's footsteps, or you are a curious music lover...
You're in the right place!
In this post, we are exploring all of that and more, so scroll on 🙂 ...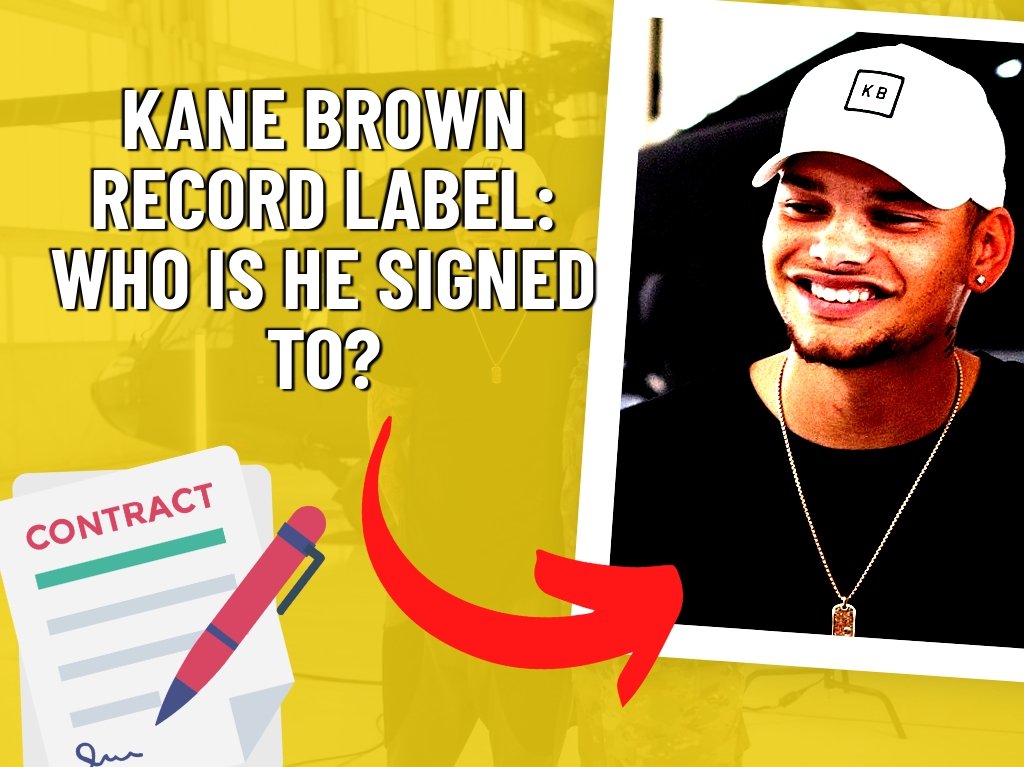 Who is Kane Brown Signed To?
RCA Nashville Records:
Kane Brown has certainly made a name for himself in the world of country music. But who is this talented artist signed to? Well, it turns out that Kane Brown entered into a recording agreement with Sony Music Nashville all the way back on January 27, 2016. Since then, he has been signed to the prestigious RCA Nashville label. On March 18, 2016, Kane Brown released his debut EP titled Chapter 1. This EP featured hit singles such as "Used to Love You Sober" and "Last Minute Late Night." The EP was a huge success, debuting at number three on the Top Country Albums list and in the Billboard 200 after selling 30,000 units (23,000 in traditional albums) in its first week.
Artist Background: Kane Brown's Previous Record Labels & Contracts
Embed from Getty Images
Kane Brown first gained recognition for his covers of popular songs on social media. His cover of "I Don't Dance" by Lee Brice gained significant attention, and his version of "Check Yes or No" by George Strait quickly became a hit, accumulating over 7 million views. His popularity on Facebook quickly grew, leading to the release of his own track "Used to Love You Sober" which received over 1 million views in just three hours. Brown was initially signed to Zone 4 and managed by Jay Frank before Martha Earls took over in 2016.
Awards: Kane Brown's Achievements
Brown already had 35 nominations under his name. Brown released his second album, Experiment, in November 2018, and it became his first number one album on the Billboard 200. The song "What Ifs" was taken from this album, and in October 2017, Brown became the first artist to have simultaneous number ones on all five key Billboard country charts.
How Did Kane Brown Get Famous?
Embed from Getty Images
Kane Brown got his start in the music industry by performing Chris Young's "Gettin' You Home" at a talent competition in high school.
He was raised on country music but also developed a taste for R&B in middle school. After the success of his classmate Lauren Alaina on American Idol, he applied for The X Factor and American Idol.
He was selected for The X Factor in 2013, but left the show when the executives wanted to put him in a boy band.
Brown then decided to upload his original covers of popular songs to the internet, which proved to be a successful decision.
His career took off and he gained recognition and fame in the music industry.
Despite being rejected by a talent show, Brown persevered and pursued his passion for music, ultimately achieving success.
Does Kane Brown Write His Own Songs?
Yes, Kane Brown writes his own songs. He has been known to work with other songwriters and producers to arrange and polish his songs, but the ideas and lyrics come from his own mind and talent. Brown's unique style and perspective are evident in all of his songs, regardless of any outside help he may have received.
What is Kane Brown's Net Worth?
Kane Brown has a net worth of about $6 million as of 2021. While estimating his income is simple, figuring out how much he has spent over the years is much more challenging.
Other Artists Signed To RCA Nashville Records
Andrew Jannakos
Miranda Lambert
Niko Moon
Pistol Annies
Chris Young
You can check out the
RCA Records Youtube Channel
for more information on their artists and current events.
Does Kane Brown Own His Masters?
No, Kane Brown does not own the masters to his music. Like many artists, he does not have ownership of the recordings of his songs. Instead, the record label typically owns the masters to an artist's music.
The Wrap Up
There you have it! I'm curious, was that what you expected from Kane Brown? Let me know in the comment section... Record labels can be very complicated, and there are so many
different types of record deals and contracts
to be aware of. If you are an artist yourself, exploring possible options for your career, you might wanna check out our example record deal contracts to stay in the know -
record label scams
are rampant in the industry, sadly. Not surprisingly, many artists are choosing to stay independent or
start their own record labels
- we at Industry Hackerz are
ALL for that
; whatever route gets you to where you want to go! We also have
free record label contracts
that you can download and use if you do go that route; protect yourself, always.
You might also like to check out the contract status of these other prominent artists:
Lyrics
Please save some lyrics first.