Curious about what record label Elton John is signed to?
Want to know all about past deals, releases, net worth, and Elton John masters ownership?
Whether you are an artist yourself, hoping to follow in Elton John's footsteps, or you are a curious music lover...
You're in the right place!
In this post, we are exploring all of that and more, so scroll on 🙂 ...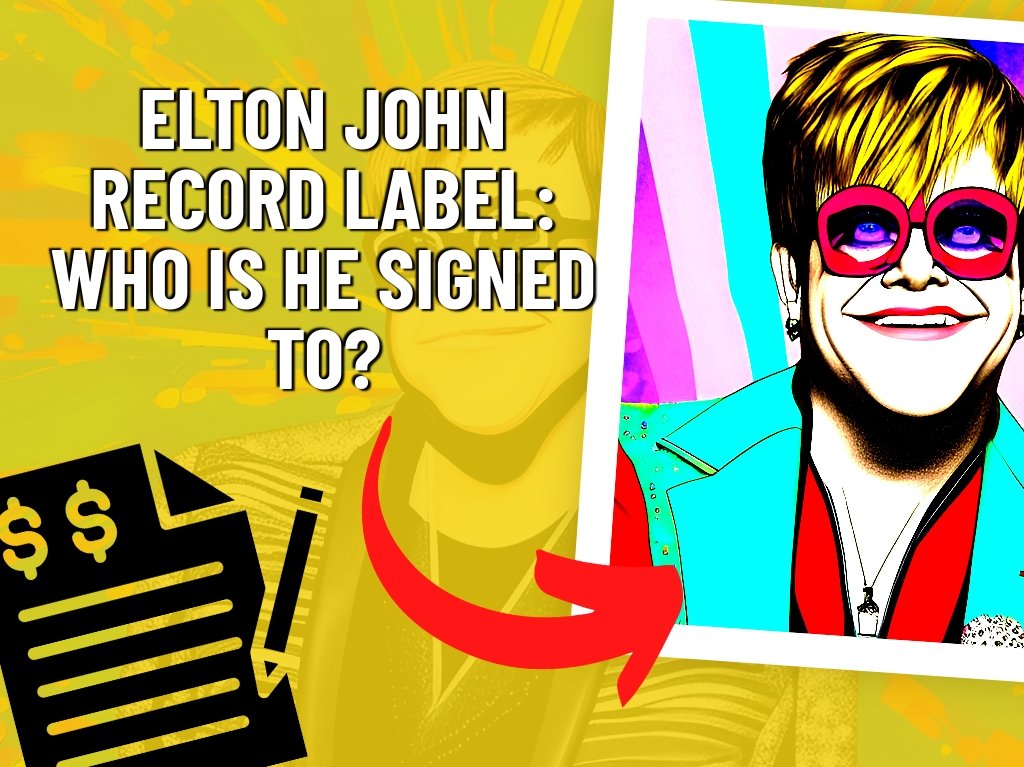 Who is Elton John Signed To?
Universal Music Group:
You Should Read This Next!
John reportedly reached an agreement with Universal Music Group (UMG) in September 2018 to represent his new music "for the remainder of his career," in addition to his work from the previous 50 years. The arrangement includes publication rights to John's iconic songwriting collection, which will be administered by Universal Music Publishing Group for the foreseeable future.
Artist Background: Elton John's Previous Record Labels & Contracts
Embed from Getty Images
After John departed his British label, DJM, in 1976, his albums were also issued on both sides of the Atlantic by The Rocket Record Company. Elton left DJM in 1974 to start his own label, The Rocket Record Company, although he successfully sued James over earnings in 1985.
Awards: Elton John's Achievements
Queen Elizabeth II knighted Elton in 1998 for his contributions to music and philanthropy. He was appointed to the highest level of the honour system, Companion of Honour, at the end of last year.
With a title that only 65 individuals may hold at the same time, he joins an elite group that includes Sir Paul McCartney and Roger Taylor (Queen). He also has the title of Commander of the Order of the British Empire.
Every artist also aim is to be admitted into The Rock and Roll Hall of Fame, which Sir Elton John accomplished in 1994 for his outstanding contributions to the music business.
In addition, at the 13th GRAMMY Awards in 1970, John received his first three GRAMMY awards, including Album Of The Year and Best New Artist. For "That's What Friends Are For," he earned his first GRAMMY for Best Pop Performance By A Duo Or Group With Vocal in 1986, alongside Gladys Knight, Dionne Warwick, and Stevie Wonder.
How Did Elton John Get Famous?
Embed from Getty Images
With his 1969 album Empty Sky, which included songs by John and Taupin, John received his first break as a performer.
While that recording did not catch on, his 1970 self-titled album featured John's first hit, "Your Song." More hits soon followed, including No. 1 smashes such as "Crocodile Rock," "Bennie and the Jets," and "Island Girl."
During this period, John enjoyed a string of top-selling albums, including Goodbye Yellow Brick Road (1973) and Rock of the Westies (1974).
John became as famous for his live concerts after becoming one of the top talents of the 1970s. For his extravagant shows, he used outrageous costumes and eyeglasses.
Does Elton John Write His Own Songs?
During his career, John has released 464 songs, the majority of which he and Taupin wrote. Bernard John Taupin is a songwriter, performer, and visual artist from England.
He is most recognized for his long-term cooperation with artist Elton John, which has resulted in one of the most successful songwriting partnerships in history. Taupin wrote the lyrics to the majority of John's songs.
What is Elton John's Net Worth?
Elton John is a hugely successful and well-known British singer, composer, and pianist. Elton John has a net worth of $500 million as of this writing. Elton John is widely regarded as one of the most commercially successful performers of all time.
He has sold over 300 million records globally to date. He is routinely ranked among the world's highest-paid celebrities. Elton may easily earn more than $80 million from his different businesses in a touring year.
Other Artists Signed To Universal Music Group
Universal Music Group's artists and writers include Taylor Swift, Bad Bunny, Sting, The Weeknd, Billie Eilish, Drake, Otis Redding, and Ariana Grande.
Does Elton John Own His Masters?
No, Elton signed to Universal Music Group. Likewise, since 2005, Universal Music Publishing Group has managed John's post-1974 copyrights, and his pre-1974 songs since before then.
The Wrap Up
There you have it!
I'm curious, was that what you expected from Elton John? Let me know in the comment section...
Record labels can be very complicated, and there are so many different types of record deals and contracts to be aware of. If you are an artist yourself, exploring possible options for your career, you might wanna check out our example record deal contracts to stay in the know - record label scams are rampant in the industry, sadly.
Not surprisingly, many artists are choosing to stay independent or start their own record labels - we at Industry Hackerz are ALL for that; whatever route gets you to where you want to go!
We also have free record label contracts that you can download and use if you do go that route; protect yourself, always.
You might also like to check out the contract status of these other prominent artists:
About Author
Lyrics
Please save some lyrics first.