Curious about what record label Bad Bunny is signed to?
Want to know all about past deals, releases, net worth, and Bad Bunny masters ownership? 
Perfect; you're in the right place!
In this post, we are exploring all of that and more, so scroll on 🙂 …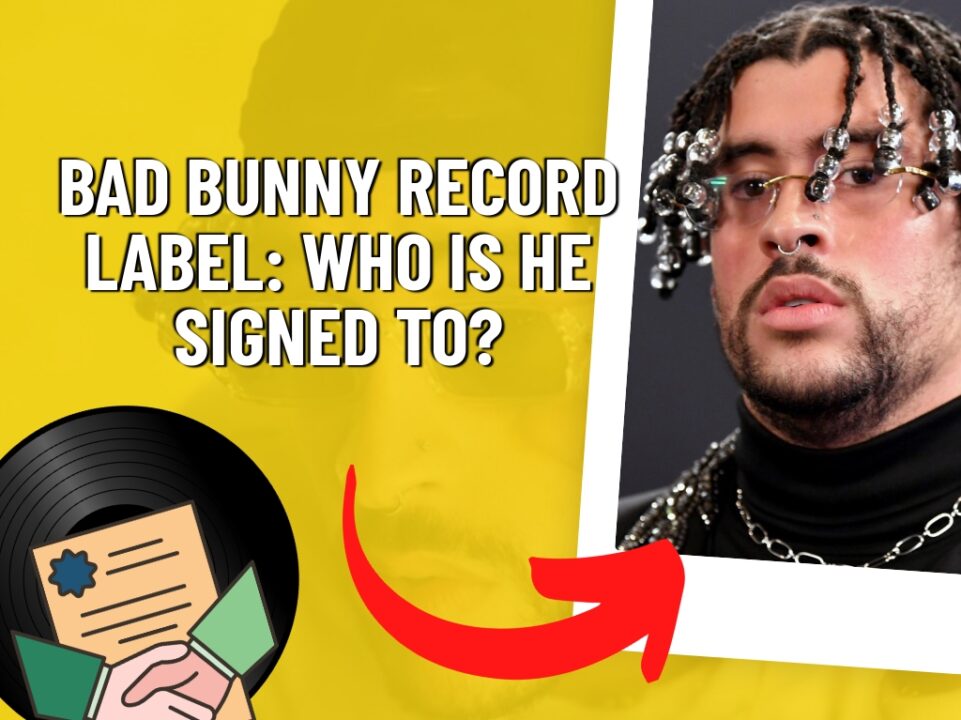 Who is Bad Bunny Signed To?
Rimas Entertainment
Bad Bunny is signed to an independent music powerhouse called Rimas Entertainment. In addition to Bad Bunny, Rimas' roster also includes streaming superstars like Jowell & Randy, Arcángel, Eladio Carrión, and others. It was founded by Assad in 2014. In 2020, Rimas released three of Bad Bunny's albums: YHLQMDLG, LAS QUE NO IBAN A SALIR, and EL LTIMO TOUR DEL MUNDO, the latter of which became the first all-Spanish album to reach No. 1 on Billboard's Top 200. In 2016, Bad Bunny signed with Assad's Rimas. . Bad Bunny has released several successful albums including YHLQMDLG, LAS QUE NO IBAN A SALIR, and EL LTIMO TOUR DEL MUNDO. His music is a mix of Latin trap and reggaeton and he is considered one of the pioneers of the Latin trap movement. Bad Bunny has collaborated with a number of artists including Drake, Cardi B, Ozuna, J Balvin, and Anuel AA. He is currently one of the most popular artists in the Latin music industry and his unique sound has made him a global sensation. Bad Bunny is sure to continue to dominate the music scene for years to come.
Artist Background: Bad Bunny's Previous Record Labels & Contracts
Bad Bunny's first steps in the music industry came at a young age, when he began creating his own songs. At 14, he started to share his music with the world, posting tracks on SoundCloud. It was here that he caught the attention of DJ Luian, who signed him to Hear this Music in 2016. Bad Bunny's career took off soon after, with the release of his single "Soy Peor." The track peaked at number 19 on the Hot Latin Songs chart, and helped to launch Bad Bunny into the spotlight. He remained with Hear this Music until 2018, before moving on to sign with other labels.  
Awards: Bad Bunny's Achievements
• Bad Bunny is a rapper and singer from Puerto Rico who has received numerous awards throughout the years, including two Grammys, four Latin Grammys, eight Billboard Music Awards, an MTV Video Music Award, two American Music Awards, and thirteen Premios Lo Nuestro. • He has been nominated for nine Grammy Awards in total. • In 2020 he won Songwriter of the Year honors from ASCAP Latin. • Bad Bunny achieved professional wrestling success in 2021 when he was crowned the WWE 24/7 Champion; however he gave the championship to R-Truth on the February 15 episode of RAW in exchange for items belonging to Stone Cold Steve Austin.  
How Did Bad Bunny Get Famous?
Bad Bunny's journey to fame is an interesting one. He started singing when he was young, and after posting an internet photo of himself as a kid wearing a bunny outfit and looking unhappy, he decided on the stage moniker Bad Bunny. Bad Bunny studied audiovisual communication at the University of Puerto Rico in Arecibo. He produced reggaeton and trap music, which he worked on at night. While the latter focuses on urban issues like drugs and violence and uses synthesized snare drums and cymbals to create an upbeat beat, the former is a style of Spanish-language rap fused with reggae. Bad Bunny started uploading tracks to SoundCloud, a global audio network where users may share music. Bad Bunny's "Diles" ("Tell Them") was found by Puerto Rican music producer DJ Luian, who signed Bad Bunny to his record label Hear this Music. And the rest, as they say, is history! Bad Bunny's unique story is an inspiration to many aspiring musicians out there that it is never too late to chase your dreams.  
Does Bad Bunny Write His Own Songs?
Bad Bunny takes part in creating and making all his chart-topper and award winning songs. however, he had helped in writing his songs. He tapped the talents of Martinez, Massy, Jay Cortez, and many more to ensure the quality of his music.
What is Bad Bunny's Net Worth?
Bad Bunny's net worth is around $18 million. He was the most streamed artist on Spotify in the entire world in 2020, which contributed significantly to the income. He broke the streaming record with 8.3 billion streams, while his album YHLQMDLG, which was the best-selling album of 2020, alone raked in 3.3 billion streams. Bad Bunny's wealth was significantly influenced by his extensive touring, which set record after record.  
Other Artists Signed To Rimas Entertainment
In addition to Bad Bunny, some other artists signed to Rimas entertainment are Jowell & Randy, Rafa Pabon, Eladio Carrion, Mora, Subelo Neo, Tommy Torres, Urba & Rome, Marconi Impara, Pailita, Tempo, and Big Soto. The label's artist roster also includes producers DJ Luian, Mambo Kingz, and Hi Flow. Martinez has stated that the goal of the label is to sign "urban" artists that are "outside of the box".  
Does Bad Bunny Own His Masters?
According to various reports, it appears that Bad Bunny does not own the masters to his songs. Instead, they are owned by his producer, Tainy (Marcos Efrain Massis). This means that Tainy has the power to control how Bad Bunny's music is used and distributed. While this may not be a problem now, it could potentially become an issue if Bad Bunny ever decides to leave Tainy's label. For now, it seems that Bad Bunny is content to stay with Tainy and continue making hit records. But only time will tell if this arrangement will remain amicable in the future. Tainy holds significant real estate with production and composition credits on Bad Bunny's earlier solo albums as well, including the artist's 2018 debut, "X 100pre," his 2020 duo of "YHLQMDLG" and "El ltimo Tour Del Mundo," and his 2019 joint album with J Balvin, "Oasis." This includes the lead single from "Un Verano Sin Ti," Bad Bunny's duet with  
The Wrap Up
There you have it! I'm curious, was that what you expected from Bad Bunny? Let me know in the comment section…