So, you're considering upping your game and taking your music production to the next level, huh? Well, you've come to the right place.
Today's blog post is all about the Presonus Faderport 8 - an impressive piece of gear that might just be what you need for your home studio.
Now, I know what you're thinking: "Another Presonus Faderport 8 review? Really?"
You Should Read This Next!
But trust me; this one's different.
We'll dive deep into its features and take a look at what sets it apart from other control surfaces out there.
By the end of this post, you'll have a much better idea if this bad boy is worth your hard-earned cash or if you should keep searching for that perfect addition to your setup.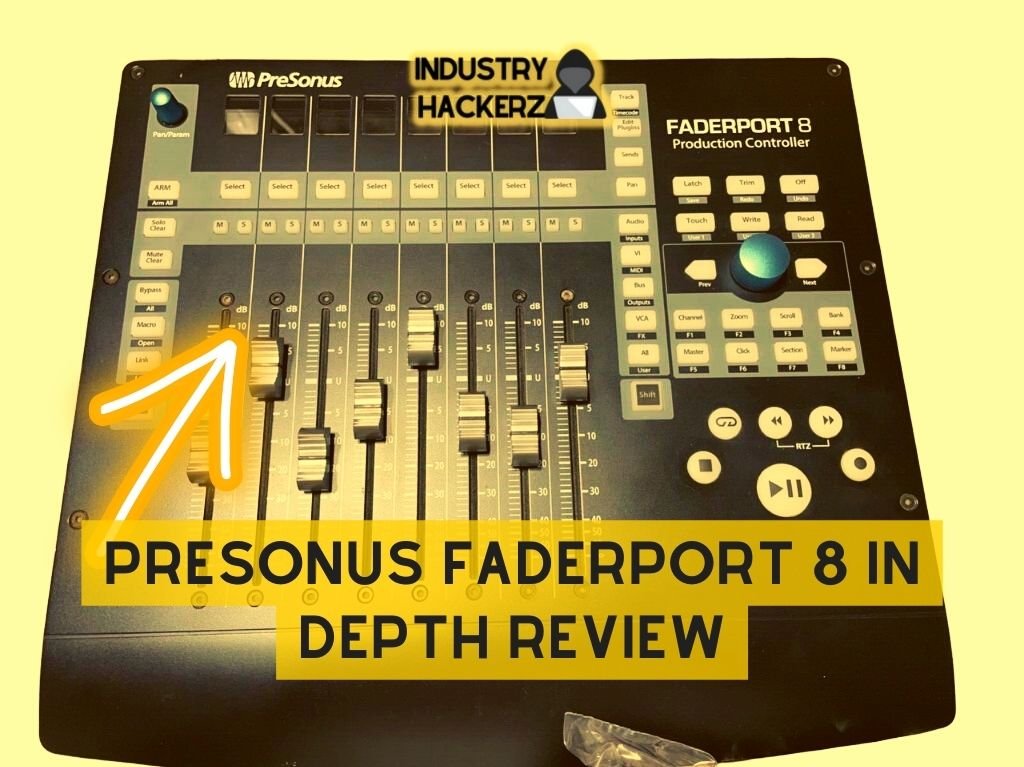 FaderPort 8 Design and Build Quality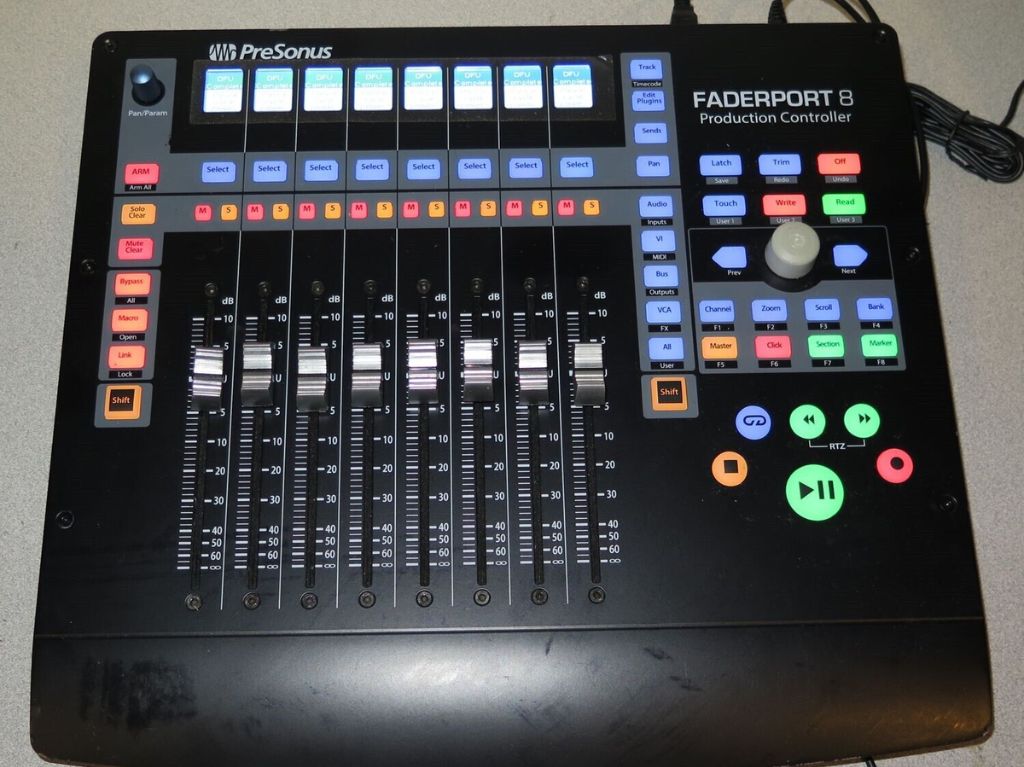 As a seasoned music producer and studio engineer, I've come across my fair share of audio gear.
However, the Presonus Faderport 8 has particularly caught my attention for its design and build quality. The USB controller boasts eight motorized, touch-sensitive faders that feel smooth, pleasantly-weighted, and are equipped with quick and quiet motors.
It's clear that Presonus put a lot of thought into designing these faders, as they also feature ergonomic finger curvatures which enable comfortable use during long mixing sessions.
Another noteworthy aspect of the FaderPort 8 is its digital scribble strips and display. These features provide essential track information at your fingertips without having to constantly refer back to your computer screen.
This not only saves time but also streamlines the mixing process by keeping you focused on what really matters - the music!
The transport and DAW control features on this mixer offer seamless integration with any digital audio workstation setup.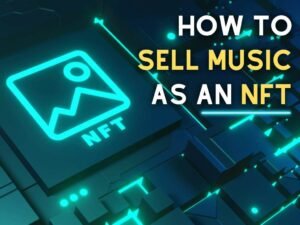 You Should Read This Next!
With dedicated controls for play, stop, record, loop activation, and more at your disposal - all neatly laid out in an intuitive manner – it's evident why so many producers swear by this device.
Integration with Studio One
The FaderPort 8 shines when it comes to integration with Studio One software (which is included in the package).
It offers tight integration benefits such as automatic track recognition and instant access to essential functions like automation editing or panning adjustments without ever leaving the hardware surface.
Tt's no wonder why users rave about their experience with this combo.
Moreover, since Studio One Artist is included free of charge upon purchase of a FaderPort 8 unit – there has never been a better time to explore this powerful DAW software which caters specifically to creative music production tasks.
All in all, if you're a Studio One user or looking to become one, the FaderPort 8 is a must-have addition to your music production equipment arsenal!
Compatibility with Pro Tools
For Pro Tools users, the FaderPort 8 utilizes HUI protocol integration. This means that you can still enjoy its fantastic features when working with industry-standard software like Pro Tools.
While it does experience some minor hiccups when dealing with third-party plug-ins (like occasional fader lag), these issues are generally rare and don't detract from the overall functionality of this digital mixing console.
In fact, many professional engineers have found that the FaderPort 8 offers an incredibly cost-effective alternative to other high-end DAW control surfaces on the market – making it an excellent choice for those looking to stay within budget while simultaneously upgrading their studio setup.
So even though it's not perfect out-of-the-box for Pro Tools users, with a little tweaking and customization, this control surface becomes more than capable of enhancing your workflow and creativity.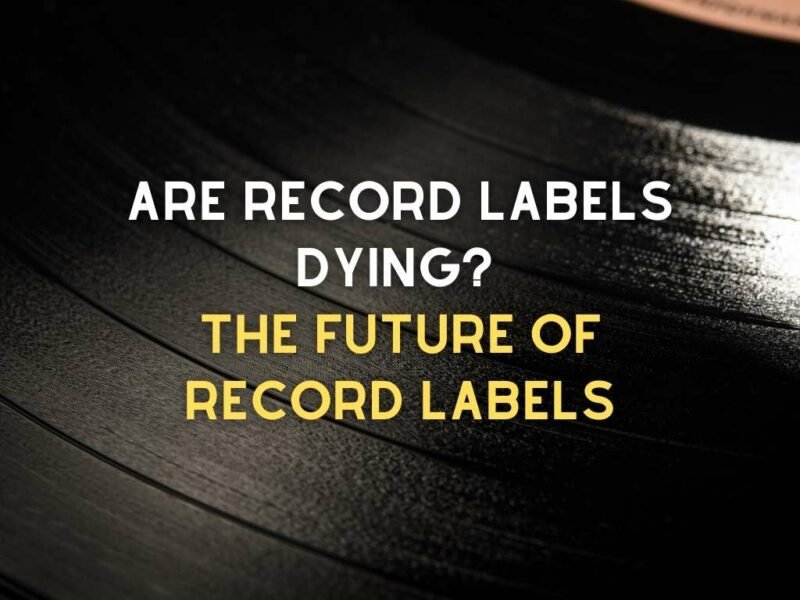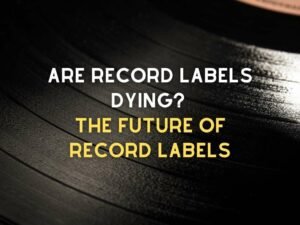 You Should Read This Next!
Compatibility with Other DAWs
If you use other non-Presonus DAWs like Logic or Ableton Live - worry not! The FaderPort 8 employs MCU (Mackie Control Universal) protocol compatibility which allows for seamless integration across various DAW platforms.
That means regardless of your preferred software; this USB controller can fit right into your existing studio environment without any complications - talk about versatility!
I've personally tested compatibility across multiple workstations and was pleasantly surprised by how well-suited the mixer was with each environment.
From adjusting automation parameters using touch-sensitive faders down to navigating through my sessions using strategically placed buttons – everything felt intuitive and smooth without much setup required on my part.
Ultimately, what we have here is a music production tool that's designed to be inclusive and accommodating - making it an excellent choice for those who prefer to experiment with different digital audio workstations!
Sends Button and Effects Tracks Display
The Sends button on the FaderPort 8 is a game-changer when it comes to mixing in effects. With just one press, you can display levels being sent to your effects tracks right on the fader surface.
This feature allows for quick adjustments and fine-tuning of your mix without having to navigate through endless menus or windows within your DAW.
I've personally experienced the massive time-saving potential of this feature during my own mixing sessions.
Gone are the days where I had to tediously switch between different sends or aux channels just to make minor adjustments – now everything is at my fingertips with just a single button press!
Additionally, the Pans fader option showcases none of the issues seen when using Pro Tools - making this device even more reliable and user-friendly when working with other DAWs.
Value for Money and Cost-Effectiveness
Considering its price point, I can confidently say that Presonus FaderPort 8 offers enormous value for money.
You Should Read This Next!
Its solid build quality, intuitive design, compatibility across multiple DAW platforms - all these factors make it entirely justifiable as a control surface investment whether you're using Presonus Studio One or any other software.
In comparison with other high-end controllers in the market that command significantly higher prices without necessarily offering enhanced functionality – going for FaderPort 8 feels like a no-brainer decision if affordability is high on your priority list.
The fact remains - despite its cost-effectiveness; this device does not compromise on performance or reliability whatsoever!
Responsiveness and Sensitivity for Detailed Mixing and Automation Editing
One thing that truly sets the FaderPort 8 apart from its competitors is the responsiveness and sensitivity it offers, enabling detailed mixing and automation editing.
The touch-sensitive faders, in particular, provide a level of control that simply cannot be achieved using a standard mouse or keyboard setup.
As someone who has spent countless hours refining mixes to perfection – I can attest to the fact that having such precise tools at my disposal has been invaluable in shaping my work exactly as I envision.
In short, if you're someone who values precision and control in your music production process – the FaderPort 8 is an investment worth considering!
Navigation Controls for Easier DAW Operation
The navigation controls on this device make operating your digital audio workstation exponentially more manageable.
With dedicated buttons for channel selection, zooming, scrolling through tracks or session markers - there's no need to keep reaching out to your computer keyboard or mouse every time you need to make adjustments during your sessions.
I've personally noticed how much faster my workflow has become since incorporating the FaderPort 8 into my studio setup. Less time wasted means more opportunities for creative experimentation!
The Mixdown
Whether you're a seasoned professional or just starting out in music production; Presonus FaderPort 8 brings an undeniable human element back into your digital audio workstation experience.
Offering hands-on control over essential software functions while retaining compatibility across multiple platforms – this USB controller is a worthy investment for anyone looking to elevate their music production game!
Lyrics
Please save some lyrics first.