Are you a musician looking to promote your music quickly and cheaply? If you are on social media, the process might be easier than you think. When looking for listeners, you need a platform that allows you to keep your fans engaged so you can gather their feedback.
In this article, you will learn how to promote music on Instagram and some killer tips on how to make your music go viral!
Is Instagram a Good Way to Promote Your Music?
Yes! Instagram is one of the best ways to showcase your music and build your personality.
The social media platform gives you the chance to gain millions of followers and listeners when you apply the best marketing approach.
You Should Read This Next!
With over 1 billion Instagram users, advertising music has become very competitive, so you need to have a good number of followers, which requires you to be very active on Instagram.
For this to happen, you will need to post consistently to create an excellent interaction area with your followers.
How Do Instagram Songs Go Viral?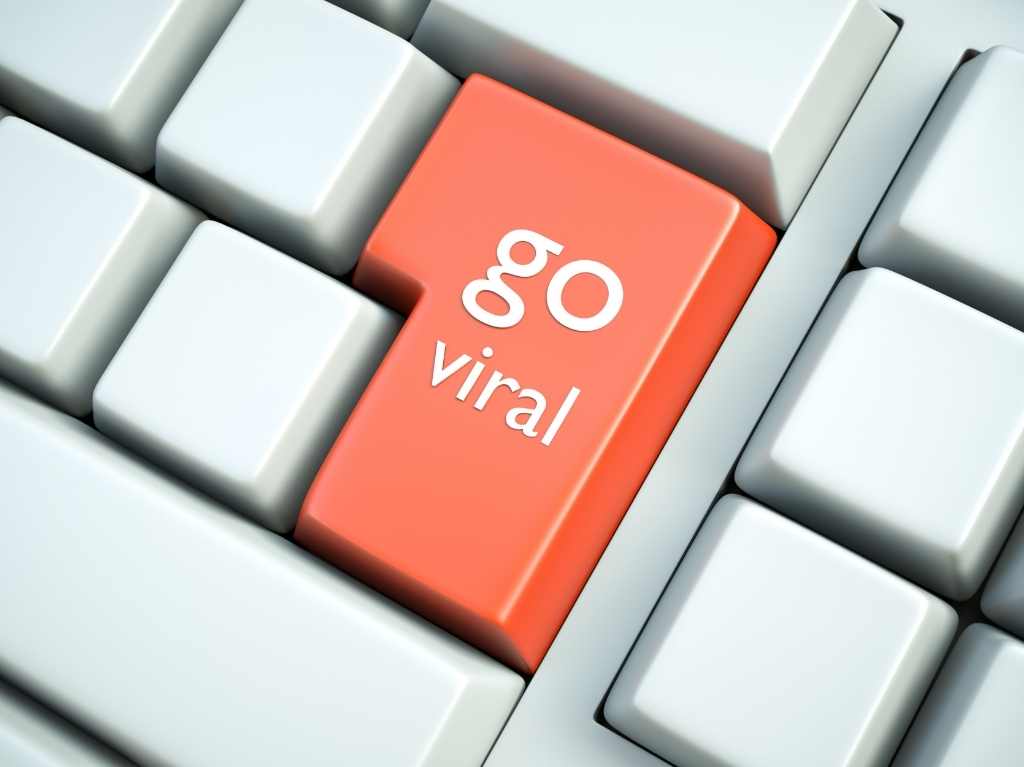 There is no one answer to this question, as songs can go viral for a variety of reasons. However, some of the most common factors that contribute to a song's success on Instagram include the following:
The song has a catchy melody and/or chorus that people are likely to sing along to.

The song has a positive, upbeat tempo that makes people want to dance or move along with it.

The song reflects current trends and sounds like other popular songs that are currently being played on the radio or in clubs.

The artist is able to create an engaging music video that accompanies the song and helps to promote it further.

The song is promoted by influential accounts on Instagram (e.g., celebrities, influencers etc.)
It is every artist's dream for one (or multiple) of their songs to go viral. Here are five tips to try and make your song viral on Instagram:
Viral Tip 1
Reward your fans. Your fans love it if you can contact them directly. Therefore, make a habit of rewarding them now and then.
You can create clever quizzes related to your music, then reward a few winners with free digital copies of your album, merchandise bearing your name, etc.
Viral Tip 2
Create content worth sharing. Your music should be entirely appealing to your target market.
You have to be creative and up to date with everything happening on social media.
When you create music that resonates with your target market, your fans will easily share it online, thus helping you gain more listeners and followers.
Viral Tip 3
Seek popularity, not money. While you will need more people to buy your music, you also need to create a bigger fanbase on Instagram.
Eventually, you will have a big enough fanbase that buys your music.
However, you will need to follow the first two tips on creating good content and rewarding your listeners to gain followers.
Viral Tip 4
Use Instagram live. Instagram Live is a tool that will enable you to interact with your fans worldwide, where fans get to see the real you.
Think of the people who will be idly scrolling up and down their Instagram feed; if they come across a live video, chances are they will stop to watch and listen.

But, if you want to retain these users, you need good content when going live.
You can go live for a short performance when you have a new song, or you can also go live to reward some fans who participated in your fun competition.
Viral Tip 5
Collaborate with other artists. This is one vital ladder to promote your music, especially when you struggle to find your footing as an artist on Instagram.

You can collaborate with another artist on a project that exposes your talent to their fanbase.
With such collaborations, going live with another artist is a faster way to give you more followers.
---
Download Your

Free Social Media Marketing Cheat Sheet
Industry Hackerz have designed a social media hacking strategy for music producers, musicians and vocalists. Start hacking your way to fame and recognition on TikTok, Twitter, YouTube, Reddit, Instagram, Soundcloud, and Facebook now!
20 Strategical Tips For Each Platform!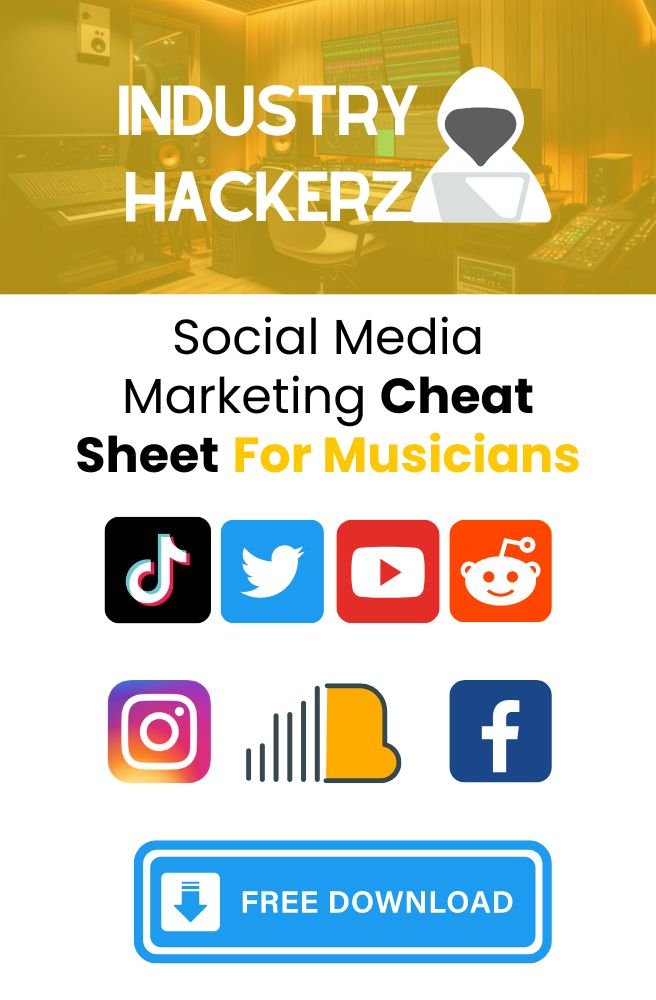 ---
7 Tips to Promote Your Music on Instagram
1. Start with Your Instagram Bio
An Instagram bio allows you to curate 150 characters to introduce yourself as a musician. Luckily, you can always tweak the bio for a new project as you grow.
The first thing you need is your artist name and a clear profile picture. Then, curate your career highlights, awards, or praises to give your fans an authentic feel of who you are.
Secondly, your bio needs a link that allows easy navigation to your new releases, shows, projects, products, and more.
Whenever you post about your work, mention "link in bio" so your fans can find more details there. There are accessible specialist tools to consolidate all your key links onto a webpage.
---
2. Promote Your Music on Instagram Stories
Over 500 million Instagram users view Instagram stories every day. With incredible features such as location tags, hashtags, gifs, and more, they are an excellent way for musicians like you to share updates and interact with fans.
Although stories last only for 24 hours for your viewers, you can categorize your stories in your archive so that fans can view them later.
Stories are more spur-of-the-moment and a great way to give your followers an authentic look at your musical journey and life in general.
---
3. Promote your Music on IGTV
Apart from Instagram Stories, you can also use IGTV, a new Instagram app for creating lengthy videos.
Instagram has designed IGTV to emulate an actual TV by hosting channels of videos uploaded by Instagram users.
Unlike Instagram stories, the IGTV videos are longer, so you can share longer snippets of your song or music video.
Since IGTV is brand new, it is your perfect time to capitalize on new views and fans before users crowd the platform.
This is awesome from a marketing point of view because you can now focus on one platform, showcase your content, and facilitate more profound connections with fans.
How to set up your IGTV channel
1. Tap in the top right of the feed, or download the IGTV app
2. Tap > create a channel and follow the guidelines
---
4. Use Hashtags for Organic Reach
Throwing a handful of curated hashtags is an excellent strategy for increasing organic reach on your regular Instagram posts.
If you use the right hashtags, your post should appear in the search result for people looking for similar music.
Hashtags can also be a good way of finding new fans and followers on Instagram. Use popular hashtags to increase your engagement so that when users are looking for popular hashtags, they can come across your post and may give your account a follow if they like what they see.
5. Diversify Your Posts
If you want to keep your fans engaged, you need to feed them clever content. So, look for creative ways to share details about your music.
For instance, you can post a short behind-the-scenes video of your studio recording or video shoot, or you can also post a short lyrics video. If you are a music producer, you can post your beat-making process.
The more you diversify your music posts, the more you will keep your fans engaged, and the more they will connect with your music.
---
6. How To Use Ads & Sponsored Posts
Instagram ads are a great way to put your content within people's reach. The feature allows you to advertise your music by boosting your posts.
Here is how you start using Instagram ads for music promotion:
Set Goals. Firstly, decide what your goals are. Clear goals are easier to track to know if your ads produce expected results.

Set a budget. If you are new to sponsored posts and ads, start with a small budget, so you don't blow loads of money straight away. Depending on the goals you set, you can decide to pay per thousand impressions or per click. The cost depends on the competition for the audience you are targeting.

Create Instagram ads in Ads manager; Go to ads manager and select create. Choose an objective such as Brand Awareness, Engagement, or Reach and select 'continue'. Fill in your Ad details. Select your placement mode between manual or automatic placement depending on how you want your ads to run.
---
7. Are All Of Your Accounts Linked Together?
While promoting your music on Instagram, do not forget to link all your social media accounts for better online visibility. Make sure your Instagram fans can easily navigate to your Facebook, TikTok, and Twitter accounts from Instagram.
In addition, use the same name across all social media platforms to also target users who want to find you through search engines like Google and Bing.
In addition to social media, ensure that your fans can also access your Spotify and Soundcloud pages from Instagram so they can listen to your music.
Conclusion
Instagram is one of the best platforms to use for music promotion. With the simple methods above, you can gain millions of followers from a few posts, which eventually translates into music purchases and a loyal fanbase.
However, while you won't worry about a big budget, you will want to produce great content for your target audience.
If you want to take it to the next level, it is time to learn all about selling your music as an NFT, but only click that link if you are ready!
About Author
Lyrics
Please save some lyrics first.