If you have always wanted to learn how to make a trap beat in FL Studio, you are in the right place.
We have broken down an easy-to-follow tutorial on how to make trap beats that you are free to use as an fl studio trap beat template!
---
---
This tutorial is brought to you by expert producer, Alex AKA 1KChainz
---
Step 1: Load and Chop the Sample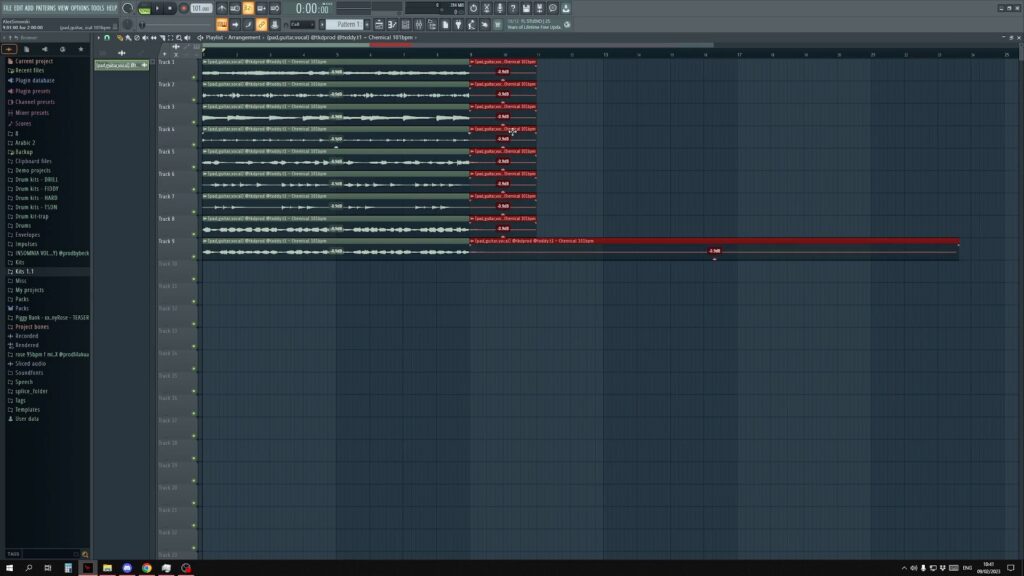 If you want to learn how to make a trap beat in FL Studio, you have to get familiar with using samples!
First things first, load the sample of your choice into FL Studio and get ready to get your hands dirty.
Setting the tempo to 101 bpm will give you a solid foundation to build upon. Now it's time to chop the sample into smaller, manageable pieces.
This way, you'll be able to rearrange them and add your own personal touch to make your beat unique.
---
Step 2: Create the Arrangement
Next up, it's time to start arranging the chopped samples. Start with a smooth intro by adding a pad and bass.
If you want to add some extra flavor, try pitching the sample down an octave. For the drop, add some percussion and a guitar to really get the energy pumping.
To keep things organized, you might want to color the clips and rename them. This will save you time and help you focus on the creative side of beat-making.
---
Step 3: Selecting the Sounds
Now that the arrangement is set, it's time to select the sounds that will bring your beat to life.
A good sound selection is crucial to making a trap beat that sounds polished and professional. Start with the clap.
This is the backbone of your beat, so it's important to get it right. Create three patterns with different claps and layer them to create a solid rhythm.
For the hi-hats, choose two different sounds and chop them up to add some variation.
Rearranging the hi-hats can add an extra layer of interest to your beat.
For percussion, choose a rim and an open hat to add some extra impact.
Experiment with placement until you find the sweet spot.
Finally, add a kick drum and an 808. Make sure to cut the 808s so they don't overlap and sound muddy or cluttered.
---
Step 4: Finalizing the Beat
With the sounds in place, it's time to put the finishing touches on your beat.
Experiment with different arrangements and sound levels until you're completely satisfied with the result.
And that's it!
You've now learned how to make a trap beat in FL Studio. So go forth and get creative!
The possibilities are endless, and you never know what kind of beats you'll come up with.
Have fun!