If you're a music producer looking to set up your own website (congrats, smart decision 👊), this post is for you! I'll show you the best WordPress setup, including the themes and plugins I recommend as well as my top tips for what to include. This will help you look professional and start selling your music as well as growing your overall producer brand!
You've probably heard of Wix and many one-page done-for-you website builders, so why WordPress?
WordPress is the best platform for music producers who want to build a professional website. It is simple to set up and there are plenty of plugins available to add functionality.
WordPress websites are also easy to customize, so you can create a unique site that reflects your brand. Plus, with WordPress hosting, you can get your site up and running quickly and easily.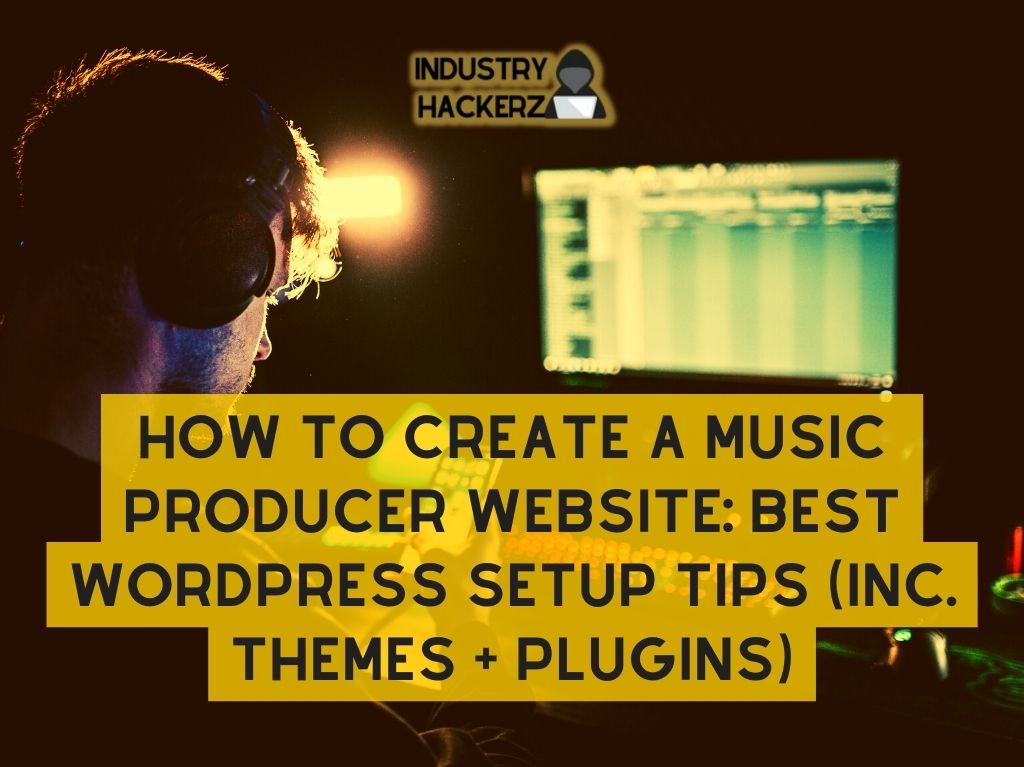 The Benefits of Using WordPress For A Music-Production-Centered Website
WordPress is a versatile content management system that can be used for a wide range of websites. One type of website that can benefit from WordPress is a music production-centered website.
You Should Read This Next!
WordPress offers a number of features that can be helpful for music producers,
including the ability to create custom post types and taxonomies, to manage media files, and to optimize website performance. Additionally, WordPress is easy to use and can be customized to meet the specific needs of a music producer.
Key Benefits Of Using WordPress For Your Music Production Site:
Easy To Use And Manage:
With WordPress, you can easily create and manage your website's content. You can add new pages, blog posts, audio tracks, and more with just a few clicks. WordPress also makes it easy to create custom menus and navigation, so visitors can easily find what they're looking for on your site.
Search Engine Friendly:
(Very important if you want potential clients to find you organically)
One of the great things about WordPress is that it's very search engine friendly. This means that your website will be more likely to show up in search results when people are looking for music-related content. WordPress is also mobile friendly, so your website will look great on all devices.
Endless Developers and Plugins Available:
Another benefit of using WordPress is that there are thousands of plugins and themes available. This allows you to customize your website to perfectly match your brand and style. Whether you want to add an online store, create a member area, or integrate with social media, there's a plugin or theme that can help you do it.
The best part is that many quality themes and plugins are completely free. So you can get all the features you need without breaking the bank.
The Different Types of WordPress Themes Available
When it comes to WordPress, themes are everything. They are like phone cases, back when people used to buy Nokia's (if you are too young to remember, here is an image)
You want it to look good but you want it to be practical.
Free Themes:
Free themes are a great option for those who are just starting out with WordPress or for those who want to experiment with different looks for their website.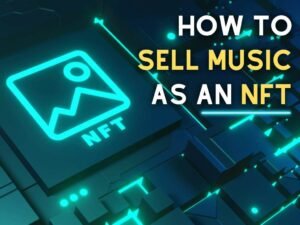 You Should Read This Next!
Premium Themes
Premium themes offer more features and options than free themes, making them a good choice for those who want a more professional-looking website. Custom themes are designed specifically for a user's individual website and can be customized to their exact specifications.
Best Free WordPress Themes For A Music Producer Website
Astra
Link: https://wpastra.com/
Astra is a popular WordPress theme that offers a clean and minimalist design. It is fully customizable and comes with several different layout options. Astra is also SEO friendly and loads quickly.
OceanWP
Link: https://oceanwp.org/
OceanWP is another great option for those looking for a free WordPress theme. It offers a versatile design that can be used for a variety of websites. OceanWP is also fully responsive and comes with several different customization options.
Hestia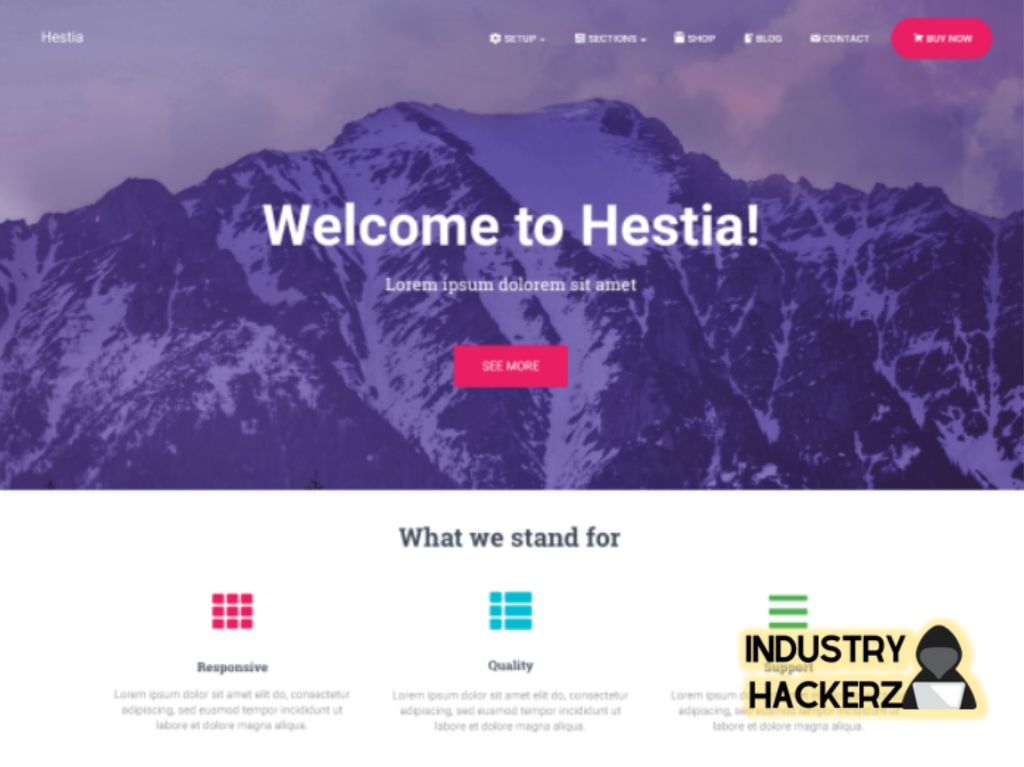 Link: https://wordpress.org/themes/hestia/#:~:text=Hestia%20is%20a%20modern%20WordPress,(WooCommerce)%2C%20and%20freelancers.
Hestia is a beautiful WordPress theme that offers a clean and modern design. It is fully responsive and comes with a number of useful features, including a live customizer and WooCommerce integration.
Top 3 Best Premium WordPress Themes For A Music Producer Website
Muzak Theme
Link: https://themeforest.net/item/muzak-music-wordpress-theme/3160212
Unlike some of the free themes, premium themes can get very specific and the Muzak theme is one of those music-specific themes I am talking about.
Muzak is a great option as it comes with complete audio and tracklisting management, as well as 6 custom post types. Plus, you can sell tickets and anything else with it using the free WooCommerce plugin.
Vice: Underground Music Theme (With Elementor)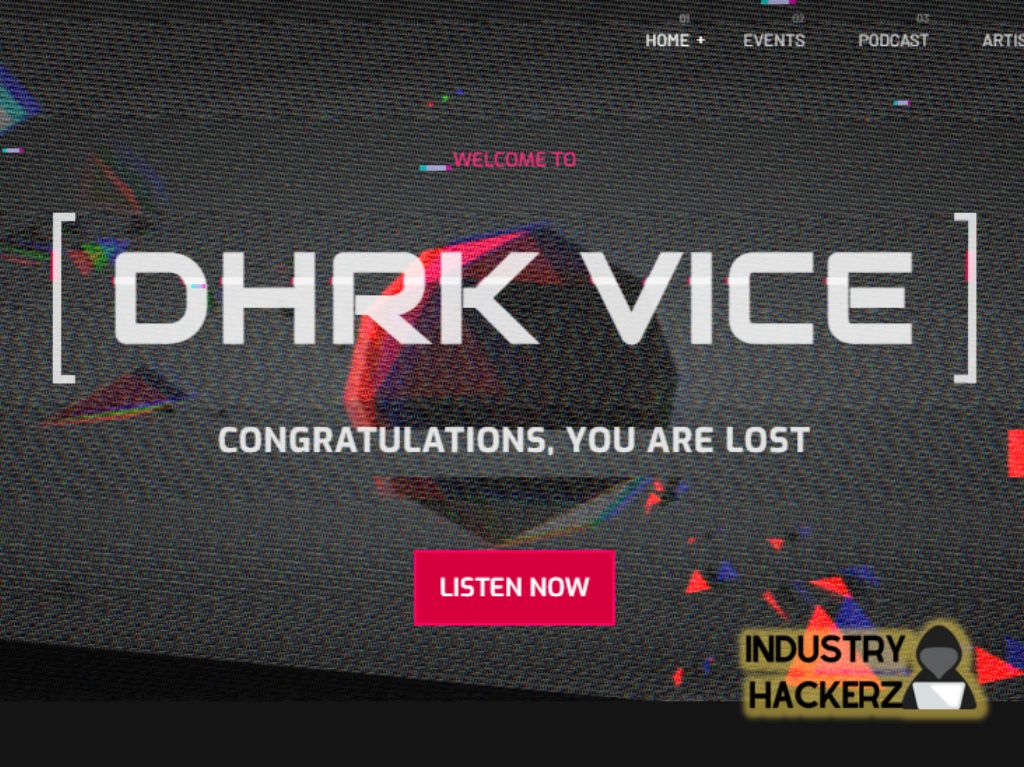 Link: https://themeforest.net/item/vice-music-band-dj-and-radio-wordpress-theme/10067870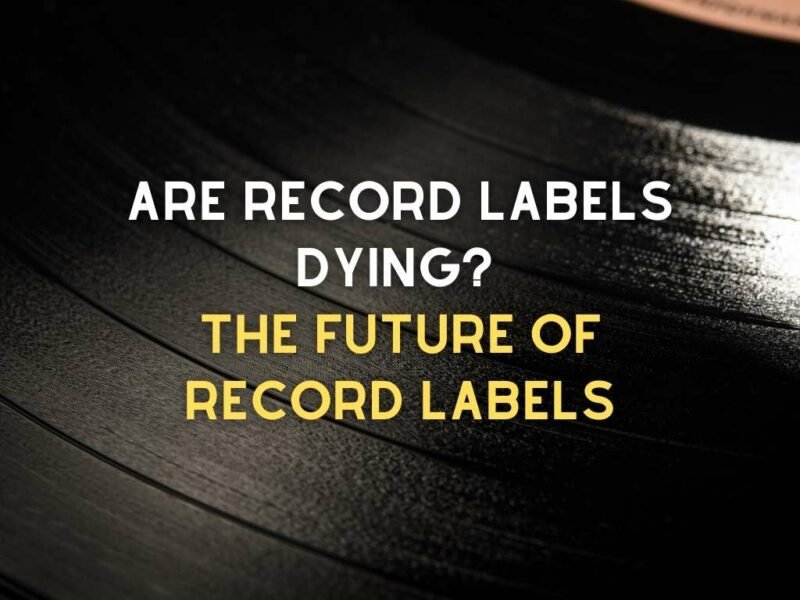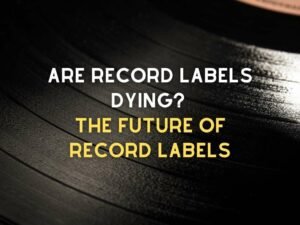 You Should Read This Next!
If you're looking for a WordPress theme that will help you build a professional music website, Vice is the perfect option. Its features and functions are specially designed for DJs, producers, bands, and other musicians.
With Vice, you can easily showcase your talent and brand yourself as an industry leader. Plus, its super responsive design ensures that your website will look great no matter what device your visitors are using.
And thanks to frequent updates, you can always keep your website up-to-date with the latest features and trends.
JamSession
Link: https://themeforest.net/item/jamsession-music-music-band-wordpress-theme/6542149?gclid=Cj0KCQjwsrWZBhC4ARIsAGGUJuowb0KWJvmxfNoa67OHFxGvobyA6SgZF_4B4TcckLUsjQhXptDnlU8aAu48EALw_wcB
The JamSession Theme was first published in 2014 but has since received many updates, praise and remains a fun and fresh producer's favorite.
JamSession is an excellent WordPress theme for music producers who want to build a brand and showcase their talent. The theme has a modern design that is very flexible, allowing you to customize it according to your own music style and needs.
The theme also features a full screen slider, responsive masonry layout, and custom post types for discography, events, photo gallery, and videos. This makes it extremely easy to configure the theme for both expert and beginner users.
Do You Need A Premium Theme?
While both free and premium themes have their advantages, I believe that, for a music producer website, a premium theme is the way to go.
Premium themes offer more features and options than free themes. This means that you'll be able to create a more professional-looking website with a premium theme.
Additionally, premium themes come with support from the theme developer. So, if you have any questions or run into any problems, you can contact the developer for help.
Finally, premium themes are often updated more frequently than free themes. This is important because it means that the theme will be compatible with the latest version of WordPress and all the plugins you're using.
How to Choose the Right Word Press Theme for Your Music Producer Website
Music producers need a website that is both professional and functional. There are many WordPress themes available, so it is important to consider what kind of look and feel you want for your site.
You Should Read This Next!
Do you want a simple, clean design or something more complex?
Do you need a theme that includes a portfolio or music player?
Once you have an idea of the kind of design you are looking for, you can narrow down your choices.
It is also important to consider the functionality you need for your music producer website:
Does the theme include everything you need, or will you need to purchase additional plugins?
Is the theme compatible with other plugins?
How easy is the theme to use?
Do you need a theme that is responsive or one that includes a page builder?
These are all important factors to consider when choosing a WordPress theme for your music producer website.
Finally, make sure to choose a WordPress theme that meets all your needs in terms of price and functionality. There is no point in choosing a cheap theme if it doesn't include everything you need, and similarly, there is no point in spending a lot of money on a theme if it isn't compatible with your existing plugins or doesn't offer the kind of design you are looking for.
Take the time to find a WordPress theme that perfectly suits your needs as a music producer and you will be sure to create a professional and functional website.
The Different Types of Music-Related WordPress Plugins Available
This is where it gets excitingl plugins!
There are going to be free and paid plugins available to do almost anything you need on your music site. There are different plugins for embedding audio players, selling beats with your own store front, pop up offers, plugins to promote events and sell tickets, plugins that embed your social media accounts and help you with SEO, and so much more.
The great thing about WordPress is that if there's something you want to do on your website, chances are there's a plugin out there that will help you do it.
And, if there isn't a plugin available, you can always hire a developer to create one at a cost. (A competitive cost if you use Fiverr!)
Most music producers will want to showcase their beats or demos to display the quality of thier sound and collaboration, so you could have a plugin that autoplays a beat or demo as soon as the website loads.
Other popular plugins for music producer websites are social media integration, email capture forms, and contact forms.
Some of my favorite music plugins are:
Social Media:
Pinterest Automatic: This allows you to schedule pins and automate Pinterest from your website.
Pop-Up/Email Capture:
These plugins allow you to giveaway a free beat and collect an email address. Building your email address is crucial!
The Different Types of Audio Files You Can Use on Your Website
Of course, as a music producer, the main thing about your website will be the music you've produced. You will want to share your best quality audio yet in a way that doesn't slow down the site or buffer aand cause your visitors to bounce from your site!
You may be thinking .WAV files are the best for clarity and to really showcase your music, but as you know, .WAVs are HUGE in terms of file size.
It is best to use a compressed file format like an .mp3 for your website. The quality will still be good enough for people to get an idea of what you sound like, but the file size will be smaller and won't bog down your website's loading speed.
You will not be uploading and embedding the files as they are, whether you choose to host them on your server and use an audio player plugin or host them elsewhere and use an embedded code.
I recommend hosting your beats on an external server or platform like Soundcloud or Bandcamp as it can take up a lot of space on your server if you have a lot of audio files.
Once you have chosen where to host your beats, you will need to get an embed code from that site to put the player on your website.
I have seen some music producer sites that have no music on them at all and they are just a digital business card, which is pointless. If you want people to take you seriously as a music producer, make sure your website showcases your beats in an audio player!
Images Are Still Important On A Producer Site, Yes!
You might be tempted to use stock photos but the best photos will be a combination of you at your PC making beats or in the studio and some of your clients or musicians in the booth or studio, the DAW you use etc.
Of course, you will need to get permission from your clients or fellow musicians to use their photos on your website first, but it will be worth it as it will show potential clients that you are a real person and not just some faceless producer.
If you don't have any professional photos of yourself or in the studio, consider hiring a photographer for a half day session to get some or set your phone up and take some yourself - I highly recommend Canva, as it can take your basic phone shots and turn them into high quality images for your website.
Your Homepage Is Key - Keep It Simple!
Unless you are doing SEO, most people will arrive on your homepage first, so you want to make sure it is clear what you do and that there is a way for visitors to listen to your music.
I recommend having a large header image (also known as a hero image) with a clear call to action, such as "Listen to my latest beats" with a button that takes them to your music player.
Or better yet, skip the button and have the embedded player directly underneath the call to action so people can start listening to your beats right away! You can choose whether or not you want to set it to autoplay or not as some visitors find this irritating; picture somebody in the office skiving off a bit of work and clicking onto your site with the volume up, YIKES!
Your header image should be something that represents you as a music producer; it could be a close up of you in the studio, or you at your equipment, or even just a photo of some vinyl records if that's what you're into. If you don't have any good photos, then of course, head over to Canva and get some free stock images but that should be a last resort.
Your homepage should also have a brief introduction about who you are and what you do, as well as links to your other pages such as the "About" page, "Services" page, "Contact" page etc. The basic stuff that lets people know you are serious and legit.
If you want to get really fancy, you can even have a video on your homepage, introducing yourself with your beats as the soundtrack and some B-roll of you in the studio. That would require a professional video editor unless you are one yourself of course!
That brings me to my next point, your About page.
What Should Music Producers Put On Their About Page?
You can keep it super basic (like everybody else *rolls eyes*) or you can take the video advice above and go the extra mile to really stand out from the crowd.
Your About page is where people will come to learn more about you as a person, not just a music producer, so make sure you write in first person and use your real name. If you have any industry awards or accomplishments, list them here too.
One of my favorite music producers of all time is Timbaland. Timbaland has always showed up not just as a music producer, but a personality who was always attached to his beats. You would see him in the music videos, hear his voice alongside his featured artists and know his sound.
I say this to say, Timbaland did and does a great job at helping people buy into him as a person so they want to work with and be associated with him. You should do the same with your overall brand, starting with your About page - let people know who you are as a person, artist and brand, not just a music producer.
Of course, don't give away too much information about yourself as you want to keep an air of mystery (you are a music producer after all) but you get the idea.
Some other ideas for your About page:
A timeline of your music career so far
Where you're from and where you currently live
Your musical influences
Make Sure Your Site Is Mobile Friendly!
Nowadays, most people will view your site on their phone or tablet, so it is important to make sure your site is responsive and looks good on all devices.
WordPress already does a great job of this but you could also consider adding AMP (Accelerated Mobile Pages) to your site which basically makes your pages load even faster on mobile devices. Google has more information on AMP here.
If you want to get really fancy (and spend some money), you could also create a dedicated mobile app for your website but that is outside the scope of this article. You can find out more about getting your own music producer phone app below:
Lyrics
Please save some lyrics first.