When it comes to choosing a digital audio workstation (DAW), there are a lot of factors to consider. Some people prefer a simple and intuitive interface, while others need a DAW that is packed with features. For many electronic musicians, the two most popular choices are Ableton Live and Bitwig Studio. Both of these DAWs have a lot to offer, but which one is the better choice for your music?
In terms of user interface, Ableton has a clear advantage. The layout is clean and easy to navigate, and the workflow is designed specifically for live performance. This makes Ableton an excellent choice for DJs and producers who need to be able to quickly create and manipulate tracks on the fly.
Bitwig, on the other hand, takes a more traditional approach to its interface. While this can be helpful for those who are already familiar with other DAWs, it can also be overwhelming for newcomers.
When it comes to features, both Ableton and Bitwig are fairly evenly matched. Both DAWs come with a wide range of built-in instruments and effects, and they both support third-party plugins.
However, Ableton does have a few key features that give it an edge over Bitwig:
First, Ableton's sampling capabilities are far superior to those of Bitwig.
Second, Ableton's Live mode is ideal for live performance, while Bitwig's Arranger track is better suited for studio work.
Finally, Ableton's Max for Live integration gives users access to a wide range of custom instruments and effects.
Yet, in saying that…
Bitwig Studio has a number of advantages over Ableton Live as well:
First, Bitwig is more affordable than Ableton, making it a great choice for budget-conscious producers.
Second, Bitwig comes with a number of powerful features that are perfect for studio work, such as audio warping and pitch correction.
Third, Bitwig's modulation system is much more flexible than that of Ableton, giving users more control over the sound of their tracks.

A Closer Look At Bitwig & Ableton's Interface (Beginner-Friendly)
Bitwig Tutorial
Ableton Tutorial
Sampler with A Granular Mode
The Bitwig sampler is a powerful tool for musicians and producers. With its granular mode, it can be used to create complex, evolving soundscapes. By layering multiple samples and adjusting the playback rate, pitch, and other parameters, users can create truly unique sounds.
The granular mode is also great for creating percussive elements, such as drum loops and bass lines. And because the Bitwig sampler is so easy to use, even beginner producers can quickly create professional-sounding tracks. So if you're looking for a way to add some extra creativity to your productions, be sure to check out the Bitwig sampler.
Winner: Bitwig
Modulation Systems

Modulation is the process by which the amplitude of a signal is varied over time. It is a fundamental feature of signal processing, and the basic building block for all mixing and effects processes in an audio workstation.

The Bitwig modulation system is a harmonious, comprehensive modulation system that supports all types of audio signals, from synthesizers and samplers to external hardware instruments.
The modulation system consists of 6 modules:
1. Modulation Matrix: This controls all the modulation sources and sends them to the compatible modules.
2. Modulation Time: This controls how the various modulation sources modulate each other.
3. Modulation Level: This controls the overall level of all available modulation sources and amounts.
4. Modulation Depth: This controls the depth of the modulation.
5. Polarity: This controls whether the modulation source is inverted.
6. Individual modulation of each modulation source: This makes it possible to modulate each modulation source separately.

Bitwig is a digital audio workstation (DAW) developed by Bob Moog Music. It is similar to Ableton Live, however, Bitwig has better modulation features. Bitwig has 32 output plug-ins and 8 storable effects.
Winner: Bitwig
The Mixdown…
Though Bitwig is not as popular as Ableton, it is still a powerful DAW that has a lot to offer musicians. For one, Bitwig is designed to be more user-friendly and intuitive than Ableton. It also comes with a number of built-in instruments and effects, so you can get started making music right away.
In addition, Bitwig offers more options for customizing your workflow, so you can tailor it to your specific needs. If you're looking for a DAW that is easy to use and comes with everything you need to get started, Bitwig is the better choice. However, if you're looking for more flexibility and customization, Ableton is the better option.
Get A Head Start – Learn Music Production From The Best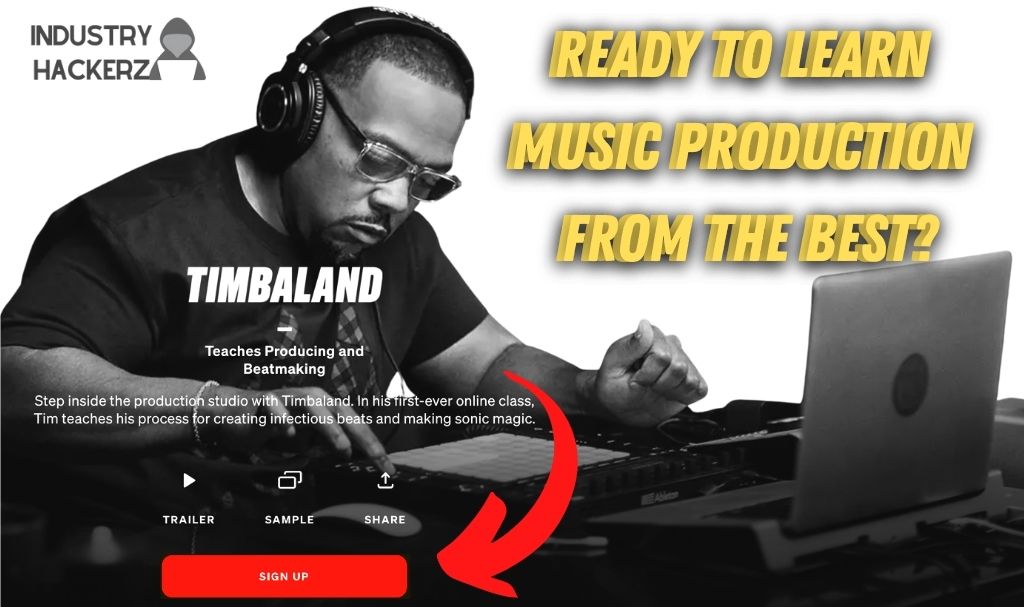 Whichever DAW you choose, be sure to watch all of the tutorials they provide free of charge – make the most of that knowledge so you can reduce the learning curve and get straight into doing what you want to do – recording and making beats
If you want to kickstart your DAW learning and skills even further; I highly recommend Timbaland's Masterclass! It is like being mentored by the best in the industry and having him right there in the room with you as your personal producer!
You will learn everything from how he uses different types of software, to advanced mixing techniques, sound selection, and more. I cannot recommend it enough!